Cisco Network Engineer CV Example
The very first move in your quest to build and grow your career in the field of network engineering as a Cisco Network Engineer is to craft a winning CV that will stand out: a good CV that positively brings out all your networking strengths while clearly reflecting your skills and individual competencies. Our Cisco Network Engineer CV Sample which is freely accessible is a very handy tool that has been designed to aid you in terms of getting deeper insights into what you should include in your CV. The professionally designed sample will also guide you on the most winning resume format guaranteed to capture the attention of HR recruiting managers.
Create This CVSee all templates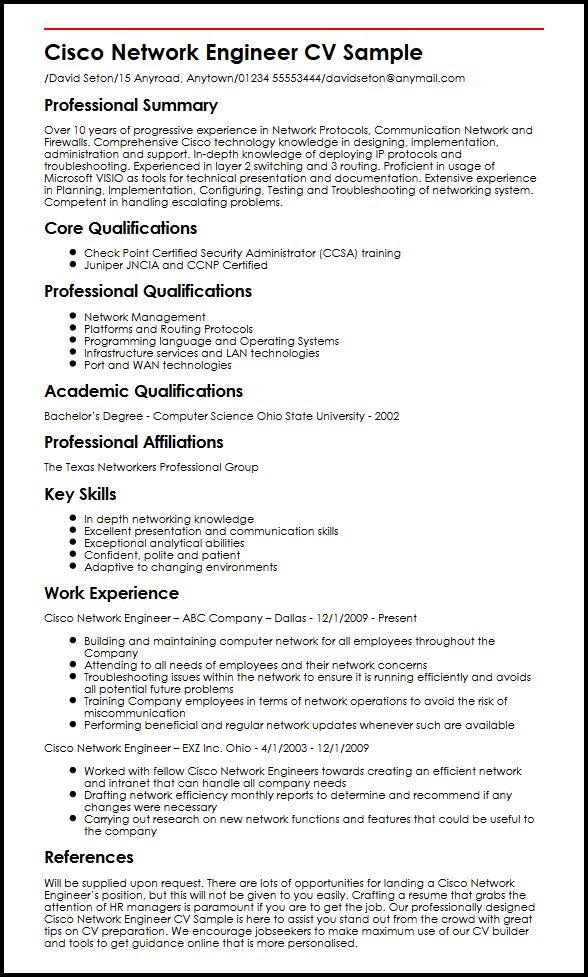 Build a professional CV that gets you hired.
Cisco Network Engineer CV Sample/David Seton/15 Anyroad, Anytown/01234 55553444/davidseton@anymail.com
Professional Summary
Over 10 years of progressive experience in Network Protocols, Communication Network and Firewalls. Comprehensive Cisco technology knowledge in designing, implementation, administration and support. In-depth knowledge of deploying IP protocols and troubleshooting. Experienced in layer 2 switching and 3 routing. Proficient in usage of Microsoft VISIO as tools for technical presentation and documentation. Extensive experience in Planning, Implementation, Configuring, Testing and Troubleshooting of networking system. Competent in handling escalating problems.
Core Qualifications
Check Point Certified Security Administrator (CCSA) training
Juniper JNCIA and CCNP Certified
Professional Qualifications
Network Management
Platforms and Routing Protocols
Programming language and Operating Systems
Infrastructure servicesand LAN technologies
Port and WAN technologies
Academic Qualifications
Bachelor's Degree - Computer Science Ohio State University - 2002
Professional Affiliations
The Texas Networkers Professional Group
Key Skills
In depth networking knowledge
Excellent presentation and communication skills
Exceptional analytical abilities
Confident, polite and patient
Adaptive to changing environments
Work Experience
Cisco Network Engineer | ABC Company | Dallas - 12/1/2009 - Present
Building and maintaining computer network for all employees throughout the Company
Attending to all needs of employees and their network concerns
Troubleshooting issues within the network to ensure it is running efficiently and avoids all potential future problems
Training Company employees in terms of network operations to avoid the risk of miscommunication
Performing beneficial and regular network updates whenever such are available
Cisco Network Engineer | EXZ Inc. Ohio - 4/1/2003 - 12/1/2009
Worked with fellow Cisco Network Engineers towards creating an efficient network and intranet that can handle all company needs
Drafting network efficiency monthly reports to determine and recommend if any changes were necessary
Carrying out research on new network functions and features that could be useful to the company
References
Will be supplied upon request.There are lots of opportunities for landing a Cisco Network Engineer's position, but this will not be given to you easily. Crafting a resume that grabs the attention of HR managers is paramount if you are to get the job. Our professionally designed Cisco Network Engineer CV Sample is here to assist you stand out from the crowd with great tips on CV preparation. We encourage jobseekers to make maximum use of our CV builder and tools to get guidance online that is more personalised.
Related CVs Information Technology CV Examples