Cyber Security Specialist CV Example
You can kick-start your new dream career today by getting a little help with that tricky first step: your CV. Use our free cyber security specialist CV sample as a framework to get you started, with a sample layout and inspiration for your personal summary. Tailor this to your needs and then you can focus on selling yourself and starting your new role.
Create This CVSee all templates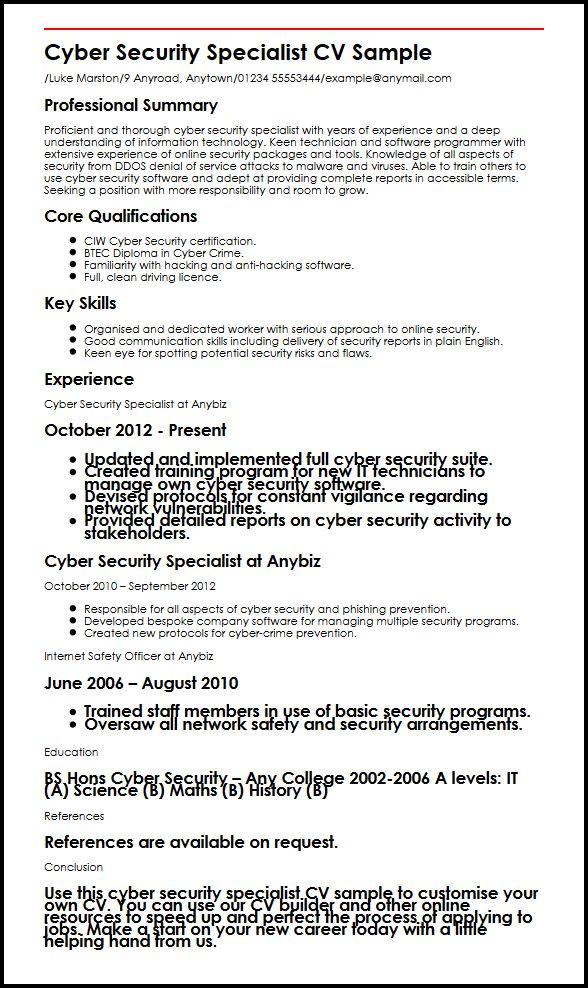 Build a professional CV that gets you hired.
Cyber Security Specialist CV Sample/Luke Marston/9 Anyroad, Anytown/01234 55553444/example@anymail.com
Professional Summary
Proficient and thorough cyber security specialist with years of experience and a deep understanding of information technology. Keen technician and software programmer with extensive experience of online security packages and tools. Knowledge of all aspects of security from DDOS denial of service attacks to malware and viruses. Able to train others to use cyber security software and adept at providing complete reports in accessible terms. Seeking a position with more responsibility and room to grow.
Core Qualifications
CIW Cyber Security certification.
BTEC Diploma in Cyber Crime.
Familiarity with hacking and anti-hacking software.
Full, clean driving licence.
Key Skills
Organised and dedicated worker with serious approach to online security.
Good communication skills including delivery of security reports in plain English.
Keen eye for spotting potential security risks and flaws.
Experience
Cyber Security Specialist at Anybiz
October 2012 - Present

Updated and implemented full cyber security suite.
Created training program for new IT technicians to manage own cyber security software.
Devised protocols for constant vigilance regarding network vulnerabilities.
Provided detailed reports on cyber security activity to stakeholders.

Cyber Security Specialist at Anybiz
October 2010 | September 2012
Responsible for all aspects of cyber security and phishing prevention.
Developed bespoke company software for managing multiple security programs.
Created new protocols for cyber-crime prevention.
Internet Safety Officer at Anybiz
June 2006 | August 2010

Trained staff members in use of basic security programs.
Oversaw all network safety and security arrangements.
Education
BS Hons Cyber Security | Any College 2002-2006A levels: IT (A) Science (B) Maths (B) History (B)
References
References are available on request.
Conclusion
Use this cyber security specialist CV sample to customise your own CV. You can use our CV builder and other online resources to speed up and perfect the process of applying to jobs. Make a start on your new career today with a little helping hand from us.
Related CVs Information Technology CV Examples