IT Training Consultant CV Example
To secure an interview for a new IT trainer job, it is important that your application includes a CV which is well written, presented in the correct format and tailored for the job advertised. A quality CV is key for success in the competitive jobs marketplace; it should reflect your qualifications, experience and relevant skills. We suggest you review this helpful IT trainer CV sample to gain a good understanding of the sort of information to include. The IT trainer CV sample below is an example of one which will create a favourable impression with recruitment specialists and hiring managers, to ensure that you win the interview.
Create This CVSee all templates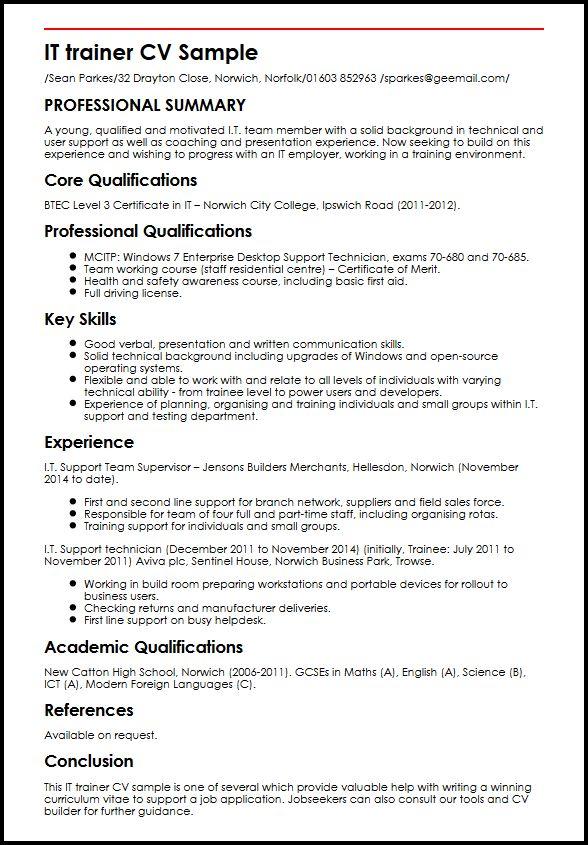 Build a professional CV that gets you hired.
IT trainer CV Sample /Sean Parkes/32 Drayton Close, Norwich, Norfolk/01603 852963 /sparkes@geemail.com/
PROFESSIONAL SUMMARY
A young, qualified and motivated I.T. team member with a solid background in technical and user support as well as coaching and presentation experience.Now seeking to build on this experience and wishing to progress with an IT employer, working in a training environment.
Core Qualifications
BTEC Level 3 Certificate in IT | Norwich City College, Ipswich Road (2011-2012).
Professional Qualifications
MCITP: Windows 7 Enterprise Desktop Support Technician, exams 70-680 and 70-685.
Team working course (staff residential centre) | Certificate of Merit.
Health and safety awareness course, including basic first aid.
Full driving license.
Key Skills
Good verbal, presentation and written communication skills.
Solid technical background including upgrades of Windows and open-source operating systems.
Flexible and able to work with and relate to all levels of individuals with varying technical ability - from trainee level to power users and developers.
Experience of planning, organising and training individuals and small groups within I.T. support and testing department.
Experience
I.T. Support Team Supervisor | Jensons Builders Merchants, Hellesdon, Norwich(November 2014 to date).
First and second line support for branch network, suppliers and field sales force.
Responsible for team of four full and part-time staff, including organising rotas.
Training support for individuals and small groups.
I.T. Support technician (December 2011 to November 2014)(initially, Trainee: July 2011 to November 2011)Aviva plc, Sentinel House, Norwich Business Park, Trowse.
Working in build room preparing workstations and portable devices for rollout to business users.
Checking returns and manufacturer deliveries.
First line support on busy helpdesk.
Academic Qualifications
New Catton High School, Norwich (2006-2011).GCSEs in Maths (A), English (A), Science (B), ICT (A), Modern Foreign Languages (C).
References
Available on request.
Conclusion
This IT trainer CV sample is one of several which provide valuable help with writing a winning curriculum vitae to support a job application. Jobseekers can also consult our tools and CV builder for further guidance.
Related CVs Information Technology CV Examples