IT Assistant CV Example
One key step to secure a new job as an IT assistant is to create a quality CV which reflects your qualifications, strengths and any relevant information technology experience.Before you start writing or updating your curriculum vitae and covering letter, you may find it very helpful to look at an IT assistant CV sample so that you have an idea of the type of information which should be included and the correct formatting.The IT assistant CV sample provided below illustrates the sort of CV which markets a job applicant properly and helps to capture the attention of IT recruiters, with the objective of securing that all important interview for the candidate.
Create This CVSee all templates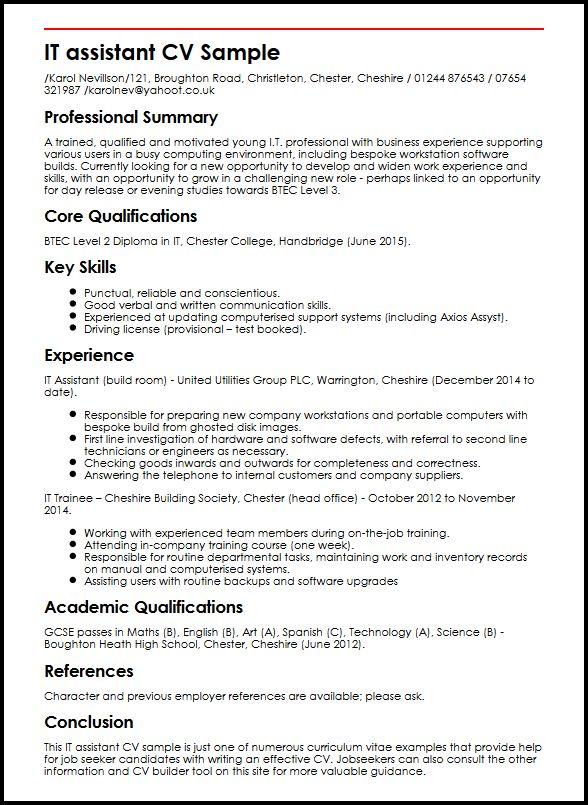 Build a professional CV that gets you hired.
IT assistant CV Sample /Karol Nevillson/121, Broughton Road, Christleton, Chester, Cheshire / 01244 876543 / 07654 321987 /karolnev@yahoot.co.uk
Professional Summary
A trained, qualified and motivated young I.T. professional with business experience supporting various users in a busy computing environment, including bespoke workstation software builds. Currently looking for a new opportunity to develop and widen work experience and skills, with an opportunity to grow in a challenging new role - perhaps linked to an opportunity for day release or evening studies towards BTEC Level 3.
Core Qualifications
BTEC Level 2 Diploma in IT, Chester College, Handbridge (June 2015).
Key Skills
Punctual, reliable and conscientious.
Good verbal and written communication skills.
Experienced at updating computerised support systems (including Axios Assyst).
Driving license (provisional | test booked).
Experience
IT Assistant (build room) - United Utilities Group PLC, Warrington, Cheshire (December 2014 to date).
Responsible for preparing new company workstations and portable computers with bespoke build from ghosted disk images.
First line investigation of hardware and software defects, with referral to second line technicians or engineers as necessary.
Checking goods inwards and outwards for completeness and correctness.
Answering the telephone to internal customers and company suppliers.
IT Trainee | Cheshire Building Society, Chester (head office) - October 2012 to November 2014.
Working with experienced team members during on-the-job training.
Attending in-company training course (one week).
Responsible for routine departmental tasks, maintaining work and inventory recordson manual and computerised systems.
Assisting users with routine backups and software upgrades
Academic Qualifications
GCSE passes in Maths (B), English (B), Art (A), Spanish (C), Technology (A), Science (B) - Boughton Heath High School, Chester, Cheshire (June 2012).
References
Character and previous employer references are available; please ask.
Conclusion
This IT assistant CV sample is just one of numerous curriculum vitae examples that provide help for job seeker candidates with writing an effective CV. Jobseekers can also consult the other information and CV builder tool on this site for more valuable guidance.
Related CVs Information Technology CV Examples