Tax Assistant CV Example
The road to your new dream job starts with crafting the ideal CV to show employers that you're serious and a good choice. Getting this right can be tricky, so feel free to use our free tax assistant CV sample to start the process. From here, you can write a strong CV with a smart, eye-catching layout that will kick start your new career.
Create This CVSee all templates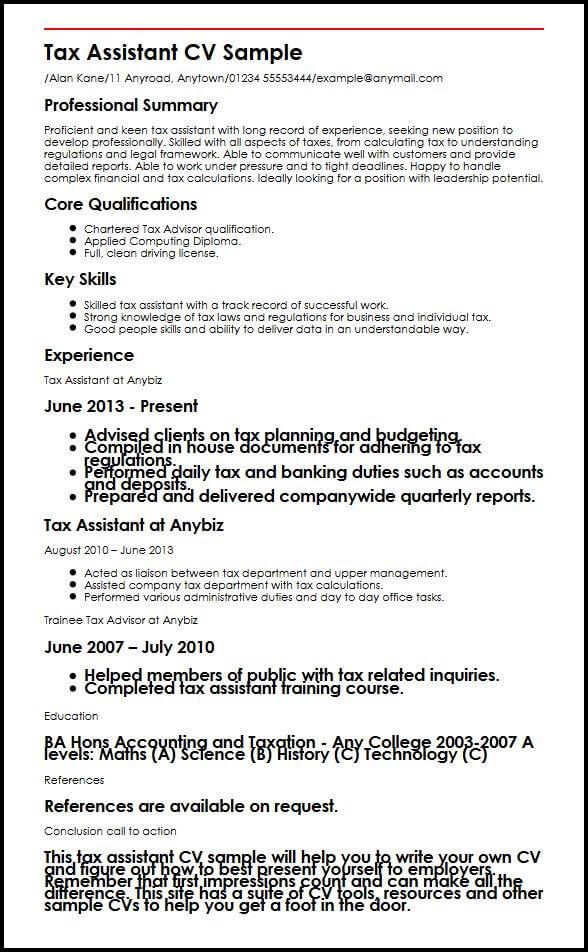 Build a professional CV that gets you hired.
Tax Assistant CV Sample/Alan Kane/11 Anyroad, Anytown/01234 55553444/example@anymail.com
Professional Summary
Proficient and keen tax assistant with long record of experience, seeking new position to develop professionally. Skilled with all aspects of taxes, from calculating tax to understanding regulations and legal framework. Able to communicate well with customers and provide detailed reports. Able to work under pressure and to tight deadlines. Happy to handle complex financial and tax calculations. Ideally looking for a position with leadership potential.
Core Qualifications
Chartered Tax Advisor qualification.
Applied Computing Diploma.
Full, clean driving license.
Key Skills
Skilled tax assistant with a track record of successful work.
Strong knowledge of tax laws and regulations for business and individual tax.
Good people skills and ability to deliver data in an understandable way.
Experience
Tax Assistant at Anybiz
June 2013 - Present

Advised clients on tax planning and budgeting.
Compiled in house documents for adhering to tax regulations.
Performed daily tax and banking duties such as accounts and deposits.
Prepared and delivered companywide quarterly reports.

Tax Assistant at Anybiz
August 2010 | June 2013
Acted as liaison between tax department and upper management.
Assisted company tax department with tax calculations.
Performed various administrative duties and day to day office tasks.
Trainee Tax Advisor at Anybiz
June 2007 | July 2010

Helped members of public with tax related inquiries.
Completed tax assistant training course.
Education
BA Hons Accounting and Taxation - Any College 2003-2007A levels: Maths (A) Science (B) History (C) Technology (C)
References
References are available on request.
Conclusion call to action
This tax assistant CV sample will help you to write your own CV and figure out how to best present yourself to employers. Remember that first impressions count and can make all the difference. This site has a suite of CV tools, resources and other sample CVs to help you get a foot in the door.
Related CVs Finance CV Examples