Investor Relations Officer CV Example
Language skills are a great asset in today's labour market, but not every job-seeker knows how to draw attention to them. The CV Sample With Language Skills that you will find below shows you how to incorporate language ability in your job search. Use this CV Sample With Language Skills to guide you through the CV writing process and to present your language ability as a marketable skill. Our CV Sample will help you find the most effective way of showcasing your language abilities and increase your chances of being selected for the job you have always wanted.

Create This CVSee all templates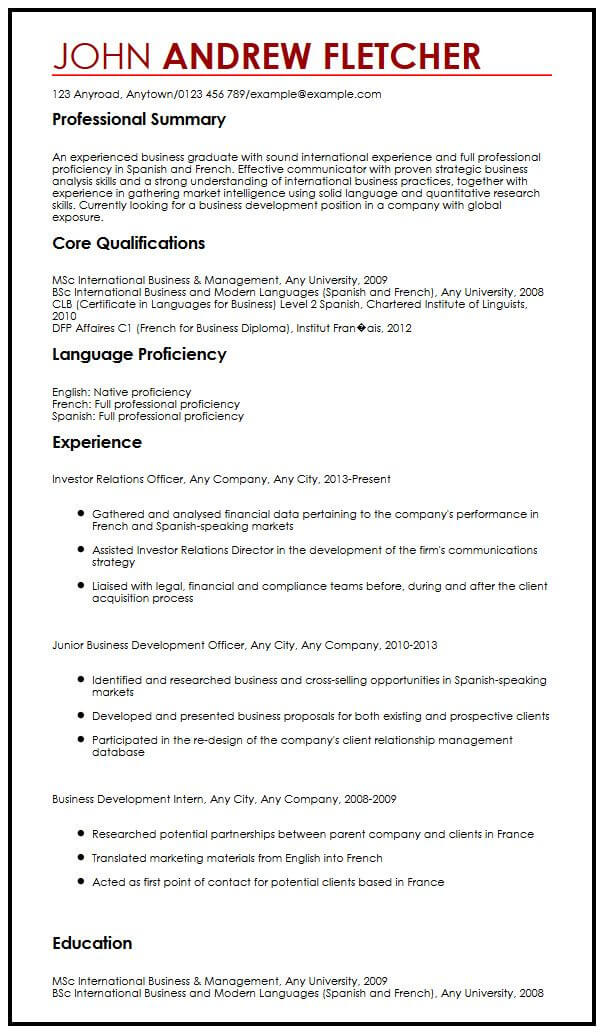 Build a professional CV that gets you hired.
123 Anyroad, Anytown/0123 456 789/example@example.com
Professional Summary
An experienced business graduate with sound international experience and full professional proficiency in Spanish and French. Effective communicator with proven strategic business analysis skills and a strong understanding of international business practices, together with experience in gathering market intelligence using solid language and quantitative research skills. Currently looking for a business development position in a company with global exposure.
Core Qualifications
MSc International Business & Management, Any University, 2009BSc International Business and Modern Languages (Spanish and French), Any University, 2008CLB (Certificate in Languages for Business) Level 2 Spanish, Chartered Institute of Linguists, 2010DFP Affaires C1 (French for Business Diploma), Institut Français, 2012
Language Proficiency
English: Native proficiencyFrench: Full professional proficiencySpanish: Full professional proficiency
Experience
Investor Relations Officer, Any Company, Any City, 2013-Present
Gathered and analysed financial data pertaining to the company's performance in French and Spanish-speaking markets
Assisted Investor Relations Director in the development of the firm's communications strategy
Liaised with legal, financial and compliance teams before, during and after the client acquisition process
Junior Business Development Officer, Any City, Any Company, 2010-2013
Identified and researched business and cross-selling opportunities in Spanish-speaking markets
Developed and presented business proposals for both existing and prospective clients
Participated in the re-design of the company's client relationship management database
Business Development Intern, Any City, Any Company, 2008-2009
Researched potential partnerships between parent company and clients in France
Translated marketing materials from English into French
Acted as first point of contact for potential clients based in France
Education
MSc International Business & Management, Any University, 2009BSc International Business and Modern Languages (Spanish and French), Any University, 2008
Conclusion
Did you find this CV example useful? Then have a look at the rest of CV samples available on our website. Our free resources and CV builder tools are there to help you succeed in your job search and put your language skills to good use.
Related CVs Finance CV Examples