Foreign Exchange Trader CV Example
Forex trading can be an extremely rewarding opportunity for those who enjoy such a fast-paced and profitable marketplace.Still, FX trading is a highly competitive role and there are more professionals entering into this industry than ever before.In order to provide the most appealing image of yourself, it is always wise to take advantage of the template that this FX Trader CV sample has to offer.So, please spend some time perusing the framework below to appreciate how this presentation should be organised in an efficient manner.
Create This CVSee all templates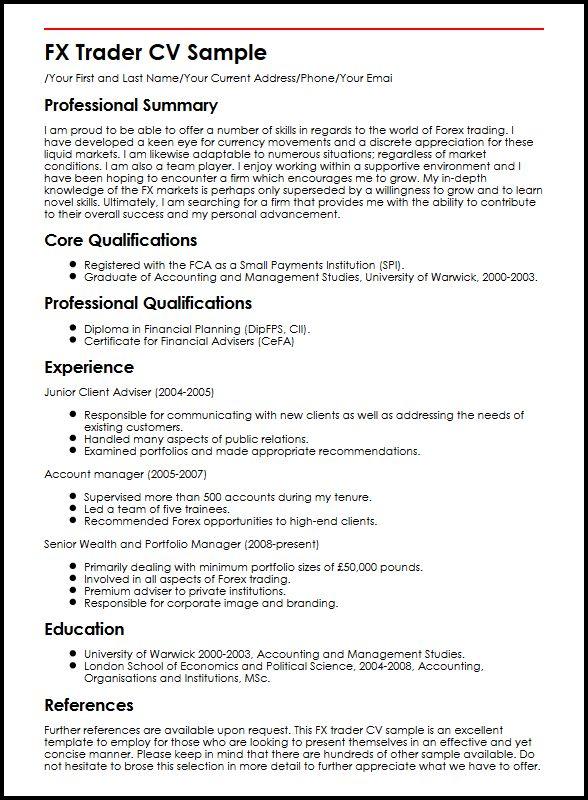 Build a professional CV that gets you hired.
FX Trader CV Sample/Your First and Last Name/Your Current Address/Phone/Your Emai
Professional Summary
I am proud to be able to offer a number of skills in regards to the world of Forex trading.I have developed a keen eye for currency movements and a discrete appreciation for these liquid markets.I am likewise adaptable to numerous situations; regardless of market conditions.I am also a team player.I enjoy working within a supportive environment and I have been hoping to encounter a firm which encourages me to grow.My in-depth knowledge of the FX markets is perhaps only superseded by a willingness to grow and to learn novel skills.Ultimately, I am searching for a firm that provides me with the ability to contribute to their overall success and my personal advancement.
Core Qualifications
Registered with the FCA as a Small Payments Institution (SPI).
Graduate of Accounting and Management Studies, University of Warwick, 2000-2003.
Professional Qualifications
Diploma in Financial Planning (DipFPS, CII).
Certificate for Financial Advisers (CeFA)
Experience
Junior Client Adviser (2004-2005)
Responsible for communicating with new clients as well as addressing the needs of existing customers.
Handled many aspects of public relations.
Examined portfolios and made appropriate recommendations.
Account manager (2005-2007)
Supervised more than 500 accounts during my tenure.
Led a team of five trainees.
Recommended Forex opportunities to high-end clients.
Senior Wealth and Portfolio Manager (2008-present)
Primarily dealing with minimum portfolio sizes of £50,000 pounds.
Involved in all aspects of Forex trading.
Premium adviser to private institutions.
Responsible for corporate image and branding.
Education
University of Warwick 2000-2003, Accounting and Management Studies.
London School of Economics and Political Science, 2004-2008, Accounting, Organisations and Institutions, MSc.
References
Further references are available upon request.This FX trader CV sample is an excellent template to employ for those who are looking to present themselves in an effective and yet concise manner.Please keep in mind that there are hundreds of other sample available.Do not hesitate to brose this selection in more detail to further appreciate what we have to offer.
Related CVs Finance CV Examples