Credit Controller CV Example
To become employed in a credit control department you will require a CV that shows your skills in debt recovery, credit management and work experience as well as all the rest of your professional skills and abilities. To produce a great work history, make use of our free credit controller CV sample. With our example, it becomes easy to make sure that you have included all of the relevant information needed for a professional application. It will also help you to format your CV in a way that makes it look presentable and clear to any would-be employer.
Create This CVSee all templates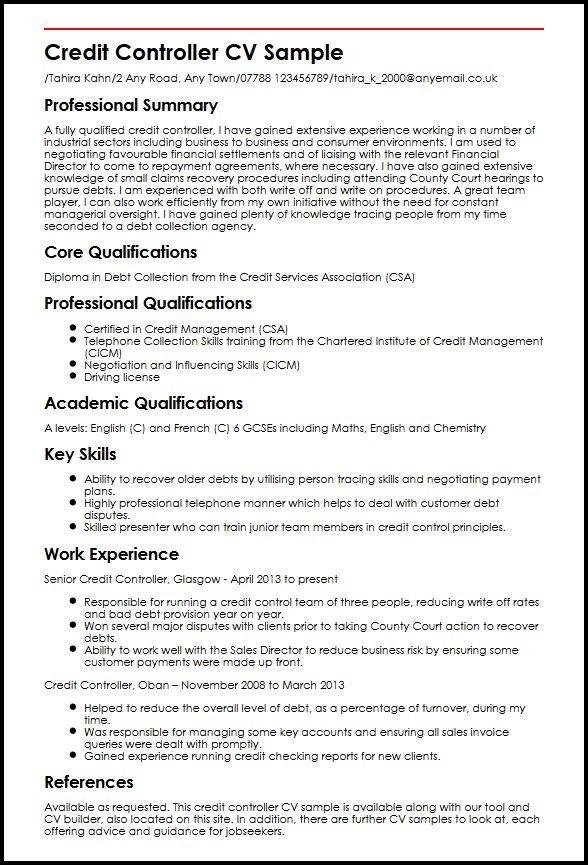 Build a professional CV that gets you hired.
Credit Controller CV Sample/Tahira Kahn/2 Any Road, Any Town/07788 123456789/tahira_k_2000@anyemail.co.uk
Professional Summary
A fully qualified credit controller, I have gained extensive experience working in a number of industrial sectors including business to business and consumer environments. I am used to negotiating favourable financial settlements and of liaising with the relevant Financial Director to come to repayment agreements, where necessary. I have also gained extensive knowledge of small claims recovery procedures including attending County Court hearings to pursue debts. I am experienced with both write off and write on procedures. A great team player, I can also work efficiently from my own initiative without the need for constant managerial oversight. I have gained plenty of knowledge tracing people from my time seconded to a debt collection agency.
Core Qualifications
Diploma in Debt Collection from the Credit Services Association (CSA)
Professional Qualifications
Certified in Credit Management (CSA)
Telephone Collection Skills training from the Chartered Institute of Credit Management (CICM)
Negotiation and Influencing Skills (CICM)
Driving license
Academic Qualifications
A levels: English (C) and French (C)6 GCSEs including Maths, English and Chemistry
Key Skills
Ability to recover older debts by utilising person tracing skills and negotiating payment plans.
Highly professional telephone manner which helps to deal with customer debt disputes.
Skilled presenter who can train junior team members in credit control principles.
Work Experience
Senior Credit Controller, Glasgow -April 2013to present
Responsible for running a credit control team of three people, reducing write off rates and bad debt provision year on year.
Won several major disputes with clients prior to taking County Court action to recover debts.
Ability to work well with the Sales Director to reduce business risk by ensuring some customer payments were made up front.
Credit Controller, Oban | November 2008 to March 2013
Helped to reduce the overall level of debt, as a percentage of turnover, during my time.
Was responsible for managing some key accounts and ensuring all sales invoice queries were dealt with promptly.
Gained experience running credit checking reports for new clients.
References
Available as requested.This credit controller CV sample is available along with our tool and CV builder, also located on this site. In addition, there are further CV samples to look at, each offering advice and guidance for jobseekers.