Import-Export Coordinator CV Example
Taking the time to study this import export coordinator CV sample is an excellent way to understand the different kinds of information you will need to include when you create a CV of your own that will include the accurate formatting along with the necessary information. If you are searching for a new job as an import export coordinator, it is necessary to write a CV that highlights your main skills as well as stressing your applicable strengths. You can use this free import export coordinator CV sample as a template to help you to recognise the different fundamentals that you need to include when you write your own import export coordinator CV and you can use the format that is used here to help you.
Create This CVSee all templates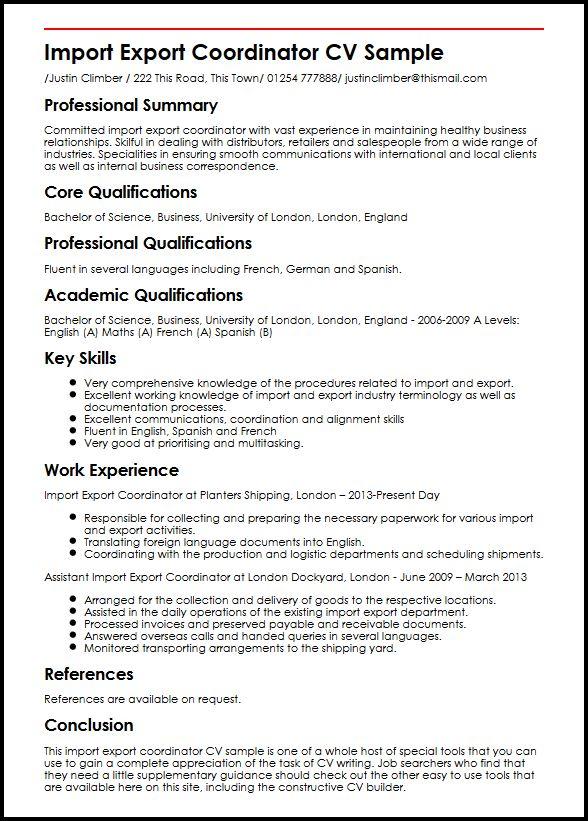 Build a professional CV that gets you hired.
Import Export Coordinator CV Sample/Justin Climber / 222 This Road, This Town/ 01254 777888/ justinclimber@thismail.com
Professional Summary
Committed import export coordinator with vast experience in maintaining healthy business relationships. Skilful in dealing with distributors, retailers and salespeople from a wide range of industries. Specialities in ensuring smooth communications with international and local clients as well as internal business correspondence.
Core Qualifications
Bachelor of Science, Business, University of London, London, England
Professional Qualifications
Fluent in several languages including French, German and Spanish.
Academic Qualifications
Bachelor of Science, Business, University of London, London, England - 2006-2009A Levels: English (A) Maths (A) French (A) Spanish (B)
Key Skills
Very comprehensive knowledge of the procedures related to import and export.
Excellent working knowledge of import and export industry terminology as well as documentation processes.
Excellent communications, coordination and alignment skills
Fluent in English, Spanish and French
Very good at prioritising and multitasking.
Work Experience
Import Export Coordinator at Planters Shipping, London | 2013-Present Day
Responsible for collecting and preparing the necessary paperwork for various import and export activities.
Translating foreign language documents into English.
Coordinating with the production and logistic departments and scheduling shipments.
Assistant Import Export Coordinator at London Dockyard, London - June 2009 | March 2013
Arranged for the collection and delivery of goods to the respective locations.
Assisted in the daily operations of the existing import export department.
Processed invoices and preserved payable and receivable documents.
Answered overseas calls and handed queries in several languages.
Monitored transporting arrangements to the shipping yard.
References
References are available on request.
Conclusion
This import export coordinator CV sample is one of a whole host of special tools that you can use to gain a complete appreciation of the task of CV writing. Job searchers who find that they need a little supplementary guidance should check out the other easy to use tools that are available here on this site, including the constructive CV builder.