Logistics Officer CV Example
A logistics officer is primarily concerned with the efficient operations of a business or organisation.As this can often be a very challenging task, the duties and responsibilities can significantly vary.A solid educational background is required with bespoke levels of hands-on experience.Another confounding factor is that in modern times, the competition for such a position can be daunting.Many job seekers have developed a better understanding of how to present themselves with the help of this logistics officer CV sample.Our streamlined template is meant to illustrate the skills that should be listed as well as how to construct a succinct and attractive presentation.
Create This CVSee all templates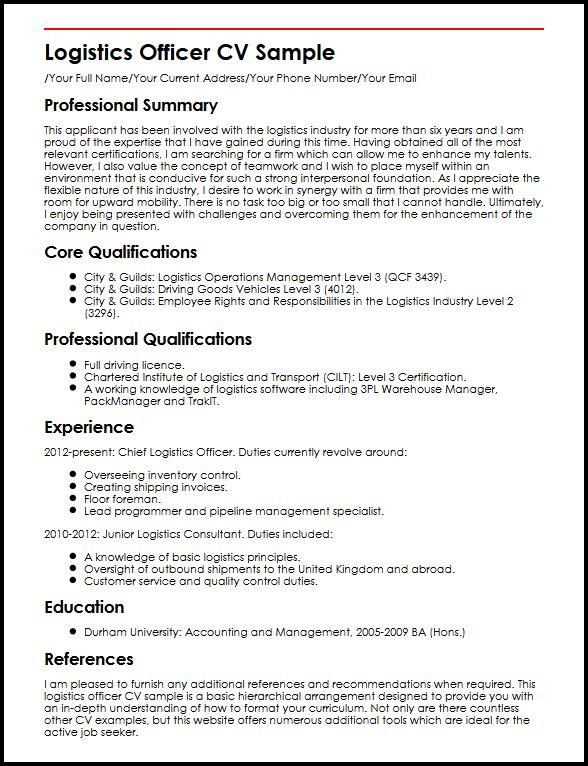 Build a professional CV that gets you hired.
Logistics Officer CV Sample/Your Full Name/Your Current Address/Your Phone Number/Your Email
Professional Summary
This applicant has been involved with the logistics industry for more than six years and I am proud of the expertise that I have gained during this time.Having obtained all of the most relevant certifications, I am searching for a firm which can allow me to enhance my talents.However, I also value the concept of teamwork and I wish to place myself within an environment that is conducive for such a strong interpersonal foundation.As I appreciate the flexible nature of this industry, I desire to work in synergy with a firm that provides me with room for upward mobility.There is no task too big or too small that I cannot handle.Ultimately, I enjoy being presented with challenges and overcoming them for the enhancement of the company in question.
Core Qualifications
City & Guilds: Logistics Operations Management Level 3 (QCF 3439).
City & Guilds: Driving Goods Vehicles Level 3 (4012).
City & Guilds: Employee Rights and Responsibilities in the Logistics Industry Level 2 (3296).
Professional Qualifications
Full driving licence.
Chartered Institute of Logistics and Transport (CILT): Level 3 Certification.
A working knowledge of logistics software including 3PL Warehouse Manager, PackManager and TrakIT.
Experience
2012-present: Chief Logistics Officer.Duties currently revolve around:
Overseeing inventory control.
Creating shipping invoices.
Floor foreman.
Lead programmer and pipeline management specialist.
2010-2012: Junior Logistics Consultant.Duties included:
A knowledge of basic logistics principles.
Oversight of outbound shipments to the United Kingdom and abroad.
Customer service and quality control duties.
Education
Durham University: Accounting and Management, 2005-2009 BA (Hons.)
References
I am pleased to furnish any additional references and recommendations when required.This logistics officer CV sample is a basic hierarchical arrangement designed to provide you with an in-depth understanding of how to format your curriculum.Not only are there countless other CV examples, but this website offers numerous additional tools which are ideal for the active job seeker.