French Teacher CV Example
Of the many things you need to consider when applying for a job in modern languages education is a highly engaging CV. Ideally, your CV will be an accurate reflection your skills, aptitudes and teaching experience. Moreover, it also needs to put across your passion for education in a way that is compelling. By adopting our free sample French teacher CV sample and using it for your own background, you can get the right balance between a standard format, which is easy to read, and a sense of individuality in the same document. This will mean that you are much better placed to land a desirable job, whether you happened to be focussed on adult education or a school-based position.
Create This CVSee all templates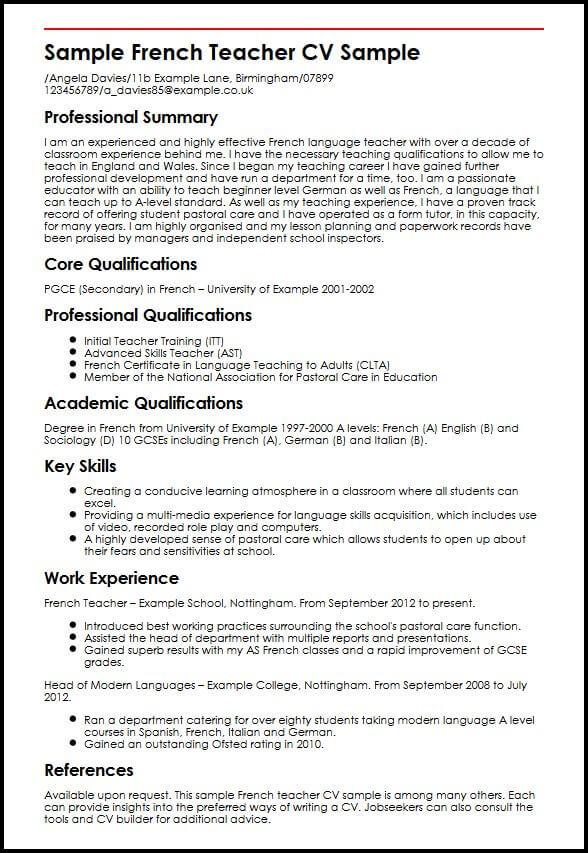 Build a professional CV that gets you hired.
Sample French Teacher CV Sample/Angela Davies/11b Example Lane, Birmingham/07899 123456789/a_davies85@example.co.uk
Professional Summary
I am an experienced and highly effective French language teacher with over a decade of classroom experience behind me. I have the necessary teaching qualifications to allow me to teach in England and Wales. Since I began my teaching career I have gained further professional development and have run a department for a time, too. I am a passionate educator with an ability to teach beginner level German as well as French, a language that I can teach up to A-level standard. As well as my teaching experience, I have a proven track record of offering student pastoral care and I have operated as a form tutor, in this capacity, for many years. I am highly organised and my lesson planning and paperwork records have been praised by managers and independent school inspectors.
Core Qualifications
PGCE (Secondary) in French | University of Example 2001-2002
Professional Qualifications
Initial Teacher Training (ITT)
Advanced Skills Teacher (AST)
French Certificate in Language Teaching to Adults (CLTA)
Member of the National Association for Pastoral Care in Education
Academic Qualifications
Degree in French from University of Example 1997-2000A levels: French (A) English (B) and Sociology (D)10 GCSEs including French (A), German (B) and Italian (B).
Key Skills
Creating a conducive learning atmosphere in a classroom where all students can excel.
Providing a multi-media experience for language skills acquisition, which includes use of video, recorded role play and computers.
A highly developed sense of pastoral care which allows students to open up about their fears and sensitivities at school.
Work Experience
French Teacher| Example School, Nottingham. From September 2012 to present.
Introduced best working practices surrounding the school's pastoral care function.
Assisted the head of department with multiple reports and presentations.
Gained superb results with my AS French classes and a rapid improvement of GCSE grades.
Head of Modern Languages| Example College, Nottingham. From September 2008 to July 2012.
Ran a department catering for over eighty students taking modern language A level courses in Spanish, French, Italian and German.
Gained an outstanding Ofsted rating in 2010.
References
Available upon request.This sample French teacher CV sample is among many others. Each can provide insights into the preferred ways of writing a CV. Jobseekers can also consult the tools and CV builder for additional advice.
Related CVs Teaching & Education CV Examples