Montessori Teacher CV Example
When seeking work as a Montessori teacher it is very important that you produce a CV which focusses on your strengths with children, but it should also draw sufficient attention to your organisational skills and wider experiences. Discover the tips which will allow you to strike the balance between listing your employment history and making your CV really come to life. Ideally, the way your CV is written will bring all of the most important information to the fore, but do so in a way that puts over your passion for teaching. By using our Montessori teacher CV sample, you will ensure that the right kinds of information are included in a format that is appropriate for a role in early years education.
Create This CVSee all templates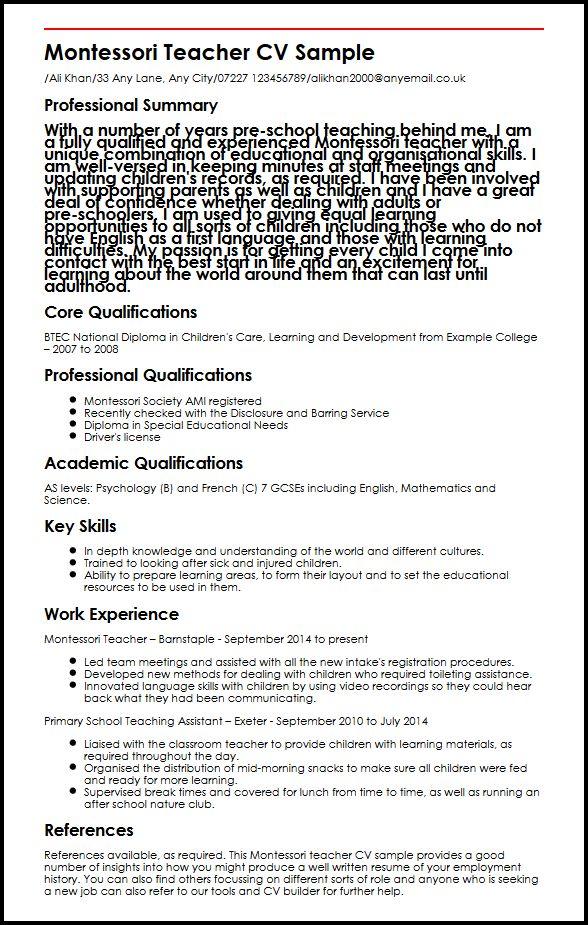 Build a professional CV that gets you hired.
Montessori Teacher CV Sample/Ali Khan/33 Any Lane, Any City/07227 123456789/alikhan2000@anyemail.co.uk
Professional Summary
With a number of years pre-school teaching behind me, I am a fully qualified and experienced Montessori teacher with a unique combination of educational and organisational skills. I am well-versed in keeping minutes at staff meetings and updating children's records, as required. I have been involved with supporting parents as well as children and I have a great deal of confidence whether dealing with adults or pre-schoolers. I am used to giving equal learning opportunities to all sorts of children including those who do not have English as a first language and those with learning difficulties. My passion is for getting every child I come into contact with the best start in life and an excitement for learning about the world around them that can last until adulthood.
Core Qualifications
BTEC National Diploma in Children's Care, Learning and Development from Example College | 2007 to 2008
Professional Qualifications
Montessori Society AMI registered
Recently checked with the Disclosure and Barring Service
Diploma in Special Educational Needs
Driver's license
Academic Qualifications
AS levels: Psychology (B) and French (C)7 GCSEs including English, Mathematics and Science.
Key Skills
In depth knowledge and understanding of the world and different cultures.
Trained to looking after sick and injured children.
Ability to prepare learning areas, to form their layout and to set the educational resources to be used in them.
Work Experience
Montessori Teacher | Barnstaple - September 2014 to present
Led team meetings and assisted with all the new intake's registration procedures.
Developed new methods for dealing with children who required toileting assistance.
Innovated language skills with children by using video recordings so they could hear back what they had been communicating.
Primary School Teaching Assistant | Exeter - September 2010 to July 2014
Liaised with the classroom teacher to provide children with learning materials, as required throughout the day.
Organised the distribution of mid-morning snacks to make sure all children were fed and ready for more learning.
Supervised break times and covered for lunch from time to time, as well as running an after school nature club.
References
References available, as required.This Montessori teacher CV sample provides a good number of insights into how you might produce a well written resume of your employment history. You can also find others focussing on different sorts of role and anyone who is seeking a new job can also refer to our tools and CV builder for further help.
Related CVs Teaching & Education CV Examples