The first step in a successful job search for a new business position is to have an effective, well-written and properly presented CV that must be tailored to the vacancy advertised. A business CV should reflect your most impressive educational qualifications, work-related accomplishments and relevant skills. Before drafting or updating your CV, it will be helpful to review this business CV sample to gain an idea of the right information and correct formatting to use. Basing your job application on the business CV sample below is a great way to get your application noticed by the HR or business manager and secure that all-important interview.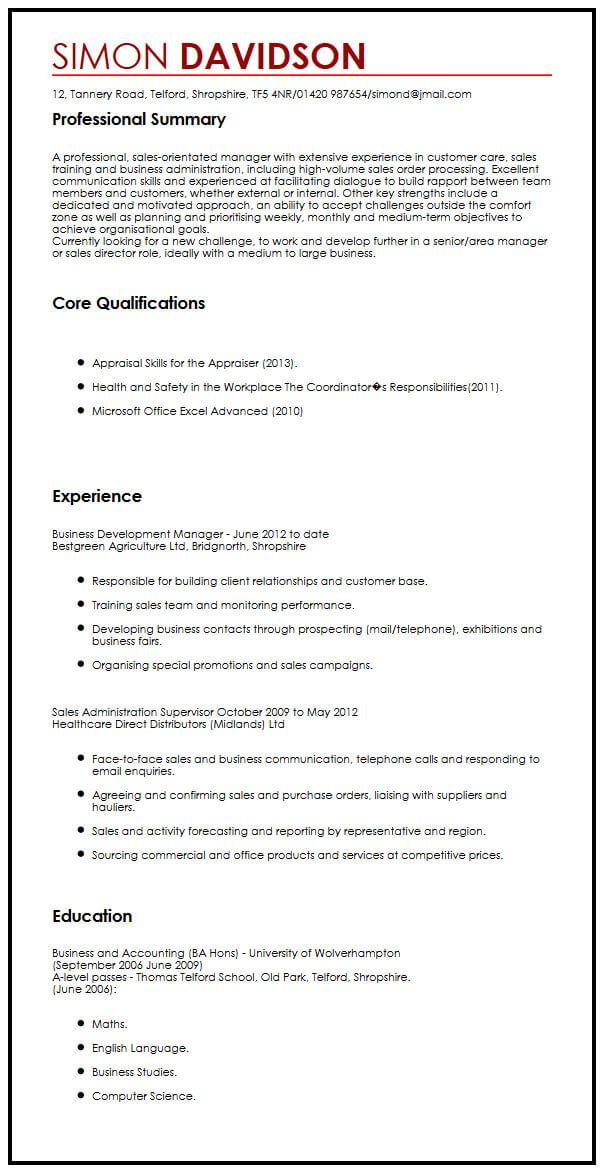 Our professional CV builder is designed to build the most powerful CV and save you time.
12, Tannery Road, Telford, Shropshire, TF5 4NR/01420 987654/simond@jmail.com

Professional Summary
A professional, sales-orientated manager with extensive experience in customer care, sales training and business administration, including high-volume sales order processing. Excellent communication skills and experienced at facilitating dialogue to build rapport between team members and customers, whether external or internal. Other key strengths include a dedicated and motivated approach, an ability to accept challenges outside the comfort zone as well as planning and prioritising weekly, monthly and medium-term objectives to achieve organisational goals. Currently looking for a new challenge, to work and develop further in a senior/area manager or sales director role, ideally with a medium to large business.