Process Improvement Consultant CV Example
A process improvement consultant holds a responsible and specialist role, which demands specific skills, experience and knowledge of various processes and quality standards to do the job well. All this must be reflected in your CV and LiveCareer's process improvement consultant CV sample is just the right tool to help you create a professional and accurate resume in an impressive format. Using our sample, you can integrate your own details into the document and send off an application that will get you noticed by your prospective employer, who'll hopefully then put you to the top of the interview pile.
Create This CVSee all templates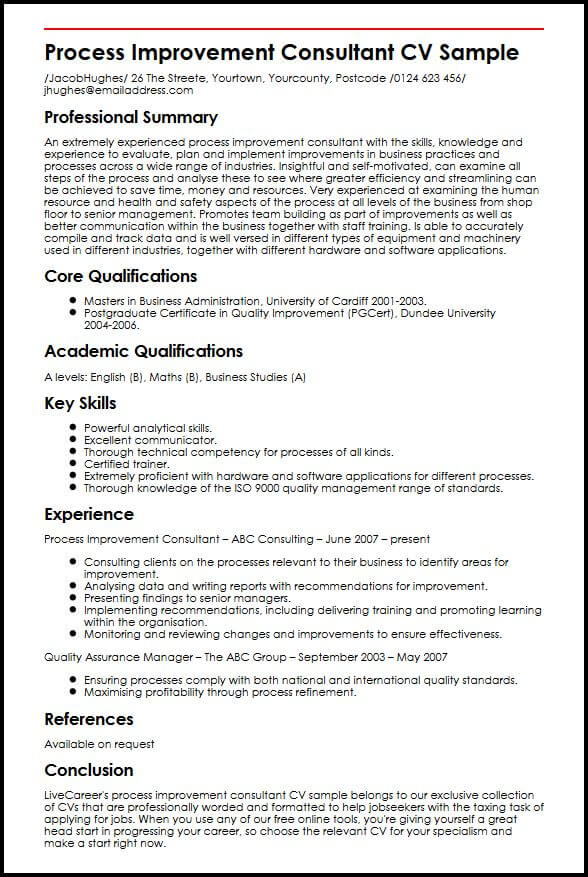 Build a professional CV that gets you hired.
Process Improvement Consultant CV Sample/JacobHughes/ 26 The Streete, Yourtown, Yourcounty, Postcode /0124 623 456/ jhughes@emailaddress.com
Professional Summary
An extremely experienced process improvement consultant with the skills, knowledge and experience to evaluate, plan and implement improvements in business practices and processes across a wide range of industries. Insightful and self-motivated, can examine all steps of the process and analyse these to see where greater efficiency and streamlining can be achieved to save time, money and resources. Very experienced at examining the human resource and health and safety aspects of the process at all levels of the business from shop floor to senior management. Promotes team building as part of improvements as well as better communication within the business together with staff training. Is able to accurately compile and track data and is well versed in different types of equipment and machinery used in different industries, together with different hardware and software applications.
Core Qualifications
Masters in Business Administration, University of Cardiff 2001-2003.
Postgraduate Certificate in Quality Improvement (PGCert), Dundee University 2004-2006.
Academic Qualifications
A levels: English (B), Maths (B), Business Studies (A)
Key Skills
Powerful analytical skills.
Excellent communicator.
Thorough technical competency for processes of all kinds.
Certified trainer.
Extremely proficient with hardware and software applications for different processes.
Thorough knowledge of the ISO 9000 quality management range of standards.
Experience
Process Improvement Consultant | ABC Consulting | June 2007 | present
Consulting clients on the processes relevant to their business to identify areas for improvement.
Analysing data and writing reports with recommendations for improvement.
Presenting findings to senior managers.
Implementing recommendations, including delivering training and promoting learning within the organisation.
Monitoring and reviewing changes and improvements to ensure effectiveness.
Quality Assurance Manager | The ABC Group | September 2003 | May 2007
Ensuring processes comply with both national and international quality standards.
Maximising profitability through process refinement.
References
Available on request
Conclusion
LiveCareer's process improvement consultant CV sample belongs to our exclusive collection of CVs that are professionally worded and formatted to help jobseekers with the taxing task of applying for jobs. When you use any of our free online tools, you're giving yourself a great head start in progressing your career, so choose the relevant CV for your specialism and make a start right now.
Related CVs Business Operations CV Examples