Credit Risk Analyst CV Example
One of the initial steps to becoming employed in credit risk analysis is to create a CV that both accurately reflects your employment experiences as well as drawing attention to your individual strengths. By making use of a free credit risk analyst CV sample, you will have accessed an invaluable tool which offers information into the kind of things you need to include as well as the formatting that will be considered most appropriate for the job.
Create This CVSee all templates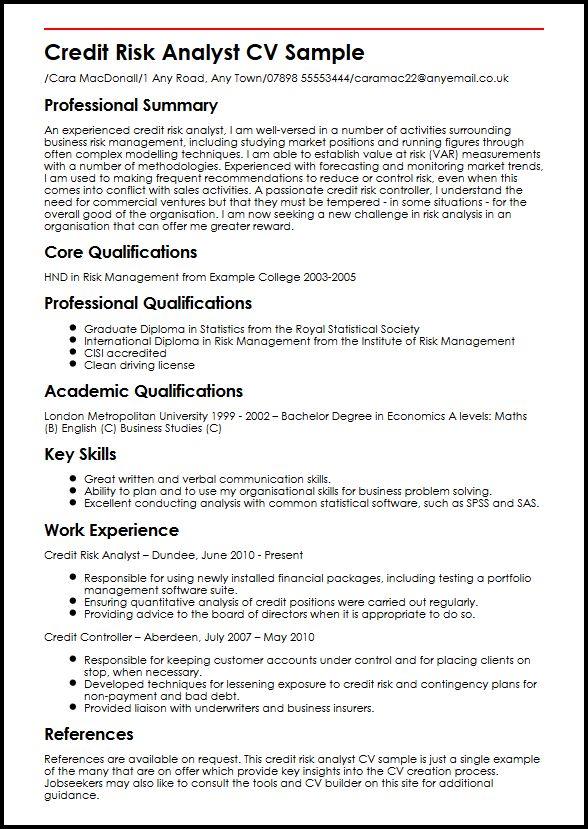 Build a professional CV that gets you hired.
Credit Risk Analyst CV Sample/Cara MacDonall/1 Any Road, Any Town/07898 55553444/caramac22@anyemail.co.uk
Professional Summary
An experienced credit risk analyst, I am well-versed in a number of activities surrounding business risk management, including studying market positions and running figures through often complex modelling techniques. I am able to establish value at risk (VAR) measurements with a number of methodologies. Experienced with forecasting and monitoring market trends, I am used to making frequent recommendations to reduce or control risk, even when this comes into conflict with sales activities. A passionate credit risk controller, I understand the need for commercial ventures but that they must be tempered - in some situations - for the overall good of the organisation. I am now seeking a new challenge in risk analysis in an organisation that can offer me greater reward.
Core Qualifications
HND in Risk Management from Example College 2003-2005
Professional Qualifications
Graduate Diploma in Statistics from the Royal Statistical Society
International Diploma in Risk Management from the Institute of Risk Management
CISI accredited
Clean driving license
Academic Qualifications
London Metropolitan University 1999 - 2002 | Bachelor Degree in EconomicsA levels: Maths (B) English (C) Business Studies (C)
Key Skills
Great written and verbal communication skills.
Ability to plan and to use my organisational skills for business problem solving.
Excellent conducting analysis with common statistical software, such as SPSS and SAS.
Work Experience
Credit Risk Analyst | Dundee, June 2010 - Present
Responsible for using newly installed financial packages, including testing a portfolio management software suite.
Ensuring quantitative analysis of credit positions were carried out regularly.
Providing advice to the board of directors when it is appropriate to do so.
Credit Controller | Aberdeen, July 2007 | May 2010
Responsible for keeping customer accounts under control and for placing clients on stop, when necessary.
Developed techniques for lessening exposure to credit risk and contingency plans for non-payment and bad debt.
Provided liaison with underwriters and business insurers.
References
References are available on request.This credit risk analyst CV sample is just a single example of the many that are on offer which provide key insights into the CV creation process. Jobseekers may also like to consult the tools and CV builder on this site for additional guidance.
Related CVs Finance CV Examples