Document Controller CV Example
To make any good job application you need to first produce a well-written CV. This is especially so when it comes to document controller applications, where good writing is expected. Your CV should therefore accurately represent all of your written skills and other abilities. A good work history will highlight your personal strengths and why you should be singled out for an interview. Furthermore, it ought to be formatted in the professional style that is expected by employers today. By using our free document controller CV sample as a tool, you will be able to detail your specific work history accurately and effectively.
Create This CVSee all templates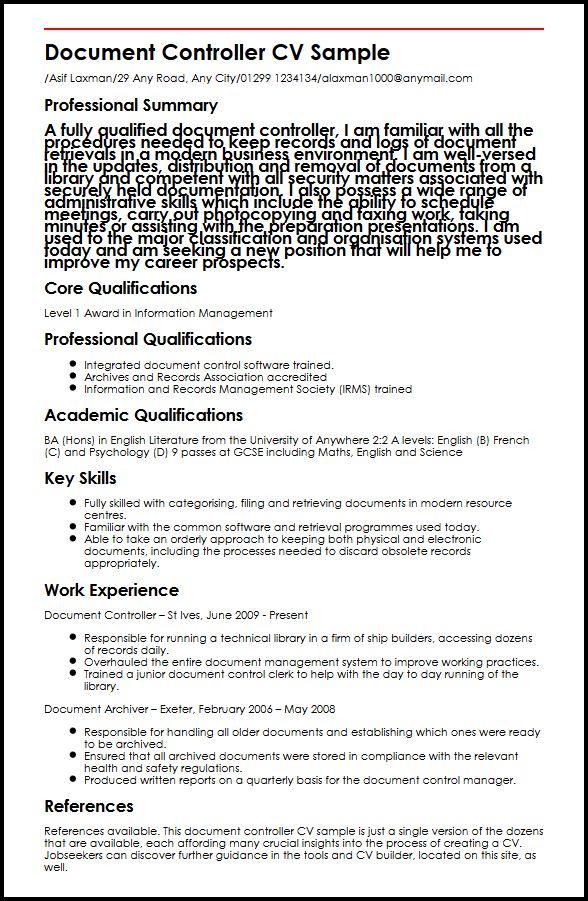 Build a professional CV that gets you hired.
Document Controller CV Sample/Asif Laxman/29 Any Road, Any City/01299 1234134/alaxman1000@anymail.com
Professional Summary
A fully qualified document controller, I am familiar with all the procedures needed to keep records and logs of document retrievals in a modern business environment. I am well-versed in the updates, distribution and removal of documents from a library and competent with all security matters associated with securely held documentation. I also possess a wide range of administrative skills which include the ability to schedule meetings, carry out photocopying and faxing work, taking minutes or assisting with the preparation presentations. I am used to the major classification and organisation systems used today and am seeking a new position that will help me to improve my career prospects.
Core Qualifications
Level 1 Award in Information Management
Professional Qualifications
Integrated document control software trained.
Archives and Records Association accredited
Information and Records Management Society (IRMS) trained
Academic Qualifications
BA (Hons) in English Literature from the University of Anywhere 2:2A levels: English (B) French (C) and Psychology (D)9 passes at GCSE including Maths, English and Science
Key Skills
Fully skilled with categorising, filing and retrieving documents in modern resource centres.
Familiar with the common software and retrieval programmes used today.
Able to take an orderly approach to keeping both physical and electronic documents, including the processes needed to discard obsolete records appropriately.
Work Experience
Document Controller | St Ives, June 2009 - Present
Responsible for running a technical library in a firm of ship builders, accessing dozens of records daily.
Overhauled the entire document management system to improve working practices.
Trained a junior document control clerk to help with the day to day running of the library.
Document Archiver | Exeter, February 2006 | May 2008
Responsible for handling all older documents and establishing which ones were ready to be archived.
Ensured that all archived documents were stored in compliance with the relevant health and safety regulations.
Produced written reports on a quarterly basis for the document control manager.
References
References available.This document controller CV sample is just a single version of the dozens that are available, each affording many crucial insights into the process of creating a CV. Jobseekers can discover further guidance in the tools and CV builder, located on this site, as well.