Biomedical Engineer CV Example
Your initial step towards building your medical career as a Biomedical Engineer is to draft an outstanding CV that positively brings out all your personal strengths and also clearly reflects your professional skills and abilities. Our free Biomedical Engineer CV Sample will prove useful in terms of getting useful insights into what should go into your CV. It also instructs you on the best formatting style which is guaranteed to quickly catch the HR Manager's attention.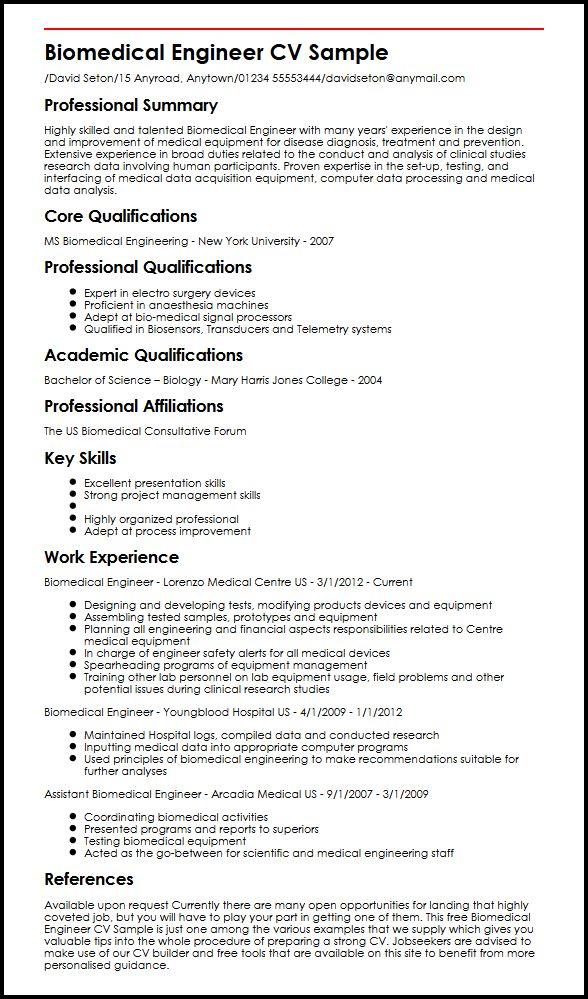 Our professional CV builder is designed to build the most powerful CV and save you time.
Biomedical Engineer CV Sample/David Seton/15 Anyroad, Anytown/01234 55553444/davidseton@anymail.com
Professional Summary
Highly skilled and talented Biomedical Engineer with many years' experience in the design and improvement of medical equipment for disease diagnosis, treatment and prevention. Extensive experience in broad duties related to the conduct and analysis of clinical studies research data involving human participants. Proven expertise in the set-up, testing, and interfacing of medical data acquisition equipment, computer data processing and medical data analysis.
Core Qualifications
MS Biomedical Engineering - New York University - 2007
Professional Qualifications
Expert in electro surgery devices
Proficient in anaesthesia machines
Adept at bio-medical signal processors
Qualified in Biosensors, Transducers and Telemetry systems
Academic Qualifications
Bachelor of Science | Biology - Mary Harris Jones College - 2004
Professional Affiliations
The US Biomedical Consultative Forum
Key Skills
Excellent presentation skills
Strong project management skills
Highly organized professional
Adept at process improvement
Work Experience
Biomedical Engineer - Lorenzo Medical Centre US - 3/1/2012 - Current
Designing and developing tests, modifying products devices and equipment
Assembling tested samples, prototypes and equipment
Planning all engineering and financial aspects responsibilities related to Centre medical equipment
In charge of engineer safety alerts for all medical devices
Spearheading programs of equipment management
Training other lab personnel on lab equipment usage, field problems and other potential issues during clinical research studies
Biomedical Engineer - Youngblood Hospital US - 4/1/2009 - 1/1/2012
Maintained Hospital logs, compiled data and conducted research
Inputting medical data into appropriate computer programs
Used principles of biomedical engineering to make recommendations suitable for further analyses
Assistant Biomedical Engineer - Arcadia Medical US - 9/1/2007 - 3/1/2009
Coordinating biomedical activities
Presented programs and reports to superiors
Testing biomedical equipment
Acted as the go-between for scientific and medical engineering staff
References
Available upon requestCurrently there are many open opportunities for landing that highly coveted job, but you will have to play your part in getting one of them. This free Biomedical Engineer CV Sample is just one among the various examples that we supply which gives you valuable tips into the whole procedure of preparing a strong CV. Jobseekers are advised to make use of our CV builder and free tools that are available on this site to benefit from more personalised guidance.