Know Your Customer Analyst CV Example
KYC analysts are rare, being one type of hard worker among many in the accounting field. KYC analysts have a large number of responsibilities, and that means that their employer must be convinced of their skill and have that impression constantly reaffirmed with results. At the same time, a KYC analyst position can be highly desirable, and a strong CV will ensure that you are more likely among your peers to get the position. If you're just entering the accounting field, for example, you may want to take a close look at our KYC analyst CV sample, below. Even if you already have a wealth of experience and a completed CV, it may be worth looking over one of our CV samples to improve your presentation even just a little bit.
Create This CVSee all templates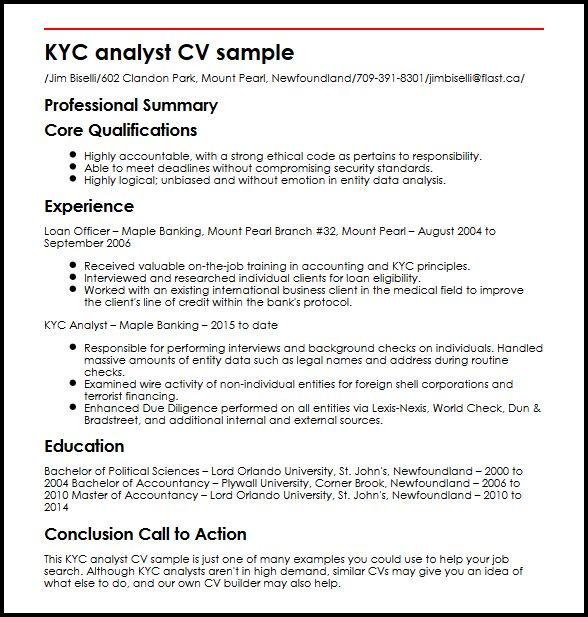 Build a professional CV that gets you hired.
KYC analyst CV sample/Jim Biselli/602 Clandon Park, Mount Pearl, Newfoundland/709-391-8301/jimbiselli@flast.ca/
Professional Summary
Core Qualifications
Highly accountable, with a strong ethical code as pertains to responsibility.
Able to meet deadlines without compromising security standards.
Highly logical; unbiased and without emotion in entity data analysis.
Experience
Loan Officer | Maple Banking, Mount Pearl Branch #32, Mount Pearl | August 2004 to September 2006
Received valuable on-the-job training in accounting and KYC principles.
Interviewed and researched individual clients for loan eligibility.
Worked with an existing international business client in the medical field to improve the client's line of credit within the bank's protocol.
KYC Analyst | Maple Banking | 2015 to date
Responsible for performing interviews and background checks on individuals. Handled massive amounts of entity data such as legal names and address during routine checks.
Examined wire activity of non-individual entities for foreign shell corporations and terrorist financing.
Enhanced Due Diligence performed on all entities via Lexis-Nexis, World Check, Dun & Bradstreet, and additional internal and external sources.
Education
Bachelor of Political Sciences | Lord Orlando University, St. John's, Newfoundland | 2000 to 2004Bachelor of Accountancy | Plywall University, Corner Brook, Newfoundland | 2006 to 2010Master of Accountancy | Lord Orlando University, St. John's, Newfoundland | 2010 to 2014
Conclusion Call to Action
This KYC analyst CV sample is just one of many examples you could use to help your job search. Although KYC analysts aren't in high demand, similar CVs may give you an idea of what else to do, and our own CV builder may also help.
Related CVs Finance CV Examples