Customer Service Steward CV Example
A steward holds a responsible position and when you're applying for stewarding jobs, you need a CV that's very specific in showing you have all the necessary skills, qualifications, professional memberships and experience to fit the bill. The steward CV sample is a free tool ready for you to use to get all your individual information into one document, so it will be extremely well received by the recruitment manager. This will considerably improve your chances of being chosen to attend the interviews and could very well lead to securing the position you want.
Create This CVSee all templates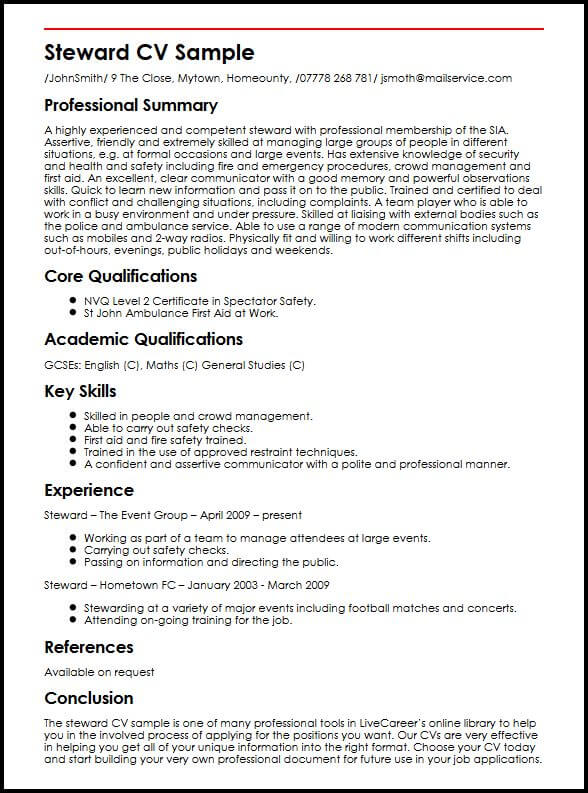 Build a professional CV that gets you hired.
Steward CV Sample/JohnSmith/ 9 The Close, Mytown, Homeounty, /07778 268 781/ jsmoth@mailservice.com
Professional Summary
A highly experienced and competent steward with professional membership of the SIA. Assertive, friendly and extremely skilled at managing large groups of people in different situations, e.g. at formal occasions and large events. Has extensive knowledge of security and health and safety including fire and emergency procedures, crowd management and first aid. An excellent, clear communicator with a good memory and powerful observations skills. Quick to learn new information and pass it on to the public. Trained and certified to deal with conflict and challenging situations, including complaints. A team player who is able to work in a busy environment and under pressure. Skilled at liaising with external bodies such as the police and ambulance service. Able to use a range of modern communication systems such as mobiles and 2-way radios. Physically fit and willing to work different shifts including out-of-hours, evenings, public holidays and weekends.
Core Qualifications
NVQ Level 2 Certificate in Spectator Safety.
St John Ambulance First Aid at Work.
Academic Qualifications
GCSEs: English (C), Maths (C) General Studies (C)
Key Skills
Skilled in people and crowd management.
Able to carry out safety checks.
First aid and fire safety trained.
Trained in the use of approved restraint techniques.
A confident and assertive communicator with a polite and professional manner.
Experience
Steward | The Event Group | April 2009 | present
Working as part of a team to manage attendees at large events.
Carrying out safety checks.
Passing on information and directing the public.
Steward | Hometown FC | January 2003 - March 2009
Stewarding at a variety of major events including football matches and concerts.
Attending on-going training for the job.
References
Available on request
Conclusion
The steward CV sample is one of many professional tools in LiveCareer's online library to help you in the involved process of applying for the positions you want. Our CVs are very effective in helping you get all of your unique information into the right format. Choose your CV today and start building your very own professional document for future use in your job applications.
Related CVs Customer service