Customer Service Team Leader CV Example
Customer service is a very wide industry.Regardless of the specific field, talents such as robust communication skills, the ability to take on a managerial role and an overall desire to succeed are all necessary traits to possess.Team leaders can expect a fast-paced work environment and daily challenges which need to be overcome.In return, such professionals can place themselves on the road to success while valuable target-driven rewards are always within reach.Constructing an attractive and accurate CV is therefore a critical step for those actively seeking such a job.This customer service team leader CV sample highlights all of the important points that need to be mentioned.
Create This CVSee all templates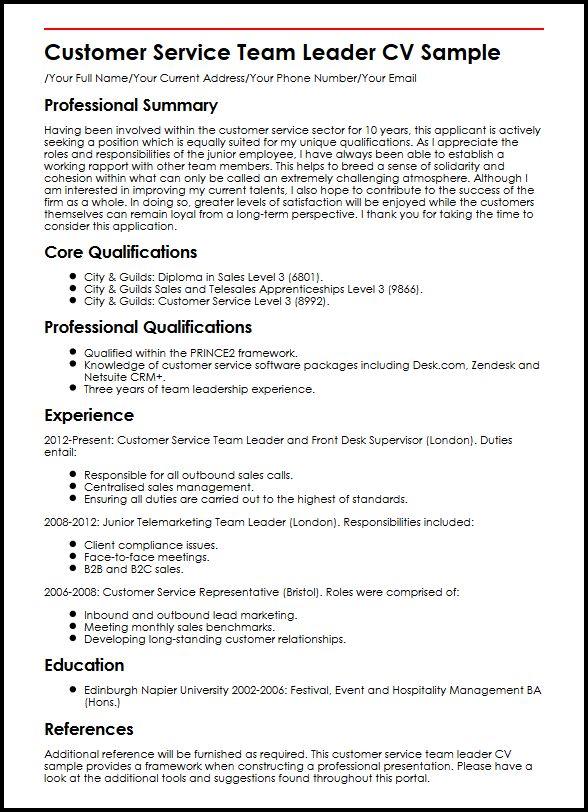 Build a professional CV that gets you hired.
Customer Service Team Leader CV Sample/Your Full Name/Your Current Address/Your Phone Number/Your Email
Professional Summary
Having been involved within the customer service sector for 10 years, this applicant is actively seeking a position which is equally suited for my unique qualifications.As Iappreciate the roles and responsibilities of the junior employee, I have always been able to establish a working rapport with other team members.This helps to breed a sense of solidarity and cohesion within what can only be called an extremely challenging atmosphere.Although I am interested in improving my current talents, I also hope to contribute to the success of the firm as a whole.In doing so, greater levels of satisfaction will be enjoyed while the customers themselves can remain loyal from a long-term perspective.I thank you for taking the time to consider this application.
Core Qualifications
City & Guilds: Diploma in Sales Level 3 (6801).
City & Guilds Sales and Telesales Apprenticeships Level 3 (9866).
City & Guilds: Customer Service Level 3 (8992).
Professional Qualifications
Qualified within the PRINCE2 framework.
Knowledge of customer service software packages including Desk.com, Zendesk and Netsuite CRM+.
Three years of team leadership experience.
Experience
2012-Present: Customer Service Team Leader and Front Desk Supervisor (London).Duties entail:
Responsible for all outbound sales calls.
Centralised sales management.
Ensuring all duties are carried out to the highest of standards.
2008-2012: Junior Telemarketing Team Leader (London).Responsibilities included:
Client compliance issues.
Face-to-face meetings.
B2B and B2C sales.
2006-2008: Customer Service Representative (Bristol).Roles were comprised of:
Inbound and outbound lead marketing.
Meeting monthly sales benchmarks.
Developing long-standing customer relationships.
Education
Edinburgh Napier University 2002-2006: Festival, Event and Hospitality Management BA (Hons.)
References
Additional reference will be furnished as required.This customer service team leader CV sample provides a framework when constructing a professional presentation.Please have a look at the additional tools and suggestions found throughout this portal.
Related CVs Customer service