Mental Health Nursing Assistant CV Example
To obtain a job at any level in the mental healthcare sector, you will first need to fashion a top-quality CV which provides a full representation of your key caring skills as well as your other strengths in the workplace. Although highlighting your relevant experience is important, you must remember to include all of the information expected of employers, usually a summary of your complete work history. Furthermore, your CV ought to be laid out in a format that makes it clear which section relates to which skill and vice versa. By using free mental health nursing assistant CV sample, you will cover all of the basic requirements while picking up valuable insights into the best way of presenting yourself on paper.
Create This CVSee all templates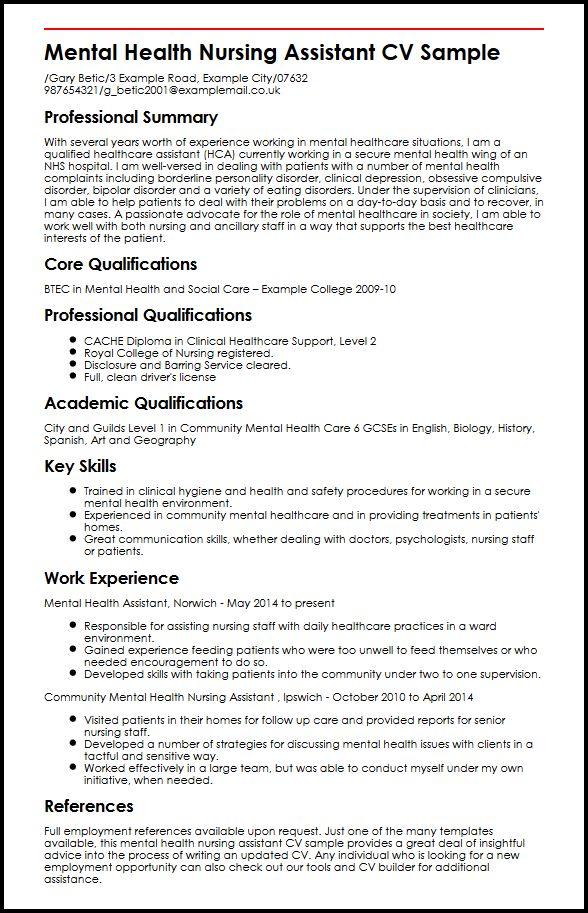 Build a professional CV that gets you hired.
Mental Health Nursing Assistant CV Sample/Gary Betic/3 Example Road, Example City/07632 987654321/g_betic2001@examplemail.co.uk
Professional Summary
With several years worth of experience working in mental healthcare situations, I am a qualified healthcare assistant (HCA) currently working in a secure mental health wing of an NHS hospital. I am well-versed in dealing with patients with a number of mental health complaints including borderline personality disorder, clinical depression, obsessive compulsive disorder, bipolar disorder and a variety of eating disorders. Under the supervision of clinicians, I am able to help patients to deal with their problems on a day-to-day basis and to recover, in many cases. A passionate advocate for the role of mental healthcare in society, I am able to work well with both nursing and ancillary staff in a way that supports the best healthcare interests of the patient.
Core Qualifications
BTEC in Mental Health and Social Care | Example College 2009-10
Professional Qualifications
CACHE Diploma in Clinical Healthcare Support, Level 2
Royal College of Nursing registered.
Disclosure and Barring Service cleared.
Full, clean driver's license
Academic Qualifications
City and Guilds Level 1 in Community Mental Health Care6 GCSEs in English, Biology, History, Spanish, Art and Geography
Key Skills
Trained in clinical hygiene and health and safety procedures for working in a secure mental health environment.
Experienced in community mental healthcare and in providing treatments in patients' homes.
Great communication skills, whether dealing with doctors, psychologists, nursing staff or patients.
Work Experience
Mental Health Assistant, Norwich - May 2014to present
Responsible for assisting nursing staff with daily healthcare practices in a ward environment.
Gained experience feeding patients who were too unwell to feed themselves or who needed encouragement to do so.
Developed skills with taking patients into the community under two to one supervision.
Community Mental Health Nursing Assistant , Ipswich - October 2010 to April 2014
Visited patients in their homes for follow up care and provided reports for senior nursing staff.
Developed a number of strategies for discussing mental health issues with clients in a tactful and sensitive way.
Worked effectively in a large team, but was able to conduct myself under my own initiative, when needed.
References
Full employment references available upon request.Just one of the many templates available, this mental health nursing assistant CV sample provides a great deal ofinsightful advice into the process of writing an updated CV. Any individual who is looking for a new employment opportunity can also check out our tools and CV builder for additional assistance.
Related CVs Nursing CV Examples