Theatre Nurse CV Example
If you are looking for a job as a sample theatre nurse, it is essential to write a CV that will highlight your key skills as well as stressing all of your applicable strengths. You can use this free sample theatre nurse CV sample as a template to help you recognise the different information that you need to include when you write your sample theatre nurse CV and you can use this format to help you.
Create This CVSee all templates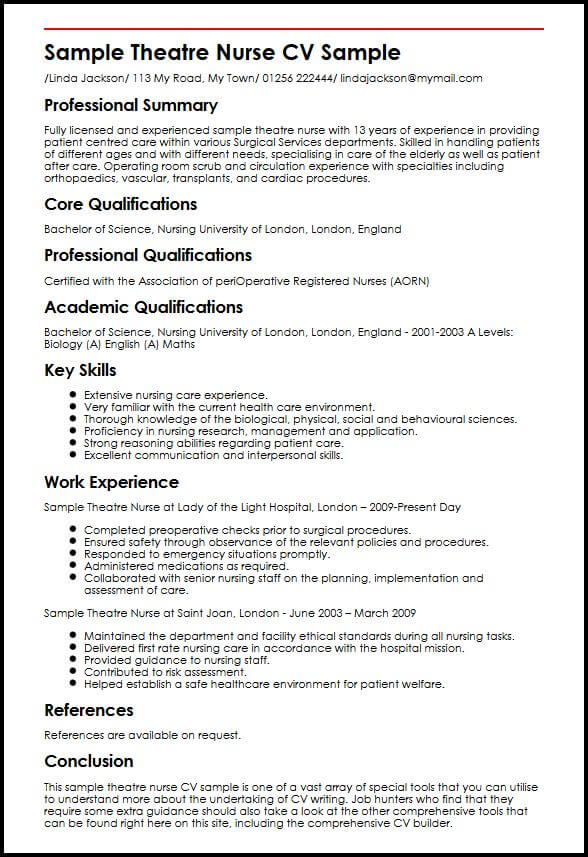 Build a professional CV that gets you hired.
Sample Theatre Nurse CV Sample/Linda Jackson/ 113 My Road, My Town/ 01256 222444/ lindajackson@mymail.com
Professional Summary
Fully licensed and experienced sample theatre nurse with 13 years of experience in providing patient centred care within various Surgical Services departments. Skilled in handling patients of different ages and with different needs, specialising in care of the elderly as well as patient after care. Operating room scrub and circulation experience with specialties including orthopaedics, vascular, transplants, and cardiac procedures.
Core Qualifications
Bachelor of Science, Nursing University of London, London, England
Professional Qualifications
Certified with the Association of periOperative Registered Nurses (AORN)
Academic Qualifications
Bachelor of Science, Nursing University of London, London, England - 2001-2003A Levels: Biology (A) English (A) Maths
Key Skills
Extensive nursing care experience.
Very familiar with the current health care environment.
Thorough knowledge of the biological, physical, social and behavioural sciences.
Proficiency in nursing research, management and application.
Strong reasoning abilities regarding patient care.
Excellent communication and interpersonal skills.
Work Experience
Sample Theatre Nurse at Lady of the Light Hospital, London | 2009-Present Day
Completed preoperative checks prior to surgical procedures.
Ensured safety through observance of the relevant policies and procedures.
Responded to emergency situations promptly.
Administered medications as required.
Collaborated with senior nursing staff on the planning, implementation and assessment of care.
Sample Theatre Nurse at Saint Joan, London - June 2003 | March 2009
Maintained the department and facility ethical standards during all nursing tasks.
Delivered first rate nursing care in accordance with the hospital mission.
Provided guidance to nursing staff.
Contributed to risk assessment.
Helped establish a safe healthcare environment for patient welfare.
References
References are available on request.
Conclusion
This sample theatre nurse CV sample is one of a vast array of special tools that you can utilise to understand more about the undertaking of CV writing. Job hunters who find that they require some extra guidance should also take a look at the other comprehensive tools that can be found right here on this site, including the comprehensive CV builder.
Related CVs Nursing CV Examples