NOC Engineer CV Example
It can be difficult to find a position that matches your expertise in today's job market. Fortunately, there are a few things that can help. Reviewing another's CV and improving your own is one of those things, and for NOC engineers who can hold the same position for a long time, your CV may need improvement. Computer science has become more competitive, and knowing even the slightest advantage you have in terms of experience or education could convince a higher-up of your merit. Take a look at our NOC engineer CV sample, below, and maybe you'll see a way to add to yours and get a better position than you're in now.
Create This CVSee all templates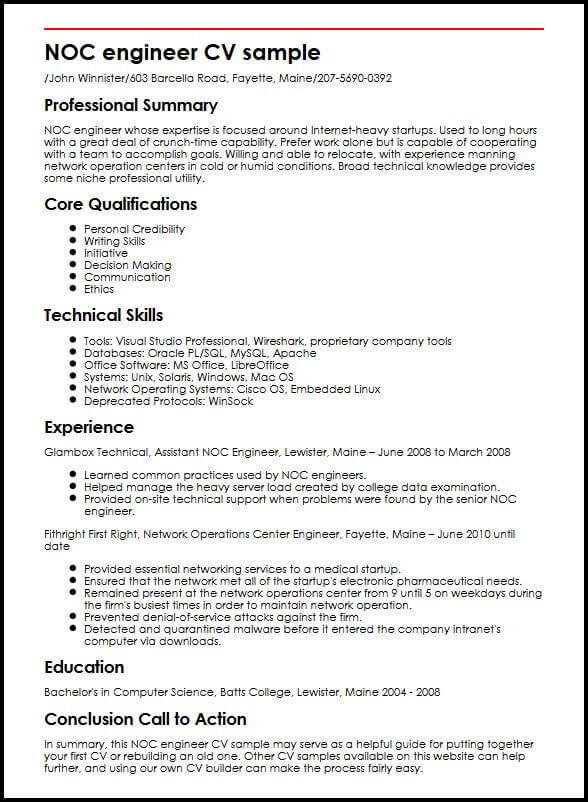 Build a professional CV that gets you hired.
NOC engineer CV sample/John Winnister/603 Barcella Road, Fayette, Maine/207-5690-0392
Professional Summary
NOC engineer whose expertise is focused around Internet-heavy startups. Used to long hours with a great deal of crunch-time capability. Prefer work alone but is capable of cooperating with a team to accomplish goals. Willing and able to relocate, with experience manning network operation centers in cold or humid conditions. Broad technical knowledge provides some niche professional utility.
Core Qualifications
Personal Credibility
Writing Skills
Initiative
Decision Making
Communication
Ethics
Technical Skills
Tools: Visual Studio Professional, Wireshark, proprietary company tools
Databases: Oracle PL/SQL, MySQL, Apache
Office Software: MS Office, LibreOffice
Systems: Unix, Solaris, Windows, Mac OS
Network Operating Systems: Cisco OS, Embedded Linux
Deprecated Protocols: WinSock
Experience
Glambox Technical, Assistant NOC Engineer, Lewister, Maine | June 2008 to March 2008
Learned common practices used by NOC engineers.
Helped manage the heavy server load created by college data examination.
Provided on-site technical support when problems were found by the senior NOC engineer.
Fithright First Right, Network Operations Center Engineer, Fayette, Maine | June 2010 until date
Provided essential networking services to a medical startup.
Ensured that the network met all of the startup's electronic pharmaceutical needs.
Remained present at the network operations center from 9 until 5 on weekdays during the firm's busiest times in order to maintain network operation.
Prevented denial-of-service attacks against the firm.
Detected and quarantined malware before it entered the company intranet's computer via downloads.
Education
Bachelor's in Computer Science, Batts College, Lewister, Maine2004 - 2008
Conclusion Call to Action
In summary, this NOC engineer CV sample may serve as a helpful guide for putting together your first CV or rebuilding an old one. Other CV samples available on this website can help further, and using our own CV builder can make the process fairly easy.
Related CVs Engineering CV Examples