Mechanical Design Engineer CV Example
For people who are looking for a job as a mechanical design engineer, it is essential to create a CV that highlights your key skills while also stressing all of your applicable strengths. You can use this free mechanical design engineer CV sample as a template to help you recognise the different types of information that you need to take account of when you create your own mechanical design engineer CV and you can use the format here to guide you.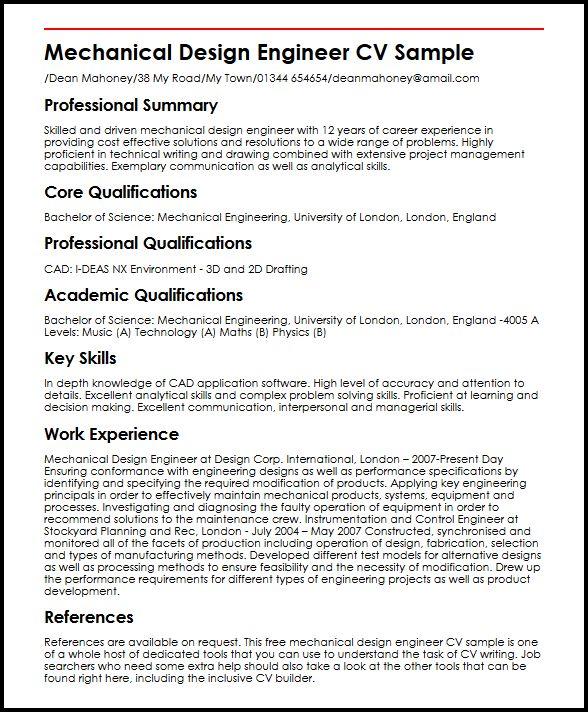 Our professional CV builder is designed to build the most powerful CV and save you time.
Mechanical Design Engineer CV Sample/Dean Mahoney/38 My Road/My Town/01344 654654/deanmahoney@amail.com
Professional Summary
Skilled and driven mechanical design engineer with 12 years of career experience in providing cost effective solutions and resolutions to a wide range of problems. Highly proficient in technical writing and drawing combined with extensive project management capabilities. Exemplary communication as well as analytical skills.
Core Qualifications
Bachelor of Science: Mechanical Engineering, University of London, London, England
Professional Qualifications
CAD: I-DEAS NX Environment - 3D and 2D Drafting
Academic Qualifications
Bachelor of Science: Mechanical Engineering, University of London, London, England-4005A Levels: Music (A) Technology (A) Maths (B) Physics (B)
Key Skills
In depth knowledge of CAD application software.High level of accuracyand attention to details.Excellent analytical skills and complex problem solving skills.Proficient at learning and decision making.Excellent communication, interpersonal and managerial skills.
Work Experience
Mechanical Design Engineer at Design Corp. International, London | 2007-Present DayEnsuring conformance with engineering designs as well as performance specifications by identifying and specifying the required modification of products.Applying key engineering principals in order to effectively maintain mechanical products, systems, equipment and processes.Investigating and diagnosing the faulty operation of equipment in order to recommend solutions to the maintenance crew.Instrumentation and Control Engineer at Stockyard Planning and Rec, London - July 2004 | May 2007Constructed, synchronised and monitored all of the facets of production including operation of design, fabrication, selection and types of manufacturing methods.Developed different test models for alternative designs as well as processing methods to ensure feasibility and the necessity of modification.Drew up the performance requirements for different types of engineering projects as well as product development.
References
References are available on request.This free mechanical design engineer CV sample is one of a whole host of dedicated tools that you can use to understand the task of CV writing. Job searchers who need some extra help should also take a look at the other tools that can be found right here, including the inclusive CV builder.