Our customers have been hired by: *
Working in a call centre can be a highly rewarding profession.In many cases, your wages will represent a combination of a salary and a set commission.Thus, there could very well be a great deal of money to be made.Such an environment is also fun, exciting and competitive.In terms of competition, there are now more applicants seeking jobs than ever before.This situation is further underpinned by the fact that many companies are outsourcing these positions to overseas employees.In order to enjoy a lucrative career, it is critical that a CV is formatted correctly.We ask you to examine the call centre team leader CV sample found below so that you are able to appreciate how you can portray yourself in the most professional manner.
Sample Call Centre Team Leader CV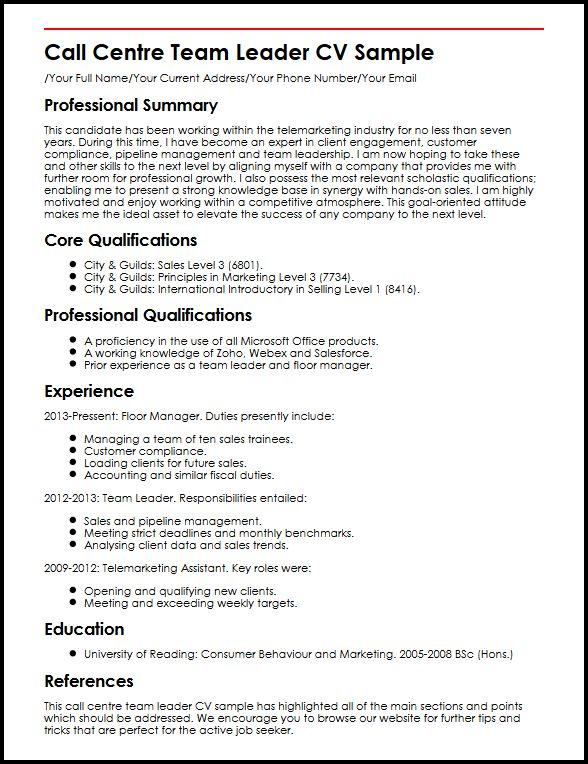 Call Centre Team Leader CV Sample/Your Full Name/Your Current Address/Your Phone Number/Your Email
Professional Summary
This candidate has been working within the telemarketing industry for no less than seven years.During this time, I have become an expert in client engagement, customer compliance, pipeline management and team leadership.I am now hoping to take these and other skills to the next level by aligning myself with a company that provides me with further room for professional growth.I also possess the most relevant scholastic qualifications; enabling me to present a strong knowledge base in synergy with hands-on sales.I am highly motivated and enjoy working within a competitive atmosphere.This goal-oriented attitude makes me the ideal asset to elevate the success of any company to the next level.
Core Qualifications
City & Guilds: Sales Level 3 (6801).
City & Guilds: Principles in Marketing Level 3 (7734).
City & Guilds: International Introductory in Selling Level 1 (8416).
Professional Qualifications
A proficiency in the use of all Microsoft Office products.
A working knowledge of Zoho, Webex and Salesforce.
Prior experience as a team leader and floor manager.
Experience
2013-Pressent: Floor Manager.Duties presently include:
Managing a team of ten sales trainees.
Customer compliance.
Loading clients for future sales.
Accounting and similar fiscal duties.
2012-2013: Team Leader.Responsibilities entailed:
Sales and pipeline management.
Meeting strict deadlines and monthly benchmarks.
Analysing client data and sales trends.
2009-2012: Telemarketing Assistant.Key roles were:
Opening and qualifying new clients.
Meeting and exceeding weekly targets.
Education
University of Reading: Consumer Behaviour and Marketing.2005-2008 BSc (Hons.)
References
This call centre team leader CV sample has highlighted all of the main sections and points which should be addressed.We encourage you to browse our website for further tips and tricks that are perfect for the active job seeker.
Related CVs Administration CV Examples