Account Director CV Example
The first step towards a career in accounts as a director is designing a CV that highlights your strengths accurately, and reflects your abilities and skills. Our free account director CV sample below is a priceless tool that will assist you in gaining insight into what is suitable for inclusion. It guides you on the formatting that is most suitable to grab the attention of a recruiting manager.
Create This CVSee all templates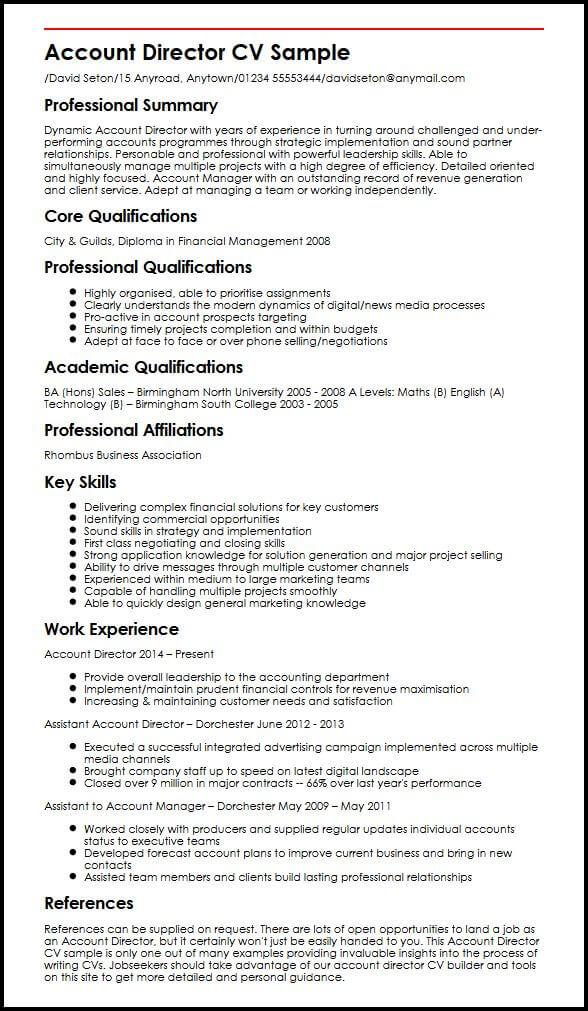 Build a professional CV that gets you hired.
Account Director CV Sample /David Seton/15 Anyroad, Anytown/01234 55553444/davidseton@anymail.com
Professional Summary
Dynamic Account Director with years of experience in turning around challenged and under-performing accounts programmes through strategic implementation and sound partner relationships. Personable and professional with powerful leadership skills. Able to simultaneously manage multiple projects with a high degree of efficiency. Detailed oriented and highly focused. Account Manager with an outstanding record of revenue generation and client service. Adept at managing a team or working independently.
Core Qualifications
City & Guilds, Diploma in Financial Management 2008
Professional Qualifications
Highly organised, able to prioritise assignments
Clearly understands the modern dynamics of digitalews media processes
Pro-active in account prospects targeting
Ensuring timely projects completion and within budgets
Adept at face to face or over phone sellingegotiations
Academic Qualifications
BA (Hons) Sales | Birmingham North University 2005 - 2008 A Levels: Maths (B) English (A) Technology (B) | Birmingham South College 2003 - 2005
Professional Affiliations
Rhombus Business Association
Key Skills
Delivering complex financial solutions for key customers
Identifying commercial opportunities
Sound skills in strategy and implementation
First class negotiating and closing skills
Strong application knowledge for solution generation and major project selling
Ability to drive messages through multiple customer channels
Experienced within medium to large marketing teams
Capable of handling multiple projects smoothly
Able to quickly design general marketing knowledge
Work Experience
Account Director 2014 | Present
Provide overall leadership to the accounting department
Implement/maintain prudent financial controls for revenue maximisation
Increasing & maintaining customer needs and satisfaction
Assistant Account Director | Dorchester June 2012 - 2013
Executed a successful integrated advertising campaign implemented across multiple media channels
Brought company staff up to speed on latest digital landscape
Closed over 9 million in major contracts -- 66% over last year's performance
Assistant to Account Manager | Dorchester May 2009 | May 2011
Worked closely with producers and supplied regular updates individual accounts status to executive teams
Developed forecast account plans to improve current business and bring in new contacts
Assisted team members and clients build lasting professional relationships
References
References can be supplied on request. There are lots of open opportunities to land a job as an Account Director, but it certainly won't just be easily handed to you. This Account Director CV sample is only one out of many examples providing invaluable insights into the process of writing CVs. Jobseekers should take advantage of our account director CV builder and tools on this site to get more detailed and personal guidance.