Telesales Representative CV Example
The world of telesales is as diverse as it is rewarding. As this is a highly competitive industry, only the best in the business can expect to enjoy success into the future. Many of these roles are also based upon commission as opposed to a salary alone. Those with the motivation and the knowledge should indeed go far in regards to upward mobility. Still, it is just as critical to recall that the hiring process is often quite demanding. One area which needs to be addressed is one's curriculum vitae. The telesales representative CV sample found below is an excellent framework to utilise as a guideline before and during the application process.
Create This CVSee all templates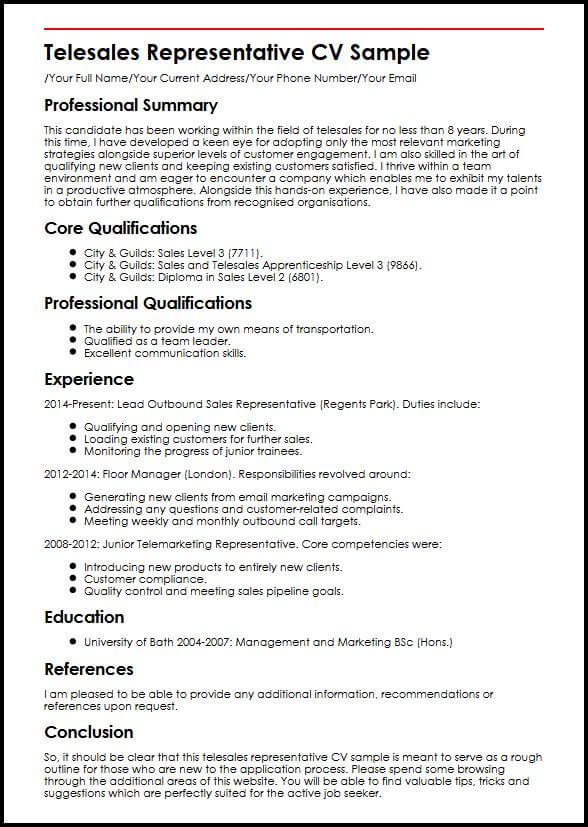 Build a professional CV that gets you hired.
Telesales Representative CV Sample/Your Full Name/Your Current Address/Your Phone Number/Your Email
Professional Summary
This candidate has been working within the field of telesales for no less than 8 years. During this time, I have developed a keen eye for adopting only the most relevant marketing strategies alongside superior levels of customer engagement. I am also skilled in the art of qualifying new clients and keeping existing customers satisfied. I thrive within a team environment and am eager to encounter a company which enables me to exhibit my talents in a productive atmosphere. Alongside this hands-on experience, I have also made it a point to obtain further qualifications from recognised organisations.
Core Qualifications
City & Guilds: Sales Level 3 (7711).
City & Guilds: Sales and Telesales Apprenticeship Level 3 (9866).
City & Guilds: Diploma in Sales Level 2 (6801).
Professional Qualifications
The ability to provide my own means of transportation.
Qualified as a team leader.
Excellent communication skills.
Experience
2014-Present: Lead Outbound Sales Representative (Regents Park).Duties include:
Qualifying and opening new clients.
Loading existing customers for further sales.
Monitoring the progress of junior trainees.
2012-2014: Floor Manager (London).Responsibilities revolved around:
Generating new clients from email marketing campaigns.
Addressing any questions and customer-related complaints.
Meeting weekly and monthly outbound call targets.
2008-2012: Junior Telemarketing Representative.Core competencies were:
Introducing new products to entirely new clients.
Customer compliance.
Quality control and meeting sales pipeline goals.
Education
University of Bath 2004-2007: Management and Marketing BSc (Hons.)
References
I am pleased to be able to provide any additional information, recommendations or references upon request.
Conclusion
So, it should be clear that this telesales representative CV sample is meant to serve as a rough outline for those who are new to the application process. Please spend some browsing through the additional areas of this website. You will be able to find valuable tips, tricks and suggestions which are perfectly suited for the active job seeker.
Related CVs Sales CV Examples