Commercial Manager CV Example
In order to make a good first impression with potential employers as a commercial manager, it is essential that you first produce a superb CV. Ideally, your CV will list all of your aptitudes for commercial activities as well as detailing your softer abilities, like team building for example. A strong CV will highlight your business strengths, but do so in a logical way that is clear to the reader from their first glance. Your CV should therefore be formatted in an appropriate way and, by using our free commercial manager CV sample, you are sure to hit the right mark, presenting all of your personal and professional information to great effect.
Create This CVSee all templates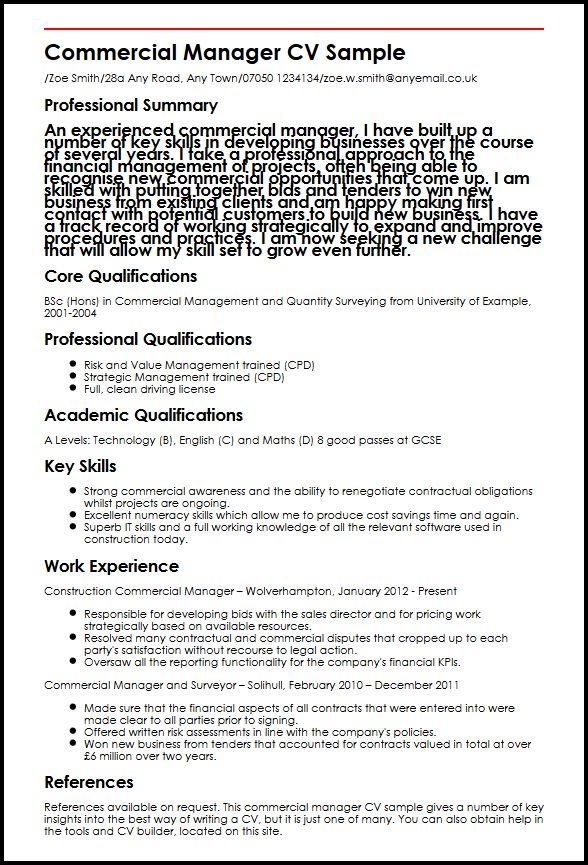 Build a professional CV that gets you hired.
Commercial ManagerCV Sample/Zoe Smith/28a Any Road, Any Town/07050 1234134/zoe.w.smith@anyemail.co.uk
Professional Summary
An experienced commercial manager, I have built up a number of key skills in developing businesses over the course of several years. I take a professional approach to the financial management of projects, often being able to recognise new commercial opportunities that come up. I am skilled with putting together bids and tenders to win new business from existing clients and am happy making first contact with potential customers to build new business. I have a track record of working strategically to expand and improve procedures and practices. I am now seeking a new challenge that will allow my skill set to grow even further.
Core Qualifications
BSc (Hons) in Commercial Management and Quantity Surveying from University of Example, 2001-2004
Professional Qualifications
Risk and Value Management trained (CPD)
Strategic Management trained (CPD)
Full, clean driving license
Academic Qualifications
A Levels: Technology (B), English (C) and Maths (D)8 good passes at GCSE
Key Skills
Strong commercial awareness and the ability to renegotiate contractual obligations whilst projects are ongoing.
Excellent numeracy skills which allow me to produce cost savings time and again.
Superb IT skills and a full working knowledge of all the relevant software used in construction today.
Work Experience
Construction Commercial Manager | Wolverhampton, January 2012 - Present
Responsible for developing bids with the sales director and for pricing work strategically based on available resources.
Resolved many contractual and commercial disputes that cropped up to each party's satisfaction without recourse to legal action.
Oversaw all the reporting functionality for the company's financial KPIs.
Commercial Manager and Surveyor | Solihull, February 2010 | December 2011
Made sure that the financial aspects of all contracts that were entered into were made clear to all parties prior to signing.
Offered written risk assessments in line with the company's policies.
Won new business from tenders that accounted for contracts valued in total at over £6 million over two years.
References
References available on request.This commercial manager CV sample gives a number of key insights into the best way of writing a CV, but it is just one of many. You can also obtain help in the tools and CV builder, located on this site.
Related CVs Sales CV Examples