Procurement Assistant CV Example
You can kick start your new dream career today by getting a little help with that tricky first step: your CV. Use our free procurement assistant CV sample as a framework to get you started, with a sample layout and inspiration for your personal summary. Tailor this to your needs and then you can focus on selling yourself and starting your new role.
Create This CVSee all templates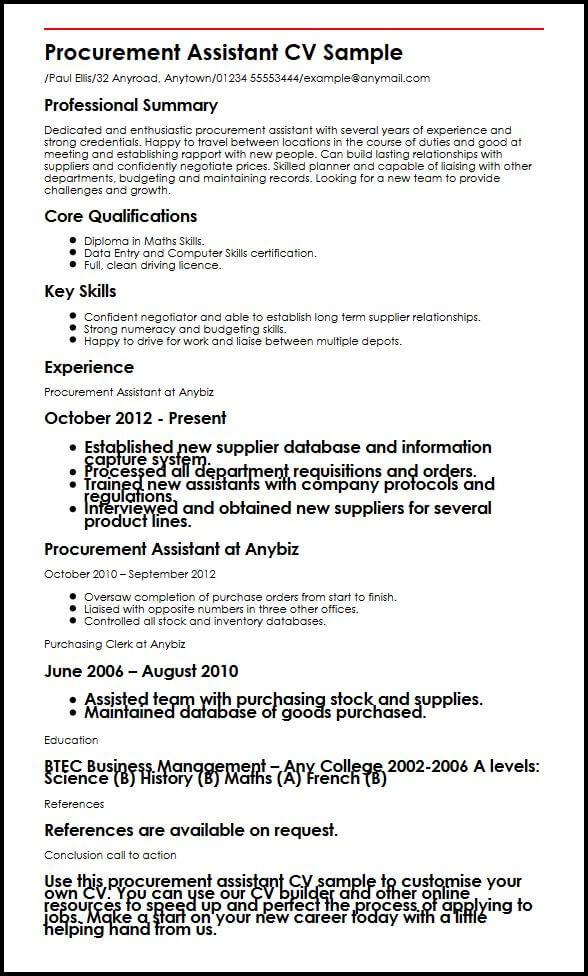 Build a professional CV that gets you hired.
Procurement Assistant CV Sample/Paul Ellis/32 Anyroad, Anytown/01234 55553444/example@anymail.com
Professional Summary
Dedicated and enthusiastic procurement assistant with several years of experience and strong credentials. Happy to travel between locations in the course of duties and good at meeting and establishing rapport with new people. Can build lasting relationships with suppliers and confidently negotiate prices. Skilled planner and capable of liaising with other departments, budgeting and maintaining records. Looking for a new team to provide challenges and growth.
Core Qualifications
Diploma in Maths Skills.
Data Entry and Computer Skills certification.
Full, clean driving licence.
Key Skills
Confident negotiator and able to establish long term supplier relationships.
Strong numeracy and budgeting skills.
Happy to drive for work and liaise between multiple depots.
Experience
Procurement Assistant at Anybiz
October 2012 - Present

Established new supplier database and information capture system.
Processed all department requisitions and orders.
Trained new assistants with company protocols and regulations.
Interviewed and obtained new suppliers for several product lines.

Procurement Assistant at Anybiz
October 2010 | September 2012
Oversaw completion of purchase orders from start to finish.
Liaised with opposite numbers in three other offices.
Controlled all stock and inventory databases.
Purchasing Clerk at Anybiz
June 2006 | August 2010

Assisted team with purchasing stock and supplies.
Maintained database of goods purchased.
Education
BTEC Business Management | Any College 2002-2006A levels: Science (B) History (B) Maths (A) French (B)
References
References are available on request.
Conclusion call to action
Use this procurement assistant CV sample to customise your own CV. You can use our CV builder and other online resources to speed up and perfect the process of applying to jobs. Make a start on your new career today with a little helping hand from us.