Assistant Housekeeper CV Example
Housekeeping is a necessary field and such a position can also be highly rewarding if one encounters the right employer.As first impressions are very important, any CV needs to be able to highlight the most important talents and traits of the applicant in a very concise manner.This goal could be further confounded by the sheer number of job seekers at any given time.Therefore, the assistant housekeeper CV sample seen below is a useful template in order to formulate an effective presentation and attract the attention of a potential business.
Create This CVSee all templates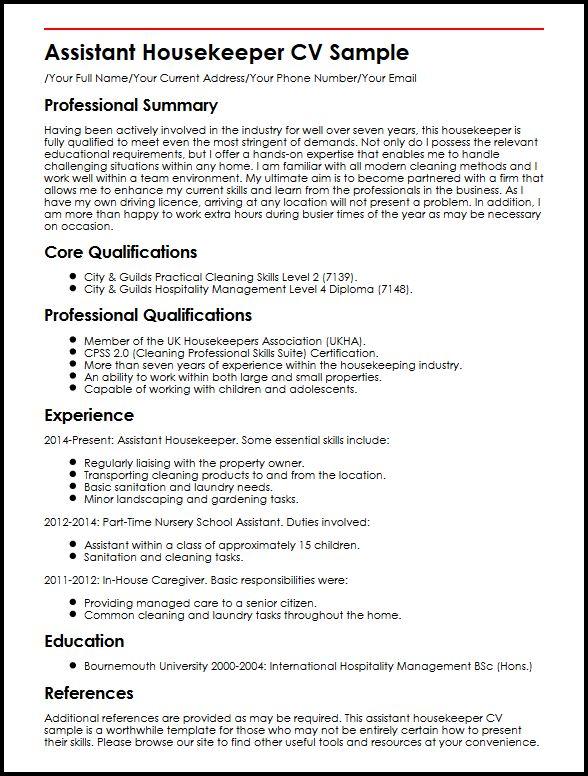 Build a professional CV that gets you hired.
Assistant Housekeeper CV Sample/Your Full Name/Your Current Address/Your Phone Number/Your Email
Professional Summary
Having been actively involved in the industry for well over seven years, this housekeeper is fully qualified to meet even the most stringent of demands.Not only do I possess the relevant educational requirements, but I offer a hands-on expertise that enables me to handle challenging situations within any home.I am familiar with all modern cleaning methods and I work well within a team environment.My ultimate aim is to become partnered with a firm that allows me to enhance my current skills and learn from the professionals in the business.As I have my own driving licence, arriving at any location will not present a problem.In addition, I am more than happy to work extra hours during busier times of the year as may be necessary on occasion.
Core Qualifications
City & Guilds Practical Cleaning Skills Level 2 (7139).
City & Guilds Hospitality Management Level 4 Diploma (7148).
Professional Qualifications
Member of the UK Housekeepers Association (UKHA).
CPSS 2.0 (Cleaning Professional Skills Suite) Certification.
More than seven years of experience within the housekeeping industry.
An ability to work within both large and small properties.
Capable of working with children and adolescents.
Experience
2014-Present: Assistant Housekeeper.Some essential skills include:
Regularly liaising with the property owner.
Transporting cleaning products to and from the location.
Basic sanitation and laundry needs.
Minor landscaping and gardening tasks.
2012-2014: Part-Time Nursery School Assistant.Duties involved:
Assistant within a class of approximately 15 children.
Sanitation and cleaning tasks.
2011-2012: In-House Caregiver.Basic responsibilities were:
Providing managed care to a senior citizen.
Common cleaning and laundry tasks throughout the home.
Education
Bournemouth University 2000-2004: International Hospitality Management BSc (Hons.)
References
Additional references are provided as may be required.This assistant housekeeper CV sample is a worthwhile template for those who may not be entirely certain how to present their skills.Please browse our site to find other useful tools and resources at your convenience.