Engineering Manager CV Example
Engineers are able to enjoy a highly specialised role within today's modern workforce.Not only is the pay grade substantially higher when compared to many other professionals, but the fluid nature of such a position virtually guarantees that there are always new skills to learn.These very same traits have enabled the engineering industry to be highly competitive and there are now more professionals entering into this trade than ever before.Possessing the most accurate CV is essential for your success.The engineering manager CV sample found below is an excellent representation of how you can highlight your skills and present yourself in the most agreeable light.
Create This CVSee all templates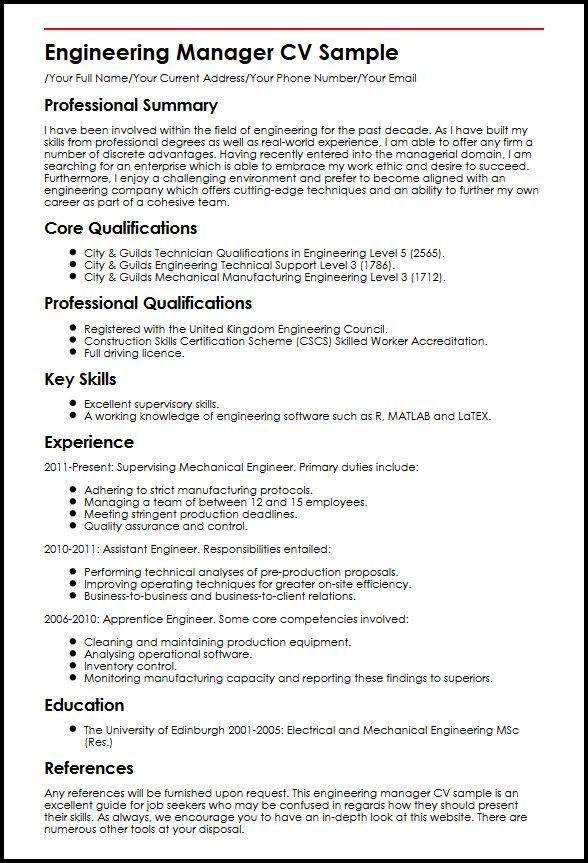 Build a professional CV that gets you hired.
Engineering Manager CV Sample/Your Full Name/Your Current Address/Your Phone Number/Your Email
Professional Summary
I have been involved within the field of engineering for the past decade.As I have built my skills from professional degrees as well as real-world experience, I am able to offer any firm a number of discrete advantages.Having recently entered into the managerial domain, I am searching for an enterprise which is able to embrace my work ethic and desire to succeed.Furthermore, I enjoy a challenging environment and prefer to become aligned with an engineering company which offers cutting-edge techniques and an ability to further my own career as part of a cohesive team.
Core Qualifications
City & Guilds Technician Qualifications in Engineering Level 5 (2565).
City & Guilds Engineering Technical Support Level 3 (1786).
City & Guilds Mechanical Manufacturing Engineering Level 3 (1712).
Professional Qualifications
Registered with the United Kingdom Engineering Council.
Construction Skills Certification Scheme (CSCS) Skilled Worker Accreditation.
Full driving licence.
Key Skills
Excellent supervisory skills.
A working knowledge of engineering software such as R, MATLAB and LaTEX.
Experience
2011-Present: Supervising Mechanical Engineer.Primary duties include:
Adhering to strict manufacturing protocols.
Managing a team of between 12 and 15 employees.
Meeting stringent production deadlines.
Quality assurance and control.
2010-2011: Assistant Engineer.Responsibilities entailed:
Performing technical analyses of pre-production proposals.
Improving operating techniques for greater on-site efficiency.
Business-to-business and business-to-client relations.
2006-2010: Apprentice Engineer.Some core competencies involved:
Cleaning and maintaining production equipment.
Analysing operational software.
Inventory control.
Monitoring manufacturing capacity and reporting these findings to superiors.
Education
The University of Edinburgh 2001-2005: Electrical and Mechanical Engineering MSc (Res.)
References
Any references will be furnished upon request.This engineering manager CV sample is an excellent guide for job seekers who may be confused in regards how they should present their skills.As always, we encourage you to have an in-depth look at this website.There are numerous other tools at your disposal.
Related CVs Engineering CV Examples