Podiatry Assistant CV Example
While there are many job opportunities for podiatry assistants, finding a new position is not always easy: marketing your skills, qualifications and experience in the most effective way is vital to secure an interview. Use our free podiatry assistant CV sample to write an application that is tailored to the role for which you are applying, outlining your most impressive achievements and highlighting why you are the best person for the position. It will provide you with valuable insights on the information to is essential to include as well as the best way to format your resume. The podiatry assistant CV sample below is a helpful example of a curriculum vitae that will gain your application the attention of hiring managers.
Create This CVSee all templates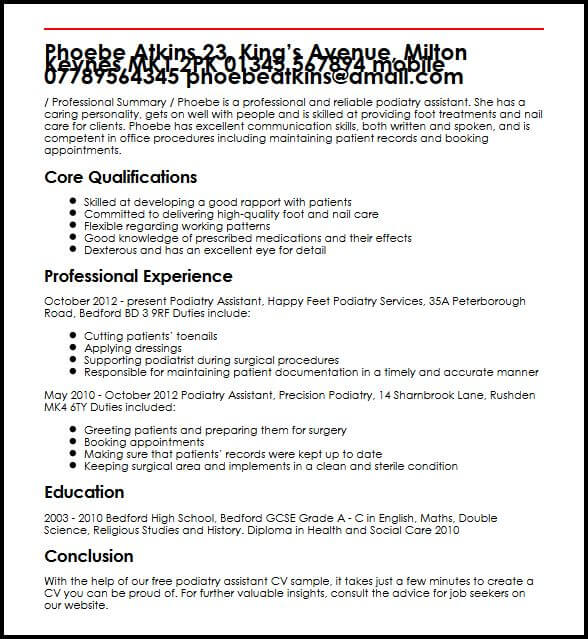 Build a professional CV that gets you hired.
Phoebe Atkins23, King'sAvenue, Milton Keynes MK1 2PK01345 567894 mobile 07789564345phoebeatkins@amail.com / Professional Summary /Phoebe is a professional and reliable podiatry assistant. She has a caring personality, gets on well with people and is skilled at providing foot treatments and nail care for clients. Phoebe has excellent communication skills, both written and spoken, and is competent in office procedures including maintaining patient records and booking appointments.
Core Qualifications
Skilled at developing a good rapport with patients
Committed to delivering high-quality foot and nail care
Flexible regarding working patterns
Good knowledge of prescribed medications and their effects
Dexterous and has an excellent eye for detail
Professional Experience
October 2012 - presentPodiatry Assistant, Happy Feet Podiatry Services, 35A Peterborough Road, Bedford BD 3 9RFDuties include:
Cutting patients' toenails
Applying dressings
Supporting podiatrist during surgical procedures
Responsible for maintaining patient documentation in a timely and accurate manner
May 2010 - October 2012Podiatry Assistant, Precision Podiatry, 14 Sharnbrook Lane, Rushden MK4 6TYDuties included:
Greeting patients and preparing them for surgery
Booking appointments
Making sure that patients' records were kept up to date
Keeping surgical area and implements in a clean and sterile condition
Education
2003 - 2010 Bedford High School, BedfordGCSE Grade A - C in English, Maths, Double Science, Religious Studies and History.Diploma in Health and Social Care 2010
Conclusion
With the help of our free podiatry assistant CV sample, it takes just a few minutes to create a CV you can be proud of.For further valuable insights, consult the advice for job seekers on our website.
Related CVs Healthcare CV Examples