Veterinary Receptionist CV Example
Working as a veterinary receptionist is a multi-skilled job, so when you apply for a position in this field, it's critical to show you have all the right attributes for the job. If you use our free online veterinary receptionist CV sample, you'll be very well equipped for the application process, as our CV summary points to the right categories to include and the right wording to use to create a professional impression. This will help you no end when it comes to being shortlisted for interview, which could then lead to you securing the job you want.
Create This CVSee all templates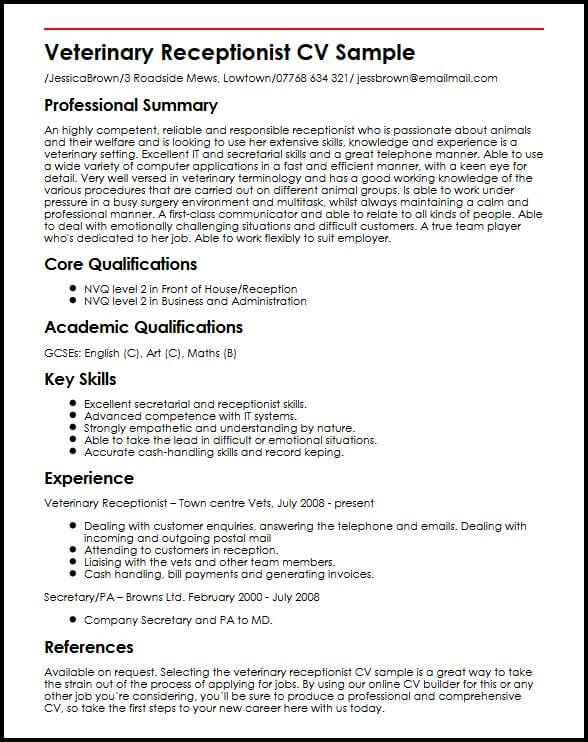 Build a professional CV that gets you hired.
Veterinary Receptionist CV Sample/JessicaBrown/3 Roadside Mews, Lowtown/07768 634 321/ jessbrown@emailmail.com
Professional Summary
An highly competent, reliable and responsible receptionist who is passionate about animals and their welfare and is looking to use her extensive skills, knowledge and experience is a veterinary setting. Excellent IT and secretarial skills and a great telephone manner. Able to use a wide variety of computer applications in a fast and efficient manner, with a keen eye for detail. Very well versed in veterinary terminology and has a good working knowledge of the various procedures that are carried out on different animal groups. Is able to work under pressure in a busy surgery environment and multitask, whilst always maintaining a calm and professional manner. A first-class communicator and able to relate to all kinds of people. Able to deal with emotionally challenging situations and difficult customers. A true team player who's dedicated to her job. Able to work flexibly to suit employer.
Core Qualifications
NVQ level 2 in Front of House/Reception
NVQ level 2 in Business and Administration
Academic Qualifications
GCSEs: English (C), Art (C), Maths (B)
Key Skills
Excellent secretarial and receptionist skills.
Advanced competence with IT systems.
Strongly empathetic and understanding by nature.
Able to take the lead in difficult or emotional situations.
Accurate cash-handling skills and record keping.
Experience
Veterinary Receptionist | Town centre Vets, July 2008 - present
Dealing with customer enquiries, answering the telephone and emails. Dealing with incoming and outgoing postal mail
Attending to customers in reception.
Liaising with the vets and other team members.
Cash handling, bill payments and generating invoices.
Secretary/PA | Browns Ltd. February 2000 - July 2008
Company Secretary and PA to MD.
References
Available on request.Selecting the veterinary receptionist CV sample is a great way to take the strain out of the process of applying for jobs. By using our online CV builder for this or any other job you're considering, you'll be sure to produce a professional and comprehensive CV, so take the first steps to your new career here with us today.