Automation Test Engineer CV Example
As in all cases for IT professionals, whether contract or permanent, a top quality curriculum vitae is essential for success when applying for an automation test engineer post. Your CV must be well written and tailored to the job at hand, portray your most impressive qualifications and include relevant skills and experience in similar test engineering roles.You may wish to look at this helpful automation test engineer CV sample before writing or updating your CV, to gain a thorough appreciation of what information to include and the formatting to use. The automation test engineer CV sample below is a great illustration of a document that captures recruiters' attention and invites further interest.
Create This CVSee all templates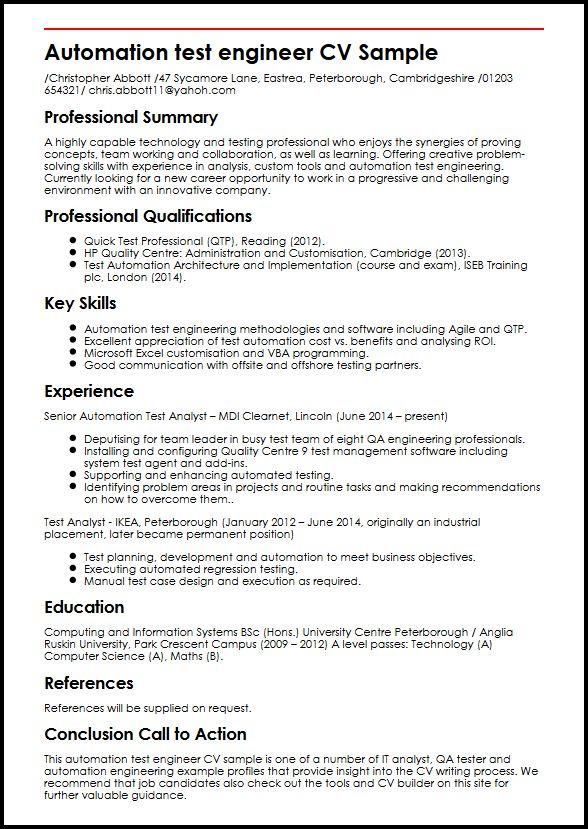 Build a professional CV that gets you hired.
Automation test engineer CV Sample /Christopher Abbott /47 Sycamore Lane, Eastrea, Peterborough, Cambridgeshire /01203 654321/ chris.abbott11@yahoh.com
Professional Summary
A highly capable technology and testing professional who enjoys the synergies of proving concepts, team working and collaboration, as well as learning. Offering creative problem-solving skills with experience in analysis, custom tools and automation test engineering.Currently looking for a new career opportunity to work in a progressive and challenging environment with an innovative company.
Professional Qualifications
Quick Test Professional (QTP), Reading (2012).
HP Quality Centre: Administration and Customisation, Cambridge (2013).
Test Automation Architecture and Implementation (course and exam), ISEB Training plc, London (2014).
Key Skills
Automation test engineering methodologies and software including Agile and QTP.
Excellent appreciation of test automation cost vs. benefits and analysing ROI.
Microsoft Excel customisation and VBA programming.
Good communication with offsite and offshore testing partners.
Experience
Senior Automation Test Analyst |MDI Clearnet, Lincoln(June 2014 | present)
Deputising for team leader in busy test team of eight QA engineering professionals.
Installing and configuring Quality Centre 9 test management software including system test agent and add-ins.
Supporting and enhancing automated testing.
Identifying problem areas in projects and routine tasks and making recommendations on how to overcome them..
Test Analyst- IKEA, Peterborough(January 2012 | June 2014, originally an industrial placement, later became permanent position)
Test planning, development and automation to meet business objectives.
Executing automated regression testing.
Manual test case design and execution as required.
Education
Computing and Information Systems BSc (Hons.)University Centre Peterborough / Anglia Ruskin University, Park Crescent Campus(2009 | 2012)A level passes:Technology (A) Computer Science (A), Maths (B).
References
References will be supplied on request.
Conclusion Call to Action
This automation test engineer CV sample is one of a number of ITanalyst, QA tester and automation engineering example profiles that provide insight into the CV writing process.We recommend that job candidates also check out the tools and CV builder on this site for further valuable guidance.
Related CVs Engineering CV Examples