Trainee Accountant CV Example
Professional accountants can expect to earn a substantial income within a rewarding industry. This role is particularly attractive for those who already possess a background in finance and wish to help others with their expertise. A trainee accountant will benefit from the help of other experts within this wide field and with effort, they can expect to enjoy a degree of mobility that is not often possible within other sectors. The trainee accountant 2 CV sample found in this article is intended to offer you general guidance before and during the interview process.Please take some time to examine it in closer detail.
Create This CVSee all templates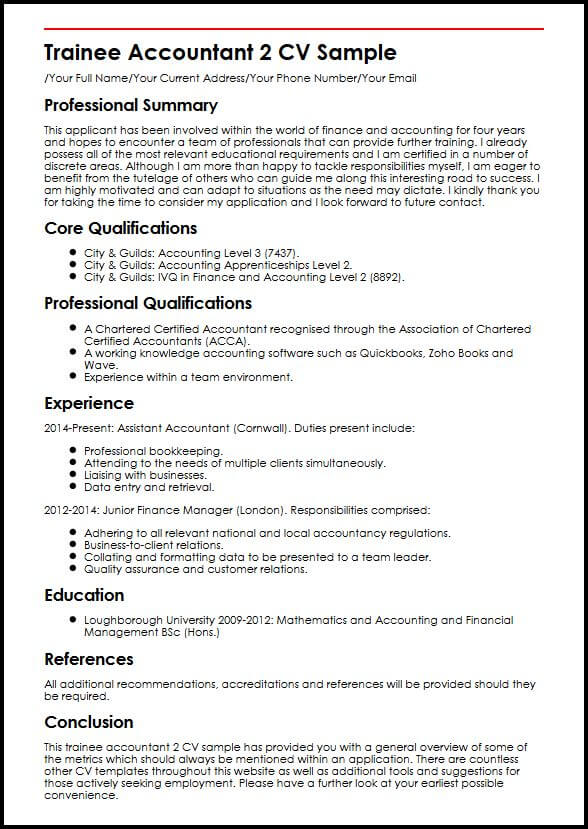 Build a professional CV that gets you hired.
Trainee Accountant 2 CV Sample/Your Full Name/Your Current Address/Your Phone Number/Your Email
Professional Summary
This applicant has been involved within the world of finance and accounting for four years and hopes to encounter a team of professionals that can provide further training. I already possess all of the most relevant educational requirements and I am certified in a number of discrete areas. Although I am more than happy to tackle responsibilities myself, I am eager to benefit from the tutelage of others who can guide me along this interesting road to success. I am highly motivated and can adapt to situations as the need may dictate. I kindly thank you for taking the time to consider my application and I look forward to future contact.
Core Qualifications
City & Guilds: Accounting Level 3 (7437).
City & Guilds: Accounting Apprenticeships Level 2.
City & Guilds: IVQ in Finance and Accounting Level 2 (8892).
Professional Qualifications
A Chartered Certified Accountant recognised through the Association of Chartered Certified Accountants (ACCA).
A working knowledge accounting software such as Quickbooks, Zoho Books and Wave.
Experience within a team environment.
Experience
2014-Present: Assistant Accountant (Cornwall).Duties present include:
Professional bookkeeping.
Attending to the needs of multiple clients simultaneously.
Liaising with businesses.
Data entry and retrieval.
2012-2014: Junior Finance Manager (London).Responsibilities comprised:
Adhering to all relevant national and local accountancy regulations.
Business-to-client relations.
Collating and formatting data to be presented to a team leader.
Quality assurance and customer relations.
Education
Loughborough University 2009-2012: Mathematics and Accounting and Financial Management BSc (Hons.)
References
All additional recommendations, accreditations and references will be provided should they be required.
Conclusion
This trainee accountant 2 CV sample has provided you with a general overview of some of the metrics which should always be mentioned within an application. There are countless other CV templates throughout this website as well as additional tools and suggestions for those actively seeking employment. Please have a further look at your earliest possible convenience.