A CV is your first opportunity to make a good impression on a prospective employer. It needs to be visually appealing so that it draws the attention of the person sifting job applications and deciding who to interview. Your CV should convince the recruiting officer that you have the skills and experience to do the job being advertised. There is more than one way to write a CV and the following spray painter CV sample should give you a very good idea how to go about preparing your own. Don't forget to look at another spray painter CV sample too.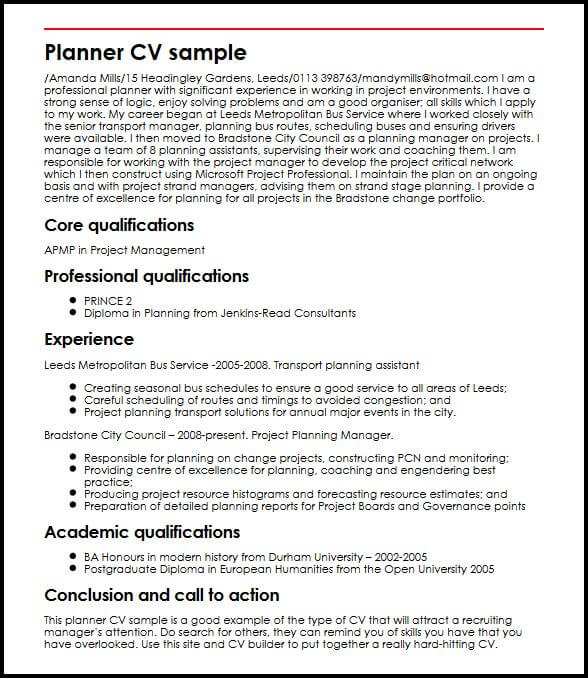 Planner CV sample/James Cordon/35 Healey Mews, Gleave/01245 98765/4jimc@sunmail.co.uk/I am an apprentice trained spray painter. I began my career working for a company that renovated, spray painted and finished office furniture including desks, cabinets and lockers. I then moved on to work in the automotive industry and work in the paint shop of a main dealer, preparing vehicles for spraying, carrying out the work and finishing. I am energetic, well-organised and self-directed with an exceptional knowledge of the spray painting process, colour matching, and paint mixing. I am proficient in the use of all types of paint spraying equipment and the application of paint by brush and roller. I am also responsible for cleaning and maintaining all equipment and tools and maintaining stocks of paint, paint removers, solvents, finishers and other chemicals.
Core qualifications
Level 2 (NVQ) Diploma in Decorative Repair Paint Techniques.
Professional qualifications
Subsidiary Diploma in Vehicle Accident Repair Paint Techniques
Experience
Office Furniture Renovation Ltd, Glantly - 2010-2012. Spray paint assistant.
Cleaning, sanding-down, masking and generally preparing items for spraying;
Using a pressure gun to spray desks, cabinets etc.; and
Painting with a brush or roller areas not suitable for spray painting and matching finish with spayed surfaces.
Marvellous Motor Company, Peverley -2012-2015. Head spray painter.
Preparing vehicles for paint spraying;
Ensuring colour matching, mixing paint when necessary to produce required colour;
Supervising and assisting with the cleaning and maintenance of the paint shop, and all equipment used; and
Ensuring all safety measures are adhered to in relation to the work of the paint shop.
Academic qualifications
GCSE Art and Design
GCSE Technology
GCSE Maths
Conclusion and call to action
This spray painter CV sample shows how a good CV can be set out to contain a summary of all your experience to date and it should certainly attract the attention of your prospective employer and secure you an interview. Do look at other CV formats, read the guidance on this site and use the tools to build a great CV.