Veteran CV Example
A good CV for veterans needs to be a unique and well-written document that is specific to the job you're targeting, as well as showing your best qualifications, skills and accomplishments. Take a look at our CV Sample for Veterans before you begin to write your own CV and it will give you an idea of what to write and the formatting to use. This CV Sample for Veterans is just the type of CV that will get you noticed when it lands on the recruiting manager's desk. Base your CV on this sample and you're more likely to be invited to attend interviews, which could lead to securing the job you want.

Create This CVSee all templates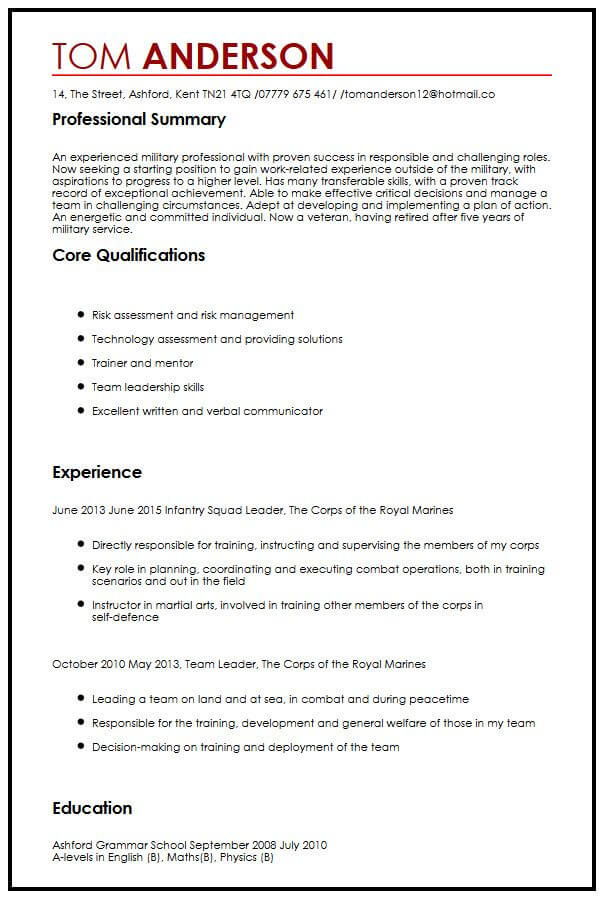 Build a professional CV that gets you hired.
14, The Street, Ashford, Kent TN21 4TQ /07779 675 461/ /tomanderson12@hotmail.co
Professional Summary
An experienced military professional with proven success in responsible and challenging roles. Now seeking a starting position to gain work-related experience outside of the military, with aspirations to progress to a higher level. Has many transferable skills, with a proven track record of exceptional achievement. Able to make effective critical decisions and manage a team in challenging circumstances. Adept at developing and implementing a plan of action. An energetic and committed individual. Now a veteran, having retired after five years of military service.
Core Qualifications
Risk assessment and risk management
Technology assessment and providing solutions
Trainer and mentor
Team leadership skills
Excellent written and verbal communicator
Experience
June 2013June 2015Infantry Squad Leader, The Corps of the Royal Marines
Directly responsible for training, instructing and supervising the members of my corps
Key role in planning, coordinating and executing combat operations, both in training scenarios and out in the field
Instructor in martial arts, involved in training other members of the corps in self-defence
October 2010May 2013, Team Leader, The Corps of the Royal Marines
Leading a team on land and at sea, in combat and during peacetime
Responsible for the training, development and general welfare of those in my team
Decision-making on training and deployment of the team
Education
Ashford Grammar School September 2008July 2010A-levels in English (B), Maths(B), Physics (B)
Conclusion
This CV Sample for Veterans forms part of our comprehensive collection, which can help you by providing essential information about how to write an effective CV. Jobseekers can benefit from consulting our site's tools and CV builder for invaluable tips and guidance.