Occupational Therapist CV Example
A professional looking CV filled with relevant information, in a format that's easy to read, gives potential employers a good first impression and makes it more likely that they will take your application further. Modelling your own application on an occupational therapist CV sample can help ensure you include all the necessary details, list your qualifications and skills in a logical order, and format your CV correctly, so the facts stand out at a glance. Use the occupational therapist CV sample below as a template to create a CV that stands out, and gets you started on your way to your new role.
Create This CVSee all templates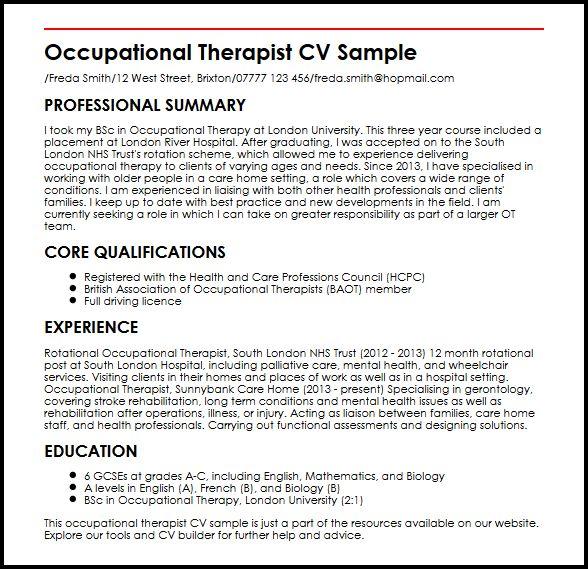 Build a professional CV that gets you hired.
Occupational Therapist CV Sample/Freda Smith/12 West Street, Brixton/07777 123 456/freda.smith@hopmail.com
PROFESSIONAL SUMMARY
I took my BSc in Occupational Therapy at London University. This three year course included a placement at London River Hospital. After graduating, I was accepted on to the South London NHS Trust's rotation scheme, which allowed me to experience delivering occupational therapy to clients of varying ages and needs. Since 2013, I have specialised in working with older people in a care home setting, a role which covers a wide range of conditions. I am experienced in liaising with both other health professionals and clients' families. I keep up to date with best practice and new developments in the field. I am currently seeking a role in which I can take on greater responsibility as part of a larger OT team.
CORE QUALIFICATIONS
Registered with the Health and Care Professions Council (HCPC)
British Association of Occupational Therapists (BAOT) member
Full driving licence
EXPERIENCE
Rotational Occupational Therapist, South London NHS Trust (2012 - 2013)12 month rotational post at South London Hospital, including palliative care, mental health, and wheelchair services. Visiting clients in their homes and places of work as well as in a hospital setting.Occupational Therapist, Sunnybank Care Home (2013 - present)Specialising in gerontology, covering stroke rehabilitation, long term conditions and mental health issues as well as rehabilitation after operations, illness, or injury. Acting as liaison between families, care home staff, and health professionals. Carrying out functional assessments and designing solutions.
EDUCATION
6 GCSEs at grades A-C, including English, Mathematics, and Biology
A levels in English (A), French (B), and Biology (B)
BSc in Occupational Therapy, London University (2:1)
This occupational therapist CV sample is just a part of the resources available on our website. Explore our tools and CV builder for further help and advice.
Related CVs Physiotherapy