Our customers have been hired by: *
Did you know that standards for writing a CV can vary depending on the country in which you want to apply? If you want to find a job in the UK, you should look for British CV templates. Only then will you be sure that your CV meets all the requirements. Get an edge even before the recruitment process and choose a British CV template from myPerfectCV!
UK CV templates to create and download
Impactful

Our impactful CV template helps your British CV stand out with a bold coloured margin for key information such as your skills and contact details. That's matched by the colour of subheadings for easy skim-reading.
CV examples UK: British CVs by job
British job market is both diverse and competitive. Take a look at a few British CV examples for different jobs, industries, and experience levels, that feature our UK templates.
UK CV Format and layout
Before you set about writing your CV, you need to know what format to go for. In the UK, the current format for CVs is the reverse chronological layout, preferably combined. What does this mean?
It means that your CV should include:
Your personal details
This is fairly self-explanatory. Every CV should include your name, address, telephone number and email.
Your employment history
In UK CVs, the chronological reversed format means that you list the most recent experience first, with previous experience underneath. Include the position, company name and location and dates of employment. List some of your main responsibilities underneath.
Skills
List both hard and soft skills.
Education
If you wish to list more than one position, list them in reverse chronological order.
Ben Worthington
14B Crown Way, London W5 0FR
07912345678
Ben.Worthington@example-example.co.uk
Professional summary
Dedicated mechanical technician with background in testing and report analysis. Hits productivity targets by optimising and maintaining systems. Responsible planner and risk manager.
Work history
January 2018 - Current
Fliers & Macs - London
Field Mechanical Technician
Maintained mechanical assets to minimise unplanned breakdowns.
Tested individual components and functions of equipment to detect root cause of issues.
Responded to outages to maximise plant availability.
Implemented Integrated Safe System of Work (ISSoW) process.
February 2010 - December 2017
Mechs - London
Rail Mechanical Technician
Developed products, components and mechanical devices.
Created electro-mechanical assemblies, switch and breaker cabinets.
Facilitated high-volume production and packaging lines.
Established defect reporting systems and solutions.
Skills
Pneumatic systems
Occupational health and safety
Gear boxes
Hydraulic systems
Bearing maintenance
Industrial testing equipment
Education
2010
University of London London
NVQ Level 3 Diploma in Mechanical Manufacturing Engineering
Top tips for using a CV template for UK jobs
Understand the difference between a British CV vs American resume

An American resume is generally shorter than a British CV, comprising only one page. This page covers your personal statement, relevant work, academic history, skills, and achievements. Resumes don't cover your entire work history, and the information doesn't have to be in chronological order. In the UK, CVs are used instead of resumes. A modern British CV template is generally one or two pages long and will contain more detail than a resume. However, you still need to ensure that the details included in your UK CV are relevant to the job you are applying for.

Use the correct British CV layout

A British CV layout includes far more detail than an American-style resume. It usually features a slightly more in-depth personal statement that summarises your experience, achievements, and work goals, along with how this relates to the desired role. The correct British CV layout to display your work history is in reverse chronological order, with your current or most recent position first. Whilst it is important to mention your academic history, earlier education, such as GCSEs, is generally left out unless relevant to the position. The content – and in some cases, the formatting – should be adjusted to suit each position you apply for.

Choose a British CV template download to save time

When creating your CV, a British template can help you save time that would otherwise be wasted with manually formatting your document. British blank CV templates provide a framework for you to add in details of your qualifications and expertise. Once you have the perfect British CV template download for your job opportunity, you can quickly complete it and send it over to the recruiter.

Research a British CV example in detail before writing

Examining a good British CV example helps you to see the key elements you need to include and the best way to present them. Search for a CV template for UK jobs in your chosen career path. Look at the grammar and spelling, formatting, and layout, as well as the work and academic history included in the British CV example. Don't be tempted to copy and paste the example's content, though, as this will quickly be discovered by savvy recruiters. The key is to take inspiration from a British CV example and adapt it to your own experience and accomplishments.
British CV template Dos and Don'ts
Do
Do research British CV examples in your field. Use a British CV model from your industry to plan out your own CV. For example, a construction manager CV template for UK jobs will focus on work history. Recruiters want to know what past roles show you're qualified for a managerial position. Any training courses, qualifications, and managerial achievements in the workplace will be important. Meanwhile, a dance CV template for the UK will most likely require more detail of creative achievements, including the types of dance you've performed, any awards or certificates received, and details of any performances.
Do use correct British English in your CV template for UK jobs. Be aware that certain professional or academic terms may not be used in the same way within the UK. For example, if you're preparing a student CV template for UK jobs, it's important to remember that the term 'college' is often used interchangeably with university in the US, but is a separate form of education for students aged 16+ in the UK.
Don't
Don't use the wrong British CV format. The British CV format generally has several consistent rules to follow. Use reverse chronology to record your work and academic experience, and always format them with bullet points. Keep your UK CV to two A4 size pages at most. Use a British CV template in Word format to ensure your CV won't be discarded by the ATS software some companies use to filter applications. Then compare your CV to a British CV format sample to check for formatting issues.
Don't ignore differences in UK qualifications and experience. If you have qualifications from outside the UK, be clear on how they make you suitable for the position. For example, if you're creating a CV template for UK warehouse operative jobs, you might need to specify or even translate what certain non-UK qualifications are and how they correspond to similar UK accreditations. In certain cases, for example, if you're preparing a nurse CV template for UK nursing jobs, you may need to take a course to adapt your skills to the UK health system before applying.
FAQs about British CV templates
What should a UK CV include?
The content you should include in a CV template for UK jobs will vary on your industry. A teacher CV template for the UK will require different information to a care assistant CV template for the UK. Whatever job you're applying for, you'll need to include your contact details, so recruiters can get in touch. You'll need a short personal statement summarising why you're the right person for the job – including your experience, skills, and goals for the future. After this, you should go into more detail about your work and education history. You can also include your skills and hobbies, if these are relevant to the position.
Do they say CV or resume in the UK?
In the UK, the terms 'CV' or 'Curriculum Vitae' are used. 'Curriculum Vitae' is a Latin term, meaning 'course of life'. Whilst the British are familiar with the term 'resume', it has the same meaning as CV in the UK, and is not generally used. So, when working on your British CV template, or sending the finished CV to recruiters, make sure you use 'CV' rather than 'resume'.
How do I write a CV profile UK?
Take your time. Remember that your CV is key to getting a job, so it's important that it's of the best quality.
find the right UK CV Template
complete it and provide information about your employment and professional profile
proofread it
make sure your CV takes up no more than 2 pages
do NOT add a photo
save your CV in PDF format and send it in response to the offer you are interested in
What is a British CV?
A British CV is considerably different to an American CV, which is generally only used in technical or academic settings. You will likely find that a CV template for UK jobs includes more detail than US resumes, but considerably less than a full American CV, which can extend up to 10 pages. British blank CV templates will include more space to add information than a resume, so think carefully about what might be important to employers. Don't be tempted to cram your UK CV with information about unrelated jobs you did 20 years ago, as this is off-putting to most recruiters.
How do you write a British style CV?
Using British grammar and spelling is key when writing a UK CV. Remind yourself of the subtle changes in spelling between British and American English. For example, American English uses '-ize' at the end of words such as 'specialize', whilst British English uses '-ise' instead. When using a British CV template, you should also be aware that different terms are used in the UK to other countries, like the US. Whilst the terms 'intern' and 'internship' are more widely used in the UK now, you may also see the terms 'trainee' and 'work placement' used to describe the same things.
Find the

perfect CV template for UK employment

in our collection
If you're looking to find work in the UK, having a fantastic British CV template makes a world of difference. Rather than wasting time creating and formatting a CV from scratch, you can immediately input all your qualifications and experience. Whether you need a British CV template in Word or a British CV format in PDF, you'll find exactly what you've been searching for in myPerfectCV's wide selection of UK CVs. Discover the perfect CV template for UK jobs and land that interview you've always dreamed of.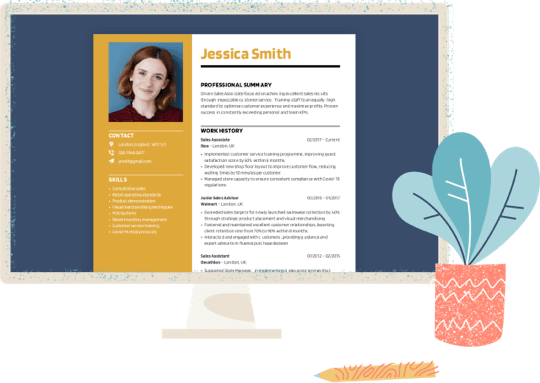 *The names and logos of the companies referred to above are all trademarks of their respective holders. Unless specifically stated otherwise, such references are not intended to imply any affiliation or association with myperfectCV.