For candidates new to the world of work, a properly written and well-presented CV should be tailored to the vacancy on offer, for best results. The document can be adapted to focus on educational qualifications and key abilities that are important to the potential new employer | including unpaid or part-time work, volunteering and any transferable skills and achievements. Additionally, sporting successes or hobbies help to show the job applicant's dedication and motivation; this will help the recruiting manager or HR department to see that a candidate could be suitable for the position and will increase the possibilities of being invited to a job interview. Before composing your job application, we suggest that you review this helpful CV example with no job experience that illustrates the correct formatting and relevant information to include.

Create This CVSee all templates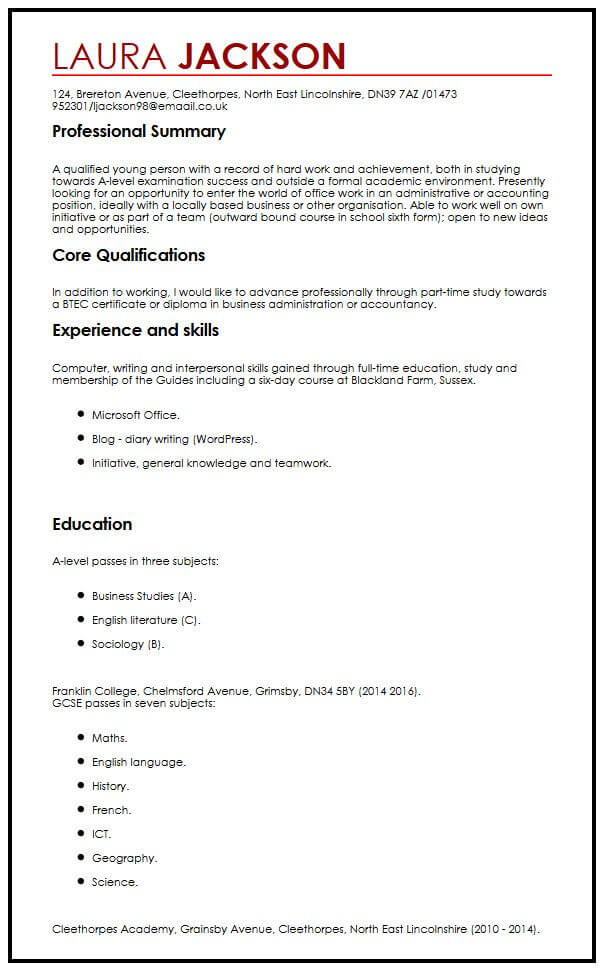 Build a professional CV that gets you hired.
124, Brereton Avenue, Cleethorpes, North East Lincolnshire, DN39 7AZ /01473 952301/ljackson98@emaail.co.uk
Professional Summary
A qualified young person with a record of hard work and achievement, both in studying towards A-level examination success and outside a formal academic environment. Presently looking for an opportunity to enter the world of office work in an administrative or accounting position, ideally with a locally based business or other organisation. Able to work well on own initiative or as part of a team (outward bound course in school sixth form); open to new ideas and opportunities.
Core Qualifications
In addition to working, I would like to advance professionally through part-time study towards a BTEC certificate or diploma in business administration or accountancy.
Experience and skills
Computer, writing and interpersonal skills gained through full-time education, study and membership of the Guides including a six-day course at Blackland Farm, Sussex.
Microsoft Office.
Blog - diary writing (WordPress).
Initiative, general knowledge and teamwork.
Education
A-level passes in three subjects:
Business Studies (A).
English literature (C).
Sociology (B).
Franklin College, Chelmsford Avenue, Grimsby, DN34 5BY (20142016).GCSE passes in seven subjects:
Maths.
English language.
History.
French.
ICT.
Geography.
Science.
Cleethorpes Academy, Grainsby Avenue, Cleethorpes, North East Lincolnshire (2010 - 2014).
Conclusion
In addition to this CV example with no job experience, numerous other CV examples that offer key insights are available free of charge on this site. Jobseekers should consult the CV builder and tools for further valuable guidance with the CV writing and job application process.