Build a CV to Maximise Your Career Success
The employment market is highly competitive. And recruiters will spend just 6 seconds reading your CV before they decide whether your application will progress.
If you want to get ahead in your career, understanding how to write a CV is a critical skill. We're here to help you. Can't wait to get started? Start using our CV builder now. Otherwise, check out the tips and tools we've gathered after 10+ years of helping candidates get the jobs they want.
How to Write a CV: Our 10 Top Tips for UK Candidates
Writing a great CV doesn't have to be a stressful process. It can actually be quick and easy if you get expert help. Here are our 10 top tips for CV writing:
Choose the right CV template
Choose the right template for the position you want and you're on track to meet recruiters' expectations. Our professional templates will give you the design and structure you need to organise the content.
Organise information logically
An effective CV is divided into different sections like contact details, work history, education, personal statement, and skills. The contents of some sections are obvious, but watch out for sections like Skills, where you have an opportunity to explicitly call out key competencies. 
Consider tone and formality
Research the employer to get a sense of how formal the organisation is. Try to mirror the level of formality that they show, both in the language you use and the formality of the CV template you choose. When in doubt, remember that you need to keep your CV and cover letter professional.
Keep an eye on length
With an average of 250 people applying for any given role, your CV can't be so long that the employer loses interest. The maximum recommended length is two sides of A4. Use a CV template to make sure you're not cramming too much in - if it's too crammed or too long, recruiters will simply discard it.
Format your work experience consistently
Make sure that your work experience is formatted consistently. Choose one format for writing dates, such as 25/09/1996, and use throughout your CV and cover letter. Make sure that you use the present tense when you're writing about your current job and the past tense when you're describing former roles.
Include role-specific keywords
Keywords play a vital role in CV writing. Many companies now use Applicant Tracking Systems (ATS): software that scans CVs for certain keywords then ranks them before passing them on to recruiters.
Read through the job specification carefully when you create a CV and try to spot specific keywords that are mentioned. Use this list of keywords in your CV to ensure that you mention the key skills and experience they're looking for. 
Include general keywords
Recruiters also instinctively look for certain keywords that stand out. Think about words like:
Accurate – with reference to records you've had to keep.
Confident – and how this has been used to measurable, positive effect.
Innovative – with details of initiatives you've led.
When you use keywords like these, make sure to back it up with a practical example of how you've demonstrated the attribute.
Keep it relevant
It's tempting to list every single professional achievement. Don't! Only include information that's relevant to the position you're applying for, whether it's to illustrate your employment history, skills, or cultural fit.
Check spelling and grammar
It's such an obvious mistake but you'd be surprised how many people make it! One spelling mistake is enough to have a potential employer put your CV in the bin, so when you've finished writing your CV proofread it several times. Bear in mind that an automated spell-check might not spot every mistake.
Re-read it
Take a step back and pretend to be your potential employer. Does the CV look neat and easy to read? Do the relevant keywords stand out? Is the CV structure logical? Is there any information missing, or content that isn't relevant? Make any final adjustments before you save your CV as a PDF.
3 Common CV Writing Questions
What is the format of a CV?
The format of a CV refers to the information included and how it is set out. Different CV templates will apply for different professions, but all formats will include the following:
Contact information
Personal statement
Employment history
Education
Skills
How do you write skills on a CV?
Write skills on a CV by:
Dividing them into soft skills and employment based skills.
Illustrating your skills with practical examples.
Focusing on the skills that are most relevant to the role.
Avoiding using clichés like 'team player'.
What are the first things a recruiter is looking for in a CV?
The first things that recruiters look for are: 
Your name.
The start date and end date of previous positions.
The start date of any current position.
The education you have received.
Current or previous job title and company name.

Use a well-constructed CV template to ensure that these key points are easy to find. Combine it with our online CV builder and you can be sure you'll impress prospective employers.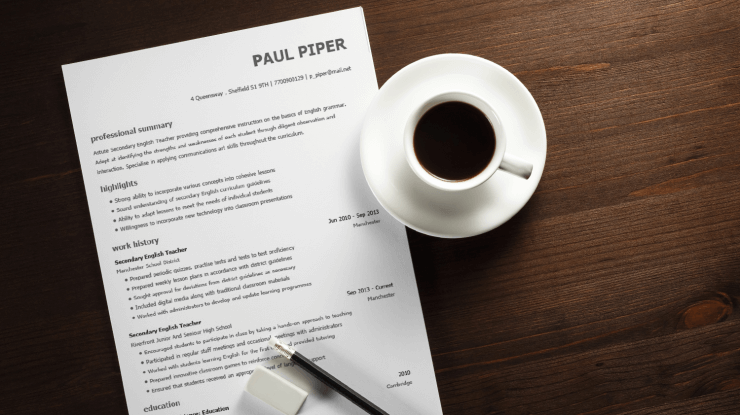 How to Write a CV That Passes ATS Filters
What is an ATS?
An Applicant Tracking System (ATS) is software that scans all submitted CVs for specific keywords, then ranks them. It's common for recruiters to only review the top-ranked CVs, discarding the rest of the applications. With up to 98% of the Fortune 500 companies now using an ATS to help them, it's critical that your application not only passes through their filters but also ranks highly.
Writing an ATS friendly CV
The key to writing a CV that an ATS loves is all about including the right keywords. You'll find these keywords by carefully reviewing the job advert and description. Pay particular attention to the job title, specific skills, and software packages that it mentions are a requirement.
Keeping it real
Once you've identified the right keywords, you might be tempted to repeat them as often as possible - like a kind of insurance policy. But actually a CV that's overloaded with keywords won't look right to an ATS, and it's likely to be detected and rejected. And even it miraculously fools the software, it won't pass the recruiter's 6-second test.
Top Tips for Writing an ATS-friendly CV
Choose an ATS-friendly CV template, whether in Word or PDF format.

Include a skills section, mentioning relevant skills from the job description.

Don't rely on abbreviations - spell key terms out as well, just in case.

Swap unusual or conventional terms for those that appear in the job advert. For example, your current job title might be 'Web Ninja', but you'll do better ATS-wise if you tweak your title to the more conventional 'Web Developer'.

Tailor your CV for each job, since each employer and hiring manager will prioritise keywords a little differently.
How to Write a CV: Top UK CV Examples
Learning how to write a CV can feel daunting, but it doesn't need to be. With over a decade's experience, we've helped millions of people worldwide to create CVs that got them interviews.
Here are a hand-picked set of free UK CV examples to help inspire you to create your own perfect CV.
2 Expert CV Writing Tricks
Summarising your career, showcasing your key skills, and sharing your best professional achievements is a lot to ask. And trying to fit it all into just 2 sides of A4 doesn't make it seem any easier! But it doesn't have to be difficult. Here are 2 expert CV writing tricks that make the task a lot more manageable:
1. Example CVs provide inspiration
You don't need to reinvent the wheel when you create a new CV. Example CVs from your professional peers give you lots of information about what's expected, as well as a healthy dose of inspiration. See which CV designs they favour and whether the content is provided in paragraphs or bullet points. Our selection of example CVs cover virtually every job and industry, making it easy for you to find inspiration before you create your CV. 
2. Templates make it quick and easy to create CVs
Many of the best CVs start with CV templates. When developed by experts, professional CV templates provide a CV design that appeals to employers in a specific industry, as well as a CV structure designed to prioritise the key skills and information.
A professional CV template will also offer a clear and concise format, encouraging you to provide only the most relevant information. It will help you appeal to the specific requirements of each prospective employer by offering you a range of CV formats, including Word and PDF.
Looking for a great CV template? Check out our online CV builder that makes it quick and easy. Just select an appropriate CV template, fill in the relevant details, and you'll build a perfect CV in minutes. 
5 Common CV Writing Mistakes That Put Recruiters Off
Want to write an effective CV? Then you have to understand your audience. Recruiters are busy reading through hundreds of CVs each week to fill roles. They spend an average of just 6 seconds scanning each CV and they're not easy to impress.
According to industry experts, writing in the third person, using emojis, and having an unprofessional email address almost guarantee that your CV will be rejected by recruiters. Here are 5 more mistakes to avoid: 
Clichés
Using the right keywords is important, but clichés and overused phrases have lost all meaning. Recruiters are tired of reading them and they don't deserve space on your CV. How can you tell whether it's a cliché? Ask yourself if anyone would ever claim to be the opposite - for example, 'I'm lazy'. If they wouldn't, then you don't need to include it.
Focusing on design vs content
CV designs should help prospective employers to read the content, not distract them from it. Choose a clear, professional design with plenty of white space. Design flourishes, patterned backgrounds, creative fonts, and wild colours might seem fun to you as a candidate, but they just make it difficult to read what you've written. 
A CV that's not been tailored for the role
Each role is slightly different, which is why it's so critical that you tailor your CV for every role. Recruiters quickly spot this and usually reject the application, either because you don't tick enough of the boxes or because it shows a lazy approach.
You don't have to start from scratch each time - our online CV creator makes it quick and easy to customise your CV for each new application.
Irrelevant information
When you want to impress, it's tempting to include every single achievement. But recruiters are only interested in achievements that are relevant to the advertised role. This applies both to your career history and education, as well as to your hobbies and personal interests.
Forgetting to proofread
Spelling and grammar are easy to check, so when you make these mistakes recruiters often simply discard your CV. Check and double-check your CV. Use a spellchecker and check again manually for extra errors. An error-free CV shows recruiters that you pay excellent attention to even the smallest detail.
How to Write a Perfect CV, Quickly & Easily
A perfect CV leads to a job interview, which is critical to a successful job search. So it's worth taking the time to learn how to write a CV.
The quickest and easiest way to write a perfect CV is to use our online CV builder. You get the benefit of our experience - over a decade of helping millions of candidates worldwide to create perfect CVs.
Our CV builder gives you access to all the ATS-friendly CV templates you'll need plus sample text you can click to customise, and expert help and advice at every step. There really is no easier way to build a great CV. Start now and you can have a perfect CV in just minutes!