Create a CV to Maximise Your Chances of Career Success
The employment market is highly competitive so learning how to write a CV is the best way of ensuring that you're in a position to come out on top. But before you learn how to write a CV, consider how long the average recruiter spends looking at a CV. The answer, according to research is just 6 seconds. It's just enough time for a recruiter to skim the first page of your CV.
CV writing skills aren't something that you learn in school. So if you're feeling stressed, you're not alone. The good news is that our CV builder can help you to create a CV that delivers maximum impact.
How to Write a CV: Our Top 10 Pieces of Advice for UK Jobseekers
Deciding how to write a CV can seem daunting when you approach it as a single task. There are two things you can do to turn it into a quick and easy job to make a CV online, however:
Use the right CV template to create a framework, and a CV builder to guide you through the process.
Divide writing a CV into smaller, more easily managed sections. Don't aim to get everything down in one go. Start with your contact information and work methodically from there.
These helpful tips on how to write a CV will put you in the perfect position to complete a CV that meets the expectations of recruiters and showcases your individual attributes:
Choose the right template for the position in question and you'll create a CV that matches industry expectations. This includes factors like the appearance of the CV and the prominence of particular sections. If you're writing a graduate CV, for example, then it makes sense to highlight educational achievements and qualifications over work experience.
2.
Put the Right Information in the Right Section
An effective CV will be divided into different sections like employment history, education, personal profile, and skills. It's obvious which information goes into certain sections (like employment history) but make sure that the correct details are included in other sections.For example, your employment history might suggest which skills you have, but the skills section is your chance to pull out particular examples.
The right CV template and a CV builder will set out how to write a CV that suits the profession in question. This includes the degree of formality expected, as well as a visual style that meets recruiters' expectations. You should take the time to research other material produced by the employer to make sure that the language you use matches theirs in terms of formality and tone.
With an average of 250 people applying for any given job, you have to make sure that your CV isn't too long to hold a recruiter's interest. The maximum recommended length is two sides of A4. A CV that is longer than this will fail the 6 second test, as will one which looks like it has been untidily crammed with information.
5.
Formatting Your Work Experience
Make sure that your work experience is formatted consistently. Choose a format for writing dates, such as 25/09/1996, and use it for every date. Also make sure that you use the present tense when you're writing about your current job, and the past tense when you're describing jobs you used to have.
There are two ways in which keywords play a vital role in how to write a CV. The first is that many companies are now using Applicant Tracking Systems (ATS): automated bots to scan CVs for certain words before passing them on to recruiters.The second is that recruiters themselves will instinctively spot particular words during the first few seconds. You should try to use keywords like:
Accurate – with reference to records you've had to keep.
Confident – and how this has been used to measurable, positive effect
Innovative – with details of initiatives you've spearheaded
Other examples include active verbs such as involved, promoted, originated, all of which should be used when referring to specific achievements or activities. Whenever you use a keyword of this kind, make sure you back it up with a practical example of how you've demonstrated this attribute.
As well as the general keywords listed above, you should check the job specification carefully when you create a CV to ensure that you include everything the employer is looking for. To keep things simple, write down the keywords used in the description and tick them off as they appear on your CV.
You may be tempted to list every achievement you have to your name, but ask yourself if everything you're including when you make a CV is relevant to the position you're applying for. Sporting achievements, for example, may not be relevant when applying for a job in IT, but might showcase the kind of physical fitness needed for a post in law enforcement.
9.
Check Spelling and Grammar
A point that is so obvious many people end up forgetting it. Don't! When you've finished writing a CV, check it for spelling and grammar, not just once but several times. Bear in mind that an automated spell-check might not spot every mistake. Always remember that a single spelling or grammar mistake can be enough to see your CV rejected.
Put yourself in a recruiter's position and read through your CV. Ask yourself whether if it looks clear and coherent. Do the relevant keywords stand out? Is the information arranged in a logical manner? Does it look appealing and professional at first glance?Because you might be too close to the process, ask a friend to read it as well, in order to provide a fresh perspective. Another useful exercise is to read your CV out loud to yourself, as this often helps to highlight errors the eye might just slide over.
3 Common CV Writing Questions That UK Jobseekers Ask
What is the format of a CV?
The format of a CV refers to the information included and how it is set out. Different CV templates will apply for different professions, but all formats will include the following:
Contact information.
Employment history.
Educational history.
Additional skills.
How do you write skills on a CV?
Write skills on a CV by:
Dividing them into soft skills and employment based skills.
Illustrating your skills with practical examples them in use.
Being honest about your skills, even if some people opt not to.
Avoiding using clichés such as 'team player'.
What are the first things a recruiter is looking for in a CV?
Additional
research into recruiter behaviour
found that 80% of the 6 second review time was spent looking for:
Name
The start date and end date of previous positions
The start date of any current position
Education
Current/previous title and name of company
If these data points aren't present, and set out in a clear, easily accessible manner, then your CV will fail at the first hurdle. The increasing use of Applicant Tracking Systems (ATS) means that getting the structure or content of your CV wrong can stop it from even being seen by a recruiter.
Always bear in mind that knowing how to write a CV successfully also means customising your approach for the specific job you want. Make sure you choose the right template for the job in question and you've made the best possible start. Combine it with our CV builder and you can be sure the content of your CV will make you stand out to recruiters.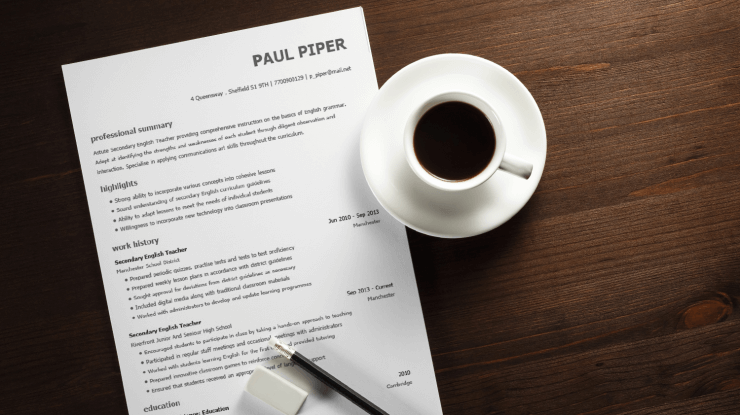 How to Write a CV That Passes ATS Filters
What is an ATS?
An ATS, or applicant tracking system is an automated system that scans CVs before they are passed on to a human recruiter. The impact an ATS can have on the effectiveness of a CV has to be borne in mind, as it's been claimed that 98% of the Fortune 500 companies now make use of an ATS. The ATS software will be programmed to look for certain keywords in a CV, and to reject those which don't feature the right words.
Writing an ATS friendly CV
The key to writing a CV that can make it past an ATS is knowing which keywords to include. You'll find these keywords through careful analysis of the job title and job description. The kind of skills mentioned in the description will have to feature in your CV, and the ATS may also be searching for the specific job title, in order to weed out those who haven't done the job before.
Keeping it Real
Once you've identified the right keywords, the temptation might be to include them as often as possible as a kind of insurance policy. Resist this temptation, as a CV that's over-stuffed with keywords will be rejected by the ATS as being machine written, rather than authentically human. And even if an over-stuffed CV does manage to fool an ATS, it will fail the 6 second test when put in front of a recruiter.
Top Tips for How to Write a CV that's ATS Friendly
CV Template:

Choose a CV template suited to the industry, which sets out the information in a clear and easily readable CV format.

Skills Section:

Include a skills section and headline those skills which are mentioned, by name, in the job description.

Use Full Terms and Abbreviations:

Use both full terms and the right abbreviations as keywords, as the ATS will probably search for both.

Qualifications:

Ensure that the qualifications specified in the job description are listed in full.

Specific Customisation:

Customise a new CV specific to every position applied for, as the ATS for each will be programmed differently.
How to Write a CV: Top UK CV Examples
There's no getting away from the fact that learning how to write a CV can be a challenge. Writing a CV is a specific skill, no matter what kind of work you're seeking. Choosing a template that matches your experience and the job you're seeking is key to success when you create a CV. And looking at UK CV examples can make all the difference. The following examples highlight the need to choose carefully when it comes to things like template, tone and structure:
The Quick and Easy Answer to How to Write a CV
When you sit down to write a CV the first thing to accept is that it can seem like a challenge. It involves detailing everything you have to offer professionally in as little as 2 sides of A4, and doing so in a way that meets the expectations of the profession in question. It also means putting together content that can both beat an ATS, and grab the attention of a recruiter who might spend just 6 seconds looking at it.
These aren't the kind of skills that you were taught at school, or that you usually have to apply in your working life. Writing a CV is a unique challenge, but these tips will make it quick and easy:
Take a look at examples of other CVs written for the same industry
They will have the kind of format needed and will show the type of language that recruiters expect. Factors to look out for include the emphasis placed on different factors such as employment history, education, and skills, and the keywords that have been used in response to the job description.
Use a CV template
Many of the best CVs make use of CV templates. These will have been put together by experts with an in-depth knowledge of the industry in question, and a grasp of what will appear professional and relevant to a recruiter. The right template will offer a clear and concise format and encourage you to set out your details with the right emphasis.
In conjunction with a CV template, our online CV builder makes it quick and easy to fill in all the relevant details. Simply point and click to use carefully created examples as they are, or take the text as an inspiration and adjust it to exactly fit your needs.
Common CV Writing Mistakes That Recruiters Don't Like
Perhaps the most important part of learning how to write a CV is to understand your audience. The person you make a CV for is a recruiter. They will probably be reading through hundreds of CVs, looking for applicants who present a good case for being invited to an interview.
The 6 second rule is based on solid research and underlines the fact that your CV has to make an instant impact. Once you've done this, you have to make sure it doesn't include the kind of mistakes that will lead to instant rejection.
According to industry experts Undercover Recruiter, the top 10 reasons for recruiters to reject a CV include writing in the third person, using emojis, and having an unprofessional email address. These three slip-ups may be fairly simple to eliminate, but there are also less obvious errors to keep an eye out for.
Using the right keywords is vital, but overused, clichéd or lazy phrases can be damaging. The problem with certain phrases is that they've been used so often that they've pretty much lost all meaning.Claiming that you're a hard worker or can work independently don't really tell a recruiter anything they wouldn't expect as a minimum. A good trick with phrases like these is to ask yourself if anyone would ever be likely to say the opposite ('I don't work well under pressure' for example). If not, then it really doesn't need saying.
The design of a CV should serve one purpose above anything else – to make sure the information is presented clearly. The right CV template can also create a professional impression, but any design features used for their own sake will just irritate the recruiter.Things such as a decorative border, an array of different fonts or a highly involved background will just leave a recruiter wondering what it is you're trying to distract them from. Stick with the right CV template and let the facts speak for themselves.
3.
A CV That hasn't Been Written For a Specific Job
Once you've perfected your CV using a CV template and builder, it can be tempting to re-use it. This would be a mistake, however, since every different post has specific requirements that a CV has to meet. A recruiter will be able to spot instantly if a CV has been created to be 'all-purpose' and will reject it on two grounds:
It doesn't match up to the job in question closely enough
Re-using a CV indicates a lack of professionalism
Fortunately, the CV templates mean it's quick and easy to create a customised CV every time you apply for a new position
4.
Irrelevant Information
When you feel under pressure to impress, it can be tempting to include everything you've ever achieved and any information which you feel puts you in a positive light. A recruiter, however, will only be looking for facts that will impact upon your suitability for the job.If you tell a recruiter that you can play piano up to grade 3, they might just be asking themselves what that has to do with the retail position you're applying for. Every time you include a piece of information, ask yourself if it relates to the position you're applying for.
A typing or grammar mistake in your CV is probably the easiest mistake to avoid, and that may be why recruiters frown upon it so much. One mistake could be enough to see your CV rejected, so it's worthwhile reading and checking, then reading and checking again, then going back and doing it one last time.It's not so much the mistake that recruiters dislike – after all, anyone can make a mistake – it's the fact that you didn't take the time and effort to spot it.
How to Write a CV the Quick and Easy Way
Getting your CV just right is absolutely vital. It could quite literally change your life if it opens the doors to the kind of job interviews which take your career in a completely new direction. That's why it's worth taking the time to make sure you do everything you can to write a CV that's perfect. It's also why making use of our CV templates and builder is such an obvious step to take.
A CV template will set out the structure expected within a certain industry and will make it easier to divide the information you have into relevant sections. The CV builder will then take you through the sections one by one, offering point and click content which has been carefully created to match the industry and specific post, as well as being suited to your current level of experience.
The finished result will be a CV that's suited to both ATS and human recruiters. It will highlight those aspects of your experience and attainment which the recruiter is looking for, and will look clear, concise and professional enough to beat the 6 second rule.
While writing a CV can be a difficult and stressful task, the process becomes quick and easy with our help. Furthermore, the CV you build is far more likely to have the desired effect!
Your CV is your single opportunity to make the best possible impression on a prospective employer. Don't leave that to chance. Work with us to create a CV online and benefit from our years of industry expertise. Take a look at our CV builder now and take the next step in your career!