Get seen using a professional cover letter format
If you're serious about getting hired, you need to send a stand-out cover letter alongside your professional CV.
Your cover letter is your chance to amaze recruiters with your experience, your enthusiasm for the role, and winning personality.
Discover the best cover letter format and show recruiters and employers why you should be their number one hire.
Example of the best cover letter format
Best cover letter format
Our cover letter formats and layouts are exactly what recruiters and employers look for in a standout cover letter.
This cover letter format and layout meets the professional standards required for a customer service associate cover letter:
Contact details
A strong heading containing your contact details is a must for any cover letter. It means a recruiter doesn't have to spend valuable time searching through the letter to find them, meaning they contact you quicker.
Fomat
Paragraphs are short and concise with plenty of space between each of them which makes it easy for recruiters and employers to skim and pick out key details.
Body of the cover letter
The candidate has summarised their experience in the customer service industry as well as highlighting their soft skills that are specific to the role e.g. upbeat attitude, ability to learn under tight deadlines, and proven communication skills.
They've also mentioned that references are available upon request and have referred the recruiter or employer to their CV for more details on their skills, experience, and qualifications.
Ending
The candidate has ended the letter with 'Yours sincerely' which is the correct ending for a letter beginning with Dear [name]. If you're unsure who to send the letter to, start it with Dear Sir / Madam, and end it with 'Yours faithfully'.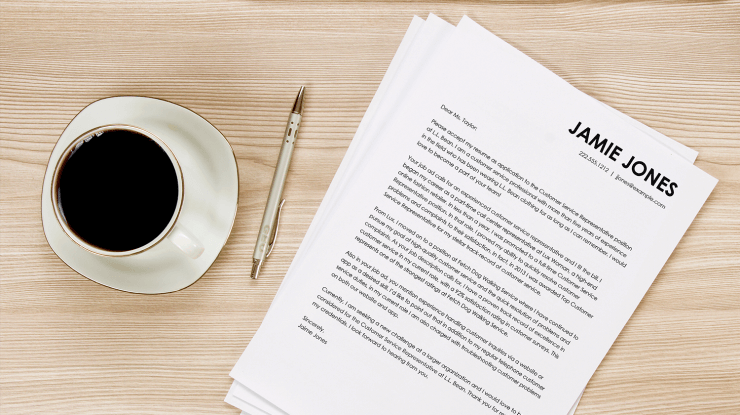 10 cover letter format tips for career success
Prevent your cover letter looking like a jumbled mess by following our expert cover letter format tips and advice:
Stick to one page
Recruiters need to see at a glance that you're a serious contender for the role, so keep to the point and don't go over one A4 page.
Use sections to create a clear format and layout
A cover letter is used to support your CV and show recruiters or employers why you outshine the other candidates. Help them to see this by using sections to detail your:
Contact details.
Greeting: Dear [name] or Dear Sir or Madam is a standard greeting for a cover letter.
Introductory paragraph.
A concise second paragraph containing details of your relevant qualifications and experience.
A closing paragraph summarising your interest in the role and the value you'd bring.
Ending: 'Yours sincerely' if you know the person's name, or 'Yours faithfully' if you started your cover letter with Dear Sir or Madam.
Your signature.
Stick to professional fonts
Using creative fonts may 'jazz up' the look of a cover letter, but they can be difficult to read and they may not pass through an ATS (Applicant Tracking System). This means your details may be left off a recruiter's call list.
Instead, use business-standard fonts like Arial, Helvetica, and Verdana.
Consider font size
Recruiters and employers skim read cover letters, so using a decent size font (size 11 or 12), makes it easier for them to pinpoint key information.
Customise your cover letter
If there's one thing that will guarantee your application being binned, is if a recruiter reads a cover letter that references a different job title e.g. applying for a marketing manager role but the letter says you're applying for the role of marketing executive.
Use a cover letter template
It can be tempting to switch up your cover letter's format to make it stand out, but this will confuse a recruiter or employer.
Take inspiration from our cover letter examples and use our step-by-step cover letter builder to build your personalised cover letter in a format that recruiters are used to.
Make your cover letter ATS friendly
Recruiters rely upon an ATS to help separate out suitable candidates, but some file formats aren't ATS friendly, particularly image files like jpg or png.
To help your application land on a recruiter's desk, stick to using a Word cover letter format.
Leave space
Use left alignment, a one-inch margin around the entire letter, and double spacing between sections to create a professional cover letter format.
If it isn't relevant leave it off
It's not easy condensing your entire career history into one A4 page, but with our comprehensive cover letter writing guide and step-by-step cover letter builder, building a winning cover letter that's packed with relevant details just got easier.
Choose a file name that resonates with a recruiter
Make sure a recruiter knows what role your application applies to by including it in the file name e.g. AnnaMcDonald_Customer_Service_Associate.docx.
Choose a cover letter format with maximum impact
Follow our expert tips to the best cover letter format and start putting together your personalised cover letter with our step-by-step cover letter builder. Then, sit back and watch your inbox fill up with interview invites.