Our customers have been hired by: *
If you're serious about taking the next step in your career, a stand-out cover letter is a necessary addition to your professionally written CV.
Use the cover letter to showcase your unique achievements and skills.
Explore the best cover letter formats and create the best CV + cover letter combo!
Cover letter format in UK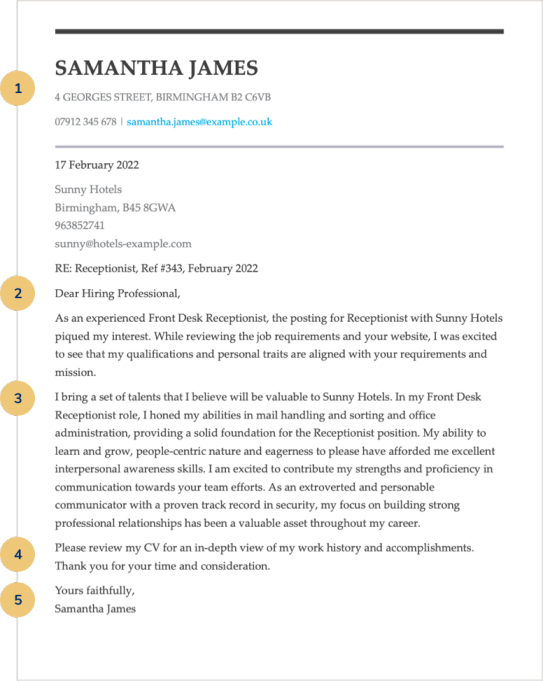 When formatting your cover letter, remember to fit it on one page and include some key elements in the following order:
What is the correct format for a cover letter
Contacts

Include your contact details at the top of the page. In the UK, it is customary to include your full address, telephone number and email address. Just below this, include the contact details of the company you are applying to.

Introduction

This section starts with a formal welcome. The most commonly used are:

Dear Sir / Madam,
Dear Hiring Manager,
Dear [full name of the person who will consider your application],
To whom it may concern.

Main part

You have just a few sentences to convince the recruiter, use them wisely. Present some of your accomplishments to date. Tell what skills have enabled you to achieve them. You want the recruiter to come to the conclusion that you will be a great asset to their company.

Conclusion / call to action

In one or two sentences, summarise why you are an excellent candidate for the position. Offer to tell more about your experiences during the interview.

Formal closing

Yours faithfully is the best choice.
Cover letter format and layout guidelines
When you create a cover letter for a job, you want to remember to follow a standard structure and include the most important information. Your letter should contain a heading with dates and contacts, and these three paragraphs:
Introduction

starts with a polite salutation. If you know the name of the person who will be reading the application, you can use a personal greeting such as Dear Colleen James. If not, you can address the team you are applying to, or the hiring manager.

Main body

this is the moment to sell yourself in the best possible way. List your achievements, preferably backed up with concrete figures. Convince the recruiter that you have the skill set a necessary for the role.

Conclusion

End on a high note. Convince the recruiter that you are an ideal candidate for the job and outline what you can bring to the company. Finally, use a subconscious call to action, such as I would appreciate the opportunity to meet and talk more about my expertise and background during the interview.
Job application cover letter format examples
Simple cover letter format uk

See what a

basic cover letter

looks like. It features a classic look. It is unlikely to contain any colourful accents, and if it does, they are used very sparingly. The layout is simple and elegant.
Cover Letters formatting tips
If you are in the job search stage, you know that this process often seems to go on forever. It can happen that although you match all the checkboxes, you don't receive even an invite for an interview. This could be due to the poor quality of your CV writing or substandard cover letter format.
Check out our top 10 cover letter format tips for career success
1. One page onlyRemember that recruiters have lots of candidates, which means many, many cover letters to read. Try to convey the most important information in a few sentences.

2. Make sure it's easy to readA good layout of the text divided into sections can help you with this. Thanks to this, all it takes for the recruiter is a glance to know where the key information is. And that works to your advantage!

3. Stick to professional fontsWe know that using Comic Sans will certainly make you stand out, but is that the kind of attention you want? Opt for standard fonts such as Arial or Verdana. Size also matters. Using a font that is too small will make your letter hard to read. Too big, on the other hand, will make your letter look awkward. A font size of 11 or 12 will be just perfect for writing a cover letter.

4. Choose a cover letter templateThese days, almost everyone who is serious about looking for a job relies on a cover letter template. This solution is easier, but also allows you to create a professional cover letter according to the latest standards.

5. Customise itHowever, when using the template, don't forget to add your details: experiences from your work, exceptional achievements - and of course your contact data! You can do this directly in our Cover Letter builder.

6. Don't be afraid to use empty spaceYour letter is not meant to be a multi-page essay. Don't be afraid of using empty spaces, increase the distance between lines and individual sections. This will add lightness to the format of your letter. This clever trick will make it even easier to read.

7. EditRead through your letter and compare it to the job advertisement. Check whether you have covered the most important points and remove what is unnecessary. Leave the fun facts for the interview.

8. Save itOnce you have finished writing your letter, the best way is to save it as a PDF. This ensures that the recruiter will be able to open the document without any problems. Use a filename that tells the recruiter what it is, e.g. AnnaMcDonald_Customer_Service_Associate.pdf
Choose a cover letter format with maximum impact
Follow our expert tips to the best cover letter format and start putting together your personalised cover letter with our step-by-step cover letter builder. And if you want to make sure you stand out from the crowd, create a cohesive CV + cover letter combo!