Our customers have been hired by: *
Creating an attention-grabbing hobbies and interests section doesn't have to be complicated. Instead, follow the advice in this guide to impress key decision-makers. We'll explain how to write a CV hobbies section step by step and share several tips and examples to streamline the writing process. Our tried and tested tools guarantee an interview invite.
What are hobbies and interests?
We're sure many of you already know what hobbies and interests are, but it's helpful to clarify our terms. Hobbies and interests are pastimes you enjoy outside professional environments. Some are solely for pleasure, whereas others are a fantastic way to supplement your income. Examples include playing sports, writing blogs, and gardening.
Is there a difference between hobbies and interests?
Not really – many hiring managers use the words interchangeably. However, recruiters might define hobbies as something you do regularly (like cooking) and interests as something you do sporadically (such as organising charity fundraisers). In any case, you include both in the same CV section.
What your hobbies say about you
Believe it or not, your hobbies and interests give the employer a better idea of how you'll cope and perform in a professional setting. For instance, someone who's learnt several musical instruments probably has a brilliant memory and tonnes of patience – perfect for teachers, actors, and linguists. Sporty candidates often thrive in positions that demand a good level of physical fitness.
Even seemingly non-relevant hobbies and interests have their place. Let's say you enjoy travelling the world – this suggests you're a people-person who's confident in unfamiliar environments. Cooking demonstrates creativity and a passion for trying new things.
Hiring managers can pick out plenty of valuable information from the tiniest detail, so it's always worth learning how to describe yourself on a CV.
Should I put hobbies and interests on my CV?
Most people should include hobbies and interests on their CVs. It's an easy way to strengthen your application and present yourself as an accomplished, multi-talented individual. Plus, employers always prefer candidates who come across as human – nobody wants to employ a robot who eats, sleeps, and breathes work (as important as it is).
Who should put their interests on their CV?
Hobbies and interests are non-negotiable for people with minimal or no work experience, such as school leavers, recent graduates, and entry-level candidates. This is because they show your suitability for the role in other ways. Although you might not have an exhaustive employment background, your pastimes often demonstrate transferable soft skills.
Who shouldn't put their interests on their CV?
Generally, the more experience you have, the less hobbies and interests matter. Employers prefer to assess an applicant's capabilities through professional accomplishments and qualifications. On top of this, managers, executives, and people higher on the career ladder don't have as much space to spare. How long should a CV be? One to two pages maximum.
To summarise, always include interests and hobbies on your CV unless you have to cut down the work experience, education, and CV skills sections to do so.
Benefits of adding hobbies and interests to a CV
There are bundles of benefits to learning how to write a CV hobbies and interests section, from helping you stand out to building immediate rapport with the hiring manager. Still not convinced? Let's take a look at some of the most persuasive pros.
Spotlights your soft skills

Above all else, interests and hobbies present a collection of your most desirable soft skills. These personality traits help you form and maintain good relationships, manage conflict, and organise your time. For example, you might be "empathetic", "dependable", and "diligent".

You can use your hobbies and interests to underline the characteristics that make you the best person for the role. Don't list any old pastimes – think strategically and only emphasise those relevant to the job advertisement.

Proves you're the right cultural fit

Many employers believe "cultural fit" is equally valuable as experience and qualifications. After all, who cares how highly skilled a candidate is if they don't mesh with the company's ethos and existing team?

Hobbies and interests are an easy way to show the hiring manager you'll blend in. If you're applying for a young, fun marketing position, you might include pastimes demonstrating your creativity and wild side. In contrast, accountants and administrators must be analytical and methodical – relevant hobbies include chess and programming.

Builds a connection with the employer

Rightly or wrongly, employers often fast-track candidates with similar hobbies and interests. While you can't predict these, you might get lucky and share some favourite things to do. However, we don't suggest LinkedIn stalking the hiring manager and lying about your pastimes because you'll undoubtedly get asked about them if you reach the interview stage.

Breaks the ice in interviews

Following the above, hobbies and interests break the ice in interviews. Naturally, many candidates are a little nervous on arrival, so employers often open conversations with pastimes. Speaking about topics you're familiar with will put you at ease and prepare you for some of the more formal questions coming up.
Where do I put hobbies and interests on my CV?
Wondering how to end a CV? You're in the right place. As the hobbies and interests section isn't always necessary, you place it at the bottom of the first or second page, underneath the education section and above the note on references. Ultimately, no matter the CV format, the less important the information, the lower down the pecking order.
What about examples of hobbies and interests in a personal statement? We don't advise including them in this short introductory paragraph unless you don't have much experience. While interesting, you're best off spotlighting professional achievements, job-specific qualifications, and specialist skills.
Important tip:
When you use our CV maker, after you finish adding your professional details, simply click Add section to add your Hobbies and interests to your CV.
Top hobbies and interests to list on your CV
Now we're onto the million-dollar question – what are good hobbies and interests for a CV? We recommend applying a healthy dose of common sense here. Do you really think the employer wants to know about your partying habits and all-day pub crawls? There's also little point in mentioning things we all do, like eating, reading, and relaxing. They don't reveal anything about your personality.
Other than that, it's difficult to go wrong – just keep it positive and pertinent to the job in question. Stuck for ideas? Check out the following list of attractive hobbies and interests and what they might say about you.
List of top 10 hobbies and interests for your CV
Sports and exercise:

You're a motivated team player who thrives in collaborative environments. You take constructive criticism well and know how to lead your colleagues to success. You have a highly competitive attitude, which could be positive or negative, depending on the position.

Chess and puzzle games:

You're always thinking two steps ahead and planning the next move. You take a methodical and logical approach to tasks because you like to get things right the first time. This preoccupation with perfectionism sometimes slows you down.

Writing and blogging:

You're creative and disciplined, with an understanding of how to market yourself online. You probably have an excellent grasp of English – although this isn't always the case. You pour your energy and time into things you're truly passionate about.

Travelling:

You're confident around new people and in unfamiliar environments. Plus, self-motivated and good at managing your own time. Although charismatic and personable, you might struggle to hold down a traditional 9 to 5 job.

Acting and drama:

You have a good understanding of other people and what makes them tick. Plus, your verbal communication and active listening skills are second to none. However, this extroversion doesn't always translate off the stage, and you might need a little time to settle into a team.

Photography and design:

You have meticulous attention to detail and an eye for unique compositions. You're both imaginative and logical – highly sought-after qualities for countless jobs. You usually have strong opinions and ideas, which can boil over and affect workplace relationships.

Video gaming:

You're a computer whizz who doesn't shy away from a challenge. You also have excellent hand-eye coordination and fine motor skills. Although gaming is relevant if you're applying for a tech job, be aware that some employers might see it as "childish".

Volunteering:

You're empathetic, caring, and happy to sacrifice your time to help others. Moreover, you have a keen interest in personal development and evolving your skills outside professional settings. If you have minimal or no work experience, volunteering is the best thing you can do to improve your prospects.

Mentoring, coaching, and tutoring:

You have endless patience and a real desire to support others in becoming the best versions of themselves. You can put theoretical knowledge into practice and break down abstract terms so people of all abilities can understand them. Sometimes, you might be too invested in your colleagues over your own success.
How to write your CV hobbies and interests section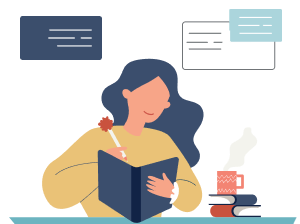 While gushing about your favourite things might sound easy, learning how to write a CV hobbies and interests section is actually harder than you think. Instead of noting down all your pastimes in a boring bullet point format, you must keep information concise, descriptive, and relevant.
Trim down your content
Firstly, there's no need to go into too much detail. Remember, your hobbies and interests aren't as valuable as the preceding sections. As such, we suggest saving space and only adding one to three points. Busy hiring managers simply don't have the time to read through more than that.
Be as descriptive as possible
Perhaps the most important tip – be as specific and descriptive as possible. What do we mean by this? Many candidates bullet point their hobbies and interests, which doesn't give the employer much insight into their personalities. It's much more effective to explain exactly what you do with a short clarifying sentence.
Instead of this:
Football coaching
Photography
Volunteering
Do this:
Football coaching – mentor the local under-15s team and run summer workshops for all abilities
Photography – completed a part-time course with the British Academy of Photography, specialising in urban landscapes
Volunteering – teach fitness classes to the elderly, including chair yoga and tai chi
Tailor your hobbies and interests to the job
Let's say you're applying for an engineering position – the employer doesn't need to know about your love for cooking, gardening, and poetry. Similarly, budding journalists would be better off discussing blogging over their Dungeons & Dragons membership. It's not that the reader doesn't care – it's just these activities aren't relevant to the job advertisement.
Our best advice? Only focus on hobbies and interests that match the CV skills you'll need to succeed. Here are two examples for the roles above:
Engineer CV
Carpentry – design and restore antique furniture, sometimes selling pieces online
Modelling and tabletop games – member of the local Warhammer Club
Drawing – currently studying advanced technical drawing at a regional college
Journalist CV
Blogging – write online fashion articles for the local newspaper
Drama – produce screenplays for the town's theatre club
Travelling – enjoy learning new languages and understanding different cultures
Offer a good variety of pastimes
Instead of this:
Do this:
Rugby
Creative writing
Meditation
Things to avoid when writing your hobbies section
Now you know what to include, how about what to avoid? Most of the "do nots" are pretty self-explanatory. Steer clear of weird, controversial, and political interests – and, whatever you do, don't lie.
Don't include any weird or controversial hobbies and interests

While we don't want to stifle your individuality, it's best to avoid any weird or inappropriate hobbies and interests that might put the hiring manager off. These include "witchcraft" (there's a growing community on TikTok), "bullfighting", and "gun handling". Of course, unusual activities aren't inherently bad, but some employers might pigeonhole you as a certain type of person – namely, crazy!

Don't reveal your personal beliefs

As a rule, if you wouldn't bring it up around the dinner table, you shouldn't bring it up in a CV or interview. You don't know who the hiring manager is or how strongly they feel about certain topics, so avoid discussing politics and religion. Even something as innocent as sporting affiliations can invite unnecessary judgement.

Don't create a conflict of interest with the hiring manager

Quite simply, avoid hobbies and interests that create a conflict of interest and interfere with your ability to focus or meet deadlines.

Don't lie about your hobbies and interests

Lastly and most importantly, don't lie about your hobbies and interests because you'll only get caught out in the interview. Instead, save yourself the embarrassment and stick to what you know.
5 hobbies and interests - CV examples
Teacher CV
Book club – meet weekly with the local book club to discuss the latest novels
Learning languages – currently studying Spanish online
Tutoring – provide free tutoring to disadvantaged children in the local area
Receptionist CV
Member of the school board – organise school charity events and day trips
Debate – active member of the debate league
Singing – perform nationally with a choir every Easter and Christmas
Administrator CV
Stamp collecting – collect commemorative first-edition stamps
Playing brain games – play competitive chess on the weekends
Yoga – consistently practise yoga for the mindfulness benefits
Sales assistant CV
Fundraising – organise bake sales and events to raise money for the local youth centre
Public speaking – regularly give motivational talks at sales conferences
Hiking – planning to complete the Three Peaks Challenge in September
Labourer CV
Football – play five-a-side football and mentor the junior team
Gardening – enjoy spending time outdoors and learning about landscaping techniques
Bird watching – volunteer as an RSPB warden three days every month
Hobbies and interests FAQs
Hopefully, you're feeling more confident about writing an eye-catching hobbies and interests section. However, we'll round things off by answering some of the most common FAQs we get asked time and time again.
Should I put hobbies and interests in my personal statement?
We've already touched on this, but it's worth reiterating – we suggest limiting your hobbies and interests to the end of your CV. You only have three to four sentences (or 50 to 100 words) in a personal statement to ignite the hiring manager's interest, so stick to professional achievements, qualifications, and areas of expertise.
Do recruiters actually read the hobbies and interests on a CV?
Absolutely! Although they're less crucial than the preceding CV sections, they still offer a fascinating insight into your personality and work ethic. As mentioned, many employers hire candidates based on "cultural fit" – what you do in your spare time is a good indicator of whether you'd complement the existing team.
Do hobbies and interests always need to be relevant?
We recommend only noting the most relevant hobbies and interests. Otherwise, you're not giving yourself a competitive edge. Every activity should add value to your CV and reassure the hiring manager you have plenty of transferable skills.
What should I do if I don't have any hobbies or interests?
If you really can't think of anything, skip this section entirely. It might be time to invest in a brand-new hobby that reflects the skills you'll need in your dream job.
Takeaways for hobbies and interests for a CV
In a nutshell, writing an engaging hobbies and interests section can sway employers when the competition is tight. We know there's a lot to remember, but you can't go wrong when you focus on the key takeaways – keep it short and to the point, only spotlight the most relevant activities, and add a brief description to seal the deal.
Searching for more content and design ideas? Browse our comprehensive library of expert CV examples and pre-made CV templates for additional help. Alternatively, get a head start on your application with our easy-to-use online CV builder.
Jagoda Obszarska
SEO Content Writer, Translator
Jagoda Obszarska is a certified copywriter, Polish language translator and career advice expert. She never stops improving her skills and learning new things. Over the years, she has worked as a copywriter and translator with people from over 50 countries worldwide and completed nearly a thousand projects.