Our customers have been hired by: *
Writing a CV is the first step in finding a job. You want it to make a good impression on recruiters and motivate them to invite you for an interview. How long should your CV be and what should it include to meet all the requirements?
What impacts the length of your CV
The length of your CV will depend on several factors:
The purpose of your CV

There are two main types of CV: standard and academic.

As the name suggests, standard CVs are used in standard situations, i.e. when you are applying for a job.

An academic CV, on the other hand, is useful when you are applying for a research position, grant, research fellowship, or membership in a scientific association.

The level of your career

When writing a CV for those who are just entering the job market, such as students, graduates, or those with little experience, will look different from the CVs of people with many years of accumulated experience.

The CVs of the former focus mainly on education and skills.

Your professional experience

If you are an expert with many years of relevant experience in a given industry, you will probably need to include information on various positions, achievements, and specific skills. Remember, however, to focus on what is relevant to the position you are applying for.

Education and qualifications

Depending on what education and qualifications you have, this section of your CV may be more or less extensive. It is worth remembering that your CV should contain information that is relevant to the job you are applying for.

Requirements included in the job offer

If the job posting has specific requirements for the information you are to provide, make sure you include these in your CV. This could range from additional sections such as language information, training, and certifications or references. Adding this extra information required by the employer can affect the length of your CV.
Standard CV length
Let's talk about the details.
A standard CV commonly accepted in the United Kingdom is two pages long.
At least that was the case until companies started commonly using Applicant Tracking Systems, or ATS for short, to facilitate the candidate recruitment process. These software applications strongly favour one-page CVs and for this reason, we are increasingly inclined to write CVs that fit on one page.
But how do you fit all the required information on a single-page CV?
Your CV should include the following:
Personal information
About me section
Work history
Education
Additional sections, if required by the employer
Personal information – CV length
This section of your CV shouldn't take up much space. Depending on how you distribute the information, it should be two to five lines.
What to include here? It's simple – the information you need in order to be contacted, i.e:
Name
Email
Telephone number
Address of residence.
See how you can display these on the examples of CVs below:
About me section – CV length
It is time to introduce yourself. The purpose of this section is to provide an overview of your CV and a brief outline of your professional profile. Brief is the keyword!
About me, or personal statement, is used to describe yourself in a few sentences.
Usually, it is 3-4 sentences in which you state your work experience and also talk, for example, about your motivations and ambitions, your achievements, or what makes you stand out from other candidates.
Check out these examples of concise and well-written personal statements:
Organised Shop Assistant with 4 years of customer service experience. Works well with no supervision and maintains focus on delivering top-notch assistance. Known for taking initiative and trained in cash register use and maintenance.
Or
Customer-oriented Banking Officer offering 10 years of experience overseeing bank operations and verifying adherence to state and federal banking rules and regulations. Supportive and communicative professional polished in providing banking services to individuals and corporate customers. Brings in-depth knowledge of available bank products and services paired with outstanding customer service abilities.
Work history – CV length
The length of this part of your CV will depend on how much relevant work experience you have.
Important tip:
If you have extensive work experience, provide information on the last two, to three job positions, and mention the total experience in the personal statement section of your CV and in your cover letter.
Ideally, under each position you should list a number of responsibilities or achievements in bullet points. Adding this means that this part of your CV is usually the longest.
And that's a good thing.
After all, the work experience on your CV is what the recruiter and potential employer will focus on.
Including all this information will cause a well-written Experience section to take up about two-thirds of your CV.
Check out the following example of a perfectly structured Employment History for an experienced professional:
Work history
February 2022 – Current
Cyber Security Specialist
Digital Inc. – Manchester
Devising protocols for constant vigilance regarding network vulnerabilities.
Working with prospective clients and selling them the latest cyber security software.
Providing detailed reports on cyber security activity to stakeholders.
February 2019 – January 2022
Cyber Security Specialist
CyberSafe – Manchester
Managed all aspects of cyber security and phishing prevention.
Developed bespoke company software for managing multiple security programs.
Created new protocols for cybercrime prevention.
February 2015 – January 2019
Cyber Security Consultant
DigiShield – Manchester
Suggested new use cases to expand visibility and coverage of attack surfaces.
Helped develop playbooks and exercises for incident response and remediation.
Contributed to design and development of security tools for monitoring company assets.
Skills – CV length
If you write a standard CV in reverse chronological format, you will usually select about 6-8 skills that are relevant to your profession.
On the other hand, if you do not have any professional experience yet and are writing a skills-based CV, you can include up to a dozen different skills – both hard and soft skills.
Check examples of hard and soft skills below:
Hard skills
Proficiency in programming languages e.g. Java, Python
Proficiency in design/modelling software e.g. MathCad, FEA
Stock and inventory management
Budgeting and cost control
Industry expertise
Proficiency in mechanical engineering tools
Project management
Soft skills
Curiosity
Work ethic
Empathy
Resourcefulness
Leadership
Collaboration
Compassion
Education – CV length
On a standard CV, the Education section is usually the shortest of all the sections of any CV.
Usually, you place here your highest education and training or any additional training relevant to the job offer you are applying for.
There is no point in putting the entire path of your education.
If you have a higher education, it is pretty obvious that you have completed high school and primary school.
Important tip:
If you are adding more than one item to the education section, list them in reverse chronological order, i.e. start with the most recent.
See what the education section looks like for an Economist CV example
Bachelor of Science | Economics and Statistics, 2004
University College, London
A-Levels | Maths, Economics, Physics, 2001
Greenwich Academy, London
Academic CV length
An academic CV is used in special cases and contains much more information than a standard CV, which also tends to make it longer.
Because it is used when applying for academic positions, grants, fellowships, and such, the Academic CV usually includes information on:
Publications
Scientific presentations
Research projects
Awards and prizes
Teaching experience
Scientific grants and funding
Membership in scientific organisations
Reviews and expert opinions
An academic CV can range from two pages, in the case of those who are just starting out in their academic career, to as many as a dozen pages, depending on the applicant's academic performance.
Important tip:
When writing an academic CV, remember to number all the pages and add your name to each page's header. This will ensure that a recruiter or employer doesn't lose any of the pages if, for example, they are looking at the printed version.
How to adjust CV length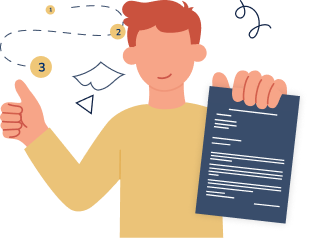 Your CV is too long - now what?
First of all, don't panic. There are many ways to address this.
Having a CV that is too long can be a serious headache when looking for a job. Employers often expect concise, clear, and easy-to-read documents that summarise your skills and experience. If your CV is wordy or too lengthy, it can make it difficult to draw an employer's attention to the most important aspects of your career.
Here are three steps to ensure your CV is the perfect length.
STEP 1
Review your CV
First of all, review your CV and identify those elements that are most relevant to the position you are applying for. Focus on your most important achievements, skills and industry-related experience. Review available examples of CVs from this and similar fields and select from your CV only the information that best demonstrates why you are the ideal candidate for the position.
STEP 2
Edit your CV
Rather than describing every task and duty from previous positions, focus on the achievements and specific results you have brought with your actions. Keep job descriptions short, focusing on your most important and impressive achievements. Put this information in bullet points.
Consider whether all the information in your CV is really relevant to the job and avoid unnecessary padding. Focus on conveying the most important information using brief and concise sentences and quantifiable data. Employers are often short on time, so it is important to provide them with clear and easy-to-digest information.
Choose those skills that best highlight your potential and fit with the job requirements. This will help shorten the list and focus the employer's attention on your strongest points.
STEP 3
Use a CV template
Using a CV template ensures that your information fits the required format and is presented in a clear and professional manner.
In the vast majority of cases, CV templates have a precisely planned structure that meets the requirements and standards for writing a CV and makes it easy for recruiters to quickly scan your document for the information they are most interested in.
Finally, templates often have a professional, clean design that helps you stand out from the competition in an effortless way.
How long should a CV be - Takeaways
In the UK, the recommended length of a standard CV is two pages, but the increasing use of applicant tracking systems (ATS) has made one-page CVs more popular.

To fit the necessary information on one page, include;

personal details
an "About Me" section
work history
education
additional sections if required by the employer.

Keep the personal details section concise and include basic contact information.

The "About Me" section, also known as the Personal Statement, provides a brief overview of your professional profile, highlighting work experience, motivations, achievements, or unique characteristics.

Your work history should focus on relevant positions, responsibilities, and achievements. It is recommended to list the last two or three jobs and mention the total experience in the personal statement and cover letter.

Education sections should include your highest education and any training relevant to the job you're applying for.

Academic CVs can be longer, ranging from two pages for novice scholars to several pages for experienced scientists. Academic CVs typically include publications, presentations, research projects, awards, teaching experience, grants, and memberships in scientific organisations.

To tailor the length of your CV, review and edit your CV to include only the most relevant information. Focus on achievements, results, and quantifiable data, avoiding unnecessary padding. Bullet points can help keep information concise. Using a CV template can provide a clear and professional format, as templates often have structured layouts and attractive designs that help candidates stand out.
Jagoda Obszarska
SEO Content Writer, Translator
Jagoda Obszarska is a certified copywriter, Polish language translator and career advice expert. She never stops improving her skills and learning new things. Over the years, she has worked as a copywriter and translator with people from over 50 countries worldwide and completed nearly a thousand projects.