Electrical Apprentice CV Example
Thanks to the ever-evolving state of modern technology, a skilled electrician can expect to enjoy decades of lucrative employment opportunities.However, it is just as important to seek the most reputable employer.This can be a bit challenging, for the professional landscape is now more competitive and diverse than ever before.A properly formatted CV is critical to attract the attention of any recruiter.This can often be easier said than done.So, we have provided this in-depth electrical apprentice CV sample to peruse.This can help to provide a bit of much-needed guidance if you are unsure how to list your skills, experience and talents.
Create This CVSee all templates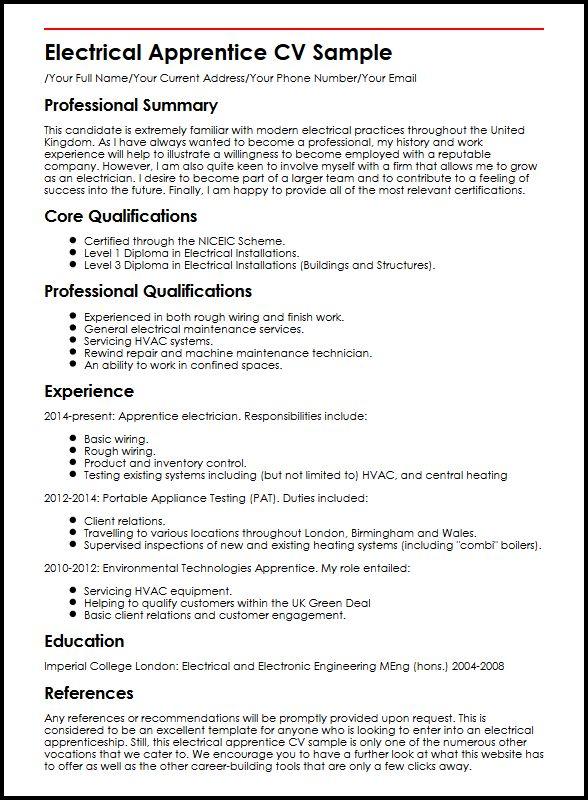 Build a professional CV that gets you hired.
Electrical Apprentice CV Sample/Your Full Name/Your Current Address/Your Phone Number/Your Email
Professional Summary
This candidate is extremely familiar with modern electrical practices throughout the United Kingdom.As I have always wanted to become a professional, my history and work experience will help to illustrate a willingness to become employed with a reputable company.However, I am also quite keen to involve myself with a firm that allows me to grow as an electrician.I desire to become part of a larger team and to contribute to a feeling of success into the future.Finally, I am happy to provide all of the most relevant certifications.
Core Qualifications
Certified through the NICEIC Scheme.
Level 1 Diploma in Electrical Installations.
Level 3 Diploma in Electrical Installations (Buildings and Structures).
Professional Qualifications
Experienced in both rough wiring and finish work.
General electrical maintenance services.
Servicing HVAC systems.
Rewind repair and machine maintenance technician.
An ability to work in confined spaces.
Experience
2014-present: Apprentice electrician.Responsibilities include:
Basic wiring.
Rough wiring.
Product and inventory control.
Testing existing systems including (but not limited to) HVAC, and central heating
2012-2014: Portable Appliance Testing (PAT).Duties included:
Client relations.
Travelling to various locations throughout London, Birmingham and Wales.
Supervised inspections of new and existing heating systems (including "combi" boilers).
2010-2012: Environmental Technologies Apprentice.My role entailed:
Servicing HVAC equipment.
Helping to qualify customers within the UK Green Deal
Basic client relations and customer engagement.
Education
Imperial College London: Electrical and Electronic Engineering MEng (hons.) 2004-2008
References
Any references or recommendations will be promptly provided upon request.This is considered to be an excellent template for anyone who is looking to enter into an electrical apprenticeship.Still, this electrical apprentice CV sample is only one of the numerous other vocations that we cater to.We encourage you to have a further look at what this website has to offer as well as the other career-building tools that are only a few clicks away.