Our customers have been hired by: *
What are the benefits of using an online CV maker?
Quick
Rather than starting with a blank page, our online CV builder gives you professionally-designed CV templates and expertly-written example text to help you along the way. It also gives you helpful tips and hints at every stage, making it quick and easy for you to build your perfect CV. Creating a CV online is the best choice for anyone in a rush, as you can fly through the tips and download your CV in an instant.
Professional
When it comes to crafting the perfect CV, the rule 'quality over quantity has never been more relevant. In fact, a study that assessed recruiters' responses to curriculum vitaes using eye-tracking technology showed that employers and recruiters favour those that are professionally designed.
Our CV templates have been designed to help you manage your CV's content effectively, making sure there's enough room for you to sell yourself without it looking cramped. And with various designs to choose from, you're sure to find something perfect for your application.
Easy
Job hunting can be a lot of work, especially when you need to adapt your CV for each role you apply for. Our CV maker gives you various professional templates to choose from and expertly-written, role-specific text to add to your CV. With so many versions of your CV needed for different jobs, using a professional CV writing company can be extremely expensive and difficult to update.
Whereas, every time you find a new role to apply for, you can head into the CV creator and easily customise it for the job application.
Make your CV in minutes
It's easy - use our professionally designed templates to build the perfect CV and apply faster.
Select a CV template

Use our professional CV content

Download, print, & apply
How does our CV builder work
Creating a CV with the best online CV maker in the UK couldn't be easier. Get inspiration on the go with CV examples for any industry, role, or experience level. Pick a stunning CV template - builder-checked and ready for download. Read through tried-and-tested tips with online CV writing guides. Then brush up on your skills section with help from the experts. You'll be a CV expert in no time!
Once you're ready, you can start writing your CV online whenever you feel like it. Save your progress and log in at your leisure to add to your CV. You can even make multiple versions for different roles and download them in various formats like Word and PDF to suit recruiters' requirements.
Let's review the easy steps of building a CV online:
Step 1
Choose a template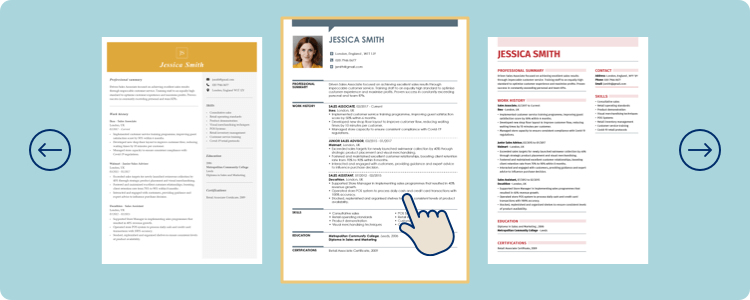 Stop right there! We can't watch any more people struggle with word processing software. There is an easier way to create a CV.
We offer a range of professionally designed templates that you can populate with your experience, education, and skills. We provide both the design and the structure, so you don't need to worry about them.
We'll guide you through the CV building process step-by-step; you don't need to worry about the format - just what you're adding to your CV online, and we have tips and guidance on that too!
Simply choose the template that best fits your job search and get started - it's that simple!
TOP TIPYou can change your template at any time during the process - so don't worry if you're not happy with it - that's the beauty of creating your CV online.
Step 2
Enter your personal details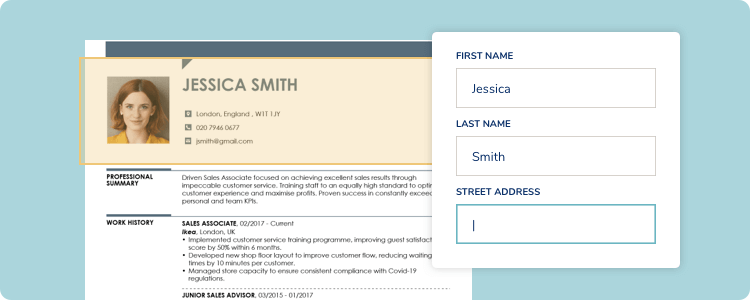 An essential part of your CV: your CV heading. Without this section, recruiters have no way of getting in touch with you. Pay close attention to your spelling so recruiters can contact you!
TOP TOPChoose a professional email address with your real name - if you don't have one - hop on Gmail and make one. Using an email like coolguy9898@hotmail.com sounds unprofessional. Consider the signals you're sending to the recruiter; every detail on your CV paints a picture of your character. Let us help you make that picture a good one!
Step 3
Fill out your work experience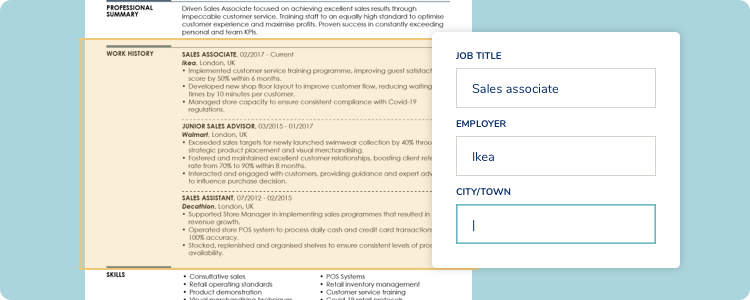 An essential section by size and weight is your work experience or work history section. When creating your CV online, we'll guide you through adding each of your roles and the experience bullet points that accompany them.
With our online CV creator, you don't need to worry about how to order your jobs as it will automatically work out which are more recent and list them in the correct reverse chronological order. One less thing for you to worry about.
TOP TIPScroll through pre-written content for your position and search for similar jobs to show more content that might be suitable for your role.
Remember: you can edit the content created by our CV professionals so that it is uniquely personalised to you - it's there to help and guide you.
Step 4
Add your education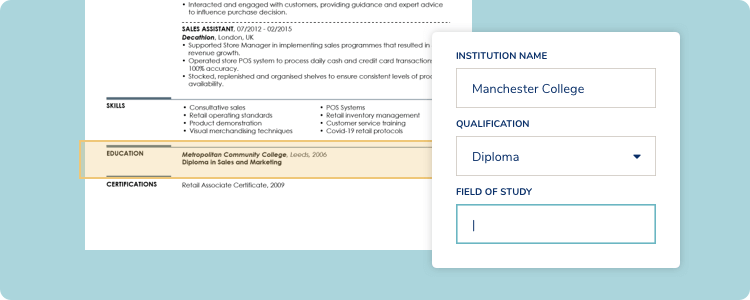 We'll guide you as you fill in your education - and our handy tips are there to help you fill each field correctly. Pay close attention to all the fields. Your education is crucial as it shows recruiters your area of study and any additional training or certifications.
For further guidance on how to write your education section, head over to our page on how to write your CV.
Step 5
Build your skills section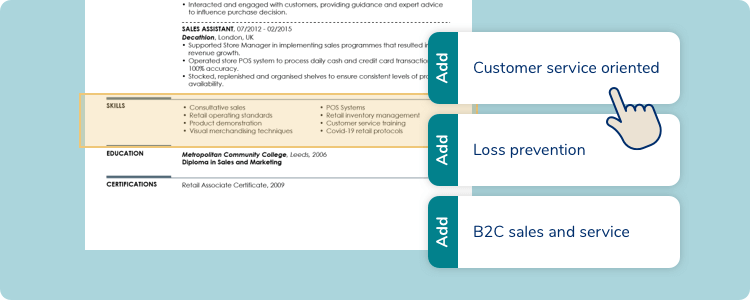 Using our online maker, you have the choice of selecting from our job title skill recommendations or creating your own. It's best practice to highlight between 6-10 skills and only those relevant to the job you're applying for.
We'll recommend skills - then all you have to do is choose the ones you want to include.
When creating your skills section online, you can save multiple versions of your CV with different skills for different positions, helping you match the job being applied.
Our CV writing guide has more great tips on how to use skills to your advantage.
Step 6
Create the perfect personal statement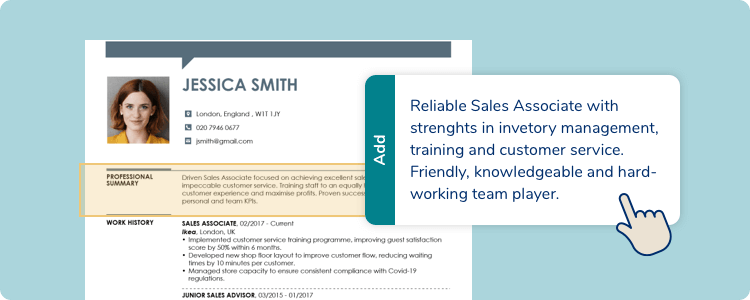 At the end of the online CV building process, you'll be guided to create your personal statement or professional summary. It's good to do this last as you'll take the highlights from your work experience to make a well-balanced and impactful statement.
In myPerfectCV's builder, we offer every user professionally written personal statement content ready to choose and use in your CV. With multiple personal statements written for over 5,000 job titles, you'll find it quick and easy to sum everything up in a concise, impactful paragraph.
Step 7
Review your CV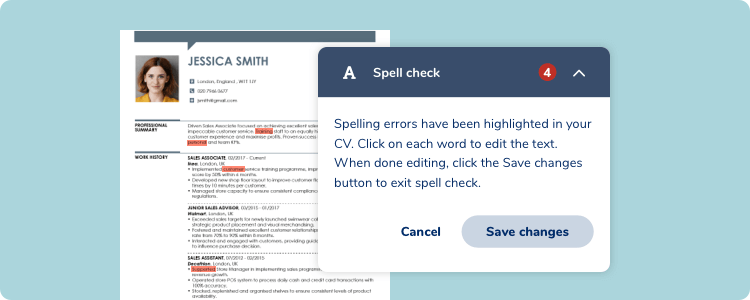 Once you've completed all the sections, it's time to review your CV. Grab a cup of tea and sit back and take a look at the full CV you've built. It's an excellent opportunity to see what you've done and how it looks. In our builder, you can look at different templates and make changes to your formatting, like changing the white space, line height, font size, and colours.
Step 8
Save and download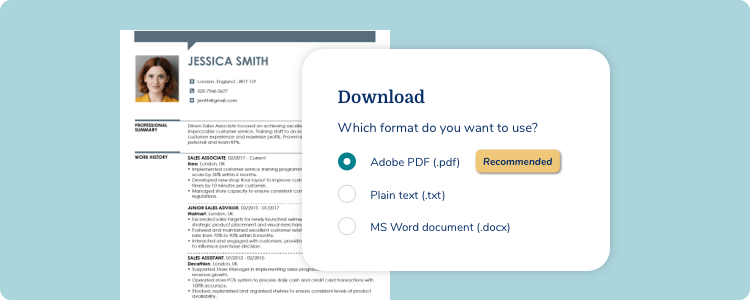 The most significant benefit to having your CV online is downloading it whenever you need it. Our CV maker's automatic save function means once you've gone to the dashboard, it's there waiting for you whenever you need it.
Don't forget to give your CV a meaningful name. We recommend a date, name format. Sam_Smith_CV_041120, for example.
When it comes to downloading your CV, the myPerfectCV builder offers various file formats to suit any need. Whether Word, PDF, or TXT, make sure you supply your CV in the format requested by the recruiter or job post. And if it's not specified? PDF is always a safe bet.
Step 9
Access anytime & edit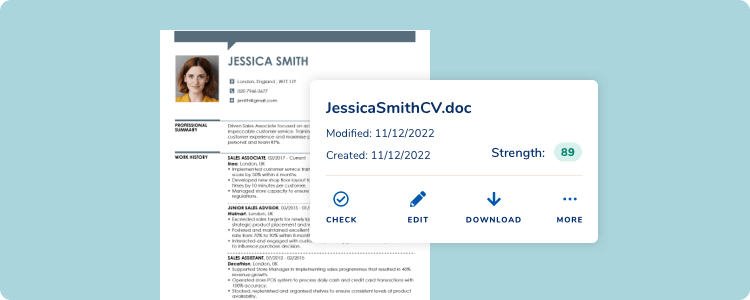 Once saved, your online CV is ready for you to revisit at any time. Need to adjust it for a different application? No worries. Hop back in and tweak your experience, skills or statement, formatting, or template in seconds at the click of a button. You can even make a copy and save an extra version, just in case.
Make your CV look like one of these examples
The best way to see how your online CV will look is to dive straight into the best CV builder and enter your information - it takes minutes. You can then choose from our selection of professional CV templates to see how your new CV looks in different formats. You could also have a look at these successful CV examples here:
Frequently asked questions about online CV maker
Do I need to have a specific browser to make a CV online?
myPerfectCV's builder is compatible with popular browsers like Safari, Chrome, and Windows. There is no particular browser that we recommend you use, as the builder will work on them all.
Do I need an internet connection to build a CV?
Yes, that's all you need (and a mobile, tablet, or computer, of course!). The more stable the internet connection, the better!
Can I save halfway through and come back to my CV another time?
Absolutely; with myPerfectCV, you can start as many CVs as you like and finish editing them in a few hours or a few weeks. There is no need to complete your CV before you save it. You might change your mind on a template that you can easily change in the 'review your CV' section.
How do I use myPerfectCV's pre-written content?
Let us guide you by selecting expert-written job title content in the CV maker - all you have to do is enter your job title and select the best-fit content. You'll find content for work experience, summary statements, and skills: all professionally written to help you present yourself in the best light.
How many CVs can I save?
There are no limits to the number of CVs you create and save.
How long is my CV stored?
Your CVs are safely stored, ready to edit and download until you cancel your account. No need to worry about losing a USB stick - keep a note of your login details - if you need help, you can contact us here.
Can I access my CVs online at any time?
Yes, your CVs are always available online anytime, anywhere you log in to your dashboard.
How quickly can I make a CV online?
You can create a CV in as little as 30 mins (or faster if you use our content). We guide you through each step to creating the perfect CV online.
What if I've never made a CV online before?
The best feature of myPerfectCV is not only the accessible format and templates but our pre-written content. The builder makes it easy to search for and find professional content for your job title.
We've got experience, skills, and personal statements all ready to go; adjust and personalise as you like. It's the fastest way to create a CV, and our helpful CV tips along the way will guide you as you go.
Do you offer CV support?
We don't offer one-on-one support, but you can read some of our CV help and tips pages, and our CV maker will guide you along the process with helpful tips at every step.
Can I upload an existing CV?
Yes! You can upload an existing CV to start yours off if you like; you can still access and use all our editing features and templates.
What does it cost to create my CV?
It's free to create your CV and download it as a TXT file. Access and download your CV as a PDF or Word doc for as little as £1.95.
What does a good CV look like?
A great question! A great CV looks clear, concise and is appropriate for the role you're applying for. Without listing all the ways to write a good CV, why not jump straight into our CV writing tips.
What should you not write on a CV?
The golden rules of CV writing in the UK are always to include up-to-date contact details. In the UK, we do not use photos on CVs - leave the pics for Instagram. Never include any other personal information, like your age or ethnicity, unless confidentially requested during the application process. And finally, never lie or change the dates of a role.
Start creating your


online CV

today
Take the hassle and delays out of CV writing with myPerfectCV. Our online CV builder gives you everything you need in the format you need it.
Choose from professionally designed templates, then add pre-written content, including skills and responsibilities, tailored to each role.
It's your CV, just better!