Writing the Perfect Cover Letter, Made Easy
Knowing how to write a cover letter is a skill that a lot of us don't have, so don't be intimidated if you don't know where to start. We're here to help you write a perfect cover letter: what to say, when to say it, and all without sounding pushy or fake.
With our help you'll build a cover letter that won't just make a great first impression on recruiters – it'll also help you to get the job you want.
Learning How to Write a Cover Letter: 11 Top Tips
Learning how to write a cover letter is easier than it sounds. Here are our top tips for cover letter writing success:
Research the company
Do your research on your prospective employer to understand its history and ambitions. Company culture is a massive consideration for hiring managers, so it's important to address this in your cover letter.
Use a cover letter template
Your letter's layout is one of the first things a recruiter will notice, and it's essential to know where to put information. Use a cover letter template to ensure that your cover letter follows a clear, logical structure and looks professional.
Work on the tone
Using the right tone shows that you understand the company's culture. As a general rule, keeping it formal is a good idea. Avoid any slang and lots of exclamation marks, but do allow your personality to shine through.
State your achievements
Choose one major achievement that demonstrates why you're the perfect candidate and mention this in your letter. Recruiters are looking for qualified talent, and this is the perfect place in your job application to demonstrate this. Remember to include an impressive statistic to drive home the impact you made, and make sure that this achievement also appears in your CV.
Use keywords from the job description
Most employers use software to screen job applications, looking for candidates who use keywords that suggest they're a good fit. Scan the job description for keywords and phrases, then make sure to use them in both your cover letter and CV.
Use spellcheck
It's easy to avoid spelling mistakes. Check and double-check your letter, using spellcheck and even reading it out loud to find errors. A single spelling mistake could be the difference between being invited in for an interview and your job application being discarded.
Address the letter correctly
A cover letter is a formal letter and should be addressed as such. Place the employer's full address in the top right hand corner, find out the hiring manager's name, and use an appropriate salutation.
Include your contact details
Make it easy for hiring managers to contact you: include your contact details! At a minimum you should provide your mobile number and a professional-sounding email address.
Edit your cover letter
Don't be afraid to re-read your letter a few times and edit it. A long cover letter can show you care, but if they're too long a recruiter won't bother. Knowing how to write a cover letter is about being concise and never repeating yourself. It may take you a few rounds of editing before you get the letter right.
Relate your cover letter to your CV
It's important that your cover letter clearly connects to your CV. These two documents should work in tandem to form your complete job application. Make sure they look the part by choosing matching cover letter and CV templates. Remember that your cover letter shouldn't replicate your CV - its job is to highlight key details that will make a recruiter want to read your CV.
Review your letter before you send it
Before you send your cover letter, proofread it one last time. Review it alongside your CV to make sure that they work well together. Then check it again. Once it's sent you can't change it, so it's worth taking the time to make sure it's perfect.
3 Questions UK Candidates Ask About Cover Letter Writing
How do I write a cover letter for a job?
Write a cover letter for a job by:
Writing formally:

Appear professional and serious about working for the organisation by using a formal tone.

Highlighting just 1-2 key achievements:

While you want to impress employers with just how perfect you are for the position, it's important not to overload them in the cover letter.

Being smart with keywords:

Using the same terms as the job description will help the recruiter to clearly recognise that you're a great fit.

Telling the same story in your CV:

Use the letter as a teaser and expand on the letter in your accompanying CV. Check out our CV format and layout tips to help you understand how to write a perfect CV.
How do you write an effective cover letter?
Write an effective cover letter by:
Addressing it properly:

Treat a cover letter as you would any other normal letter. Ensure that the employer's address is at the top.

Outlining key skills:

This part of the cover letter needs to give a good overview of you without being too in depth. Mention key skills that make you a relevant fit for the role.

Matching your experience to the role:

Again, this shouldn't be too long but should give the recruiter insight into the kinds of jobs you've had in the past.
How can I make my cover letter stand out?
Write a cover letter that stands out by:
Avoiding typos! Check and double-check your letter before sending it.
Focusing on your strengths.
Providing clear details about a past achievement.
Keeping it formal, but not stuffy.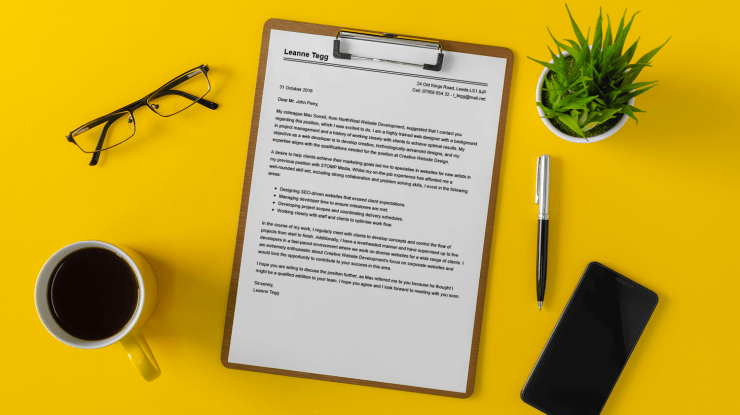 How A Cover Letter Differs From a CV
When learning how to write a cover letter, it's important to remember that it's not the same as a CV. Instead, it works with your CV to form your overall job application.
Your cover letter is an introduction to you as a candidate and makes a case for why you're perfect for the role. It highlights key strengths and gives enough information to make the hiring manager want to know more. But if you're showcasing your work experience in detail, or providing multiple examples of achievements, you're writing a CV.
How can you write a cover letter that's related to your CV, but isn't too repetitive? Here are a few expert tips:
Templates:

Use the same cover letter and CV templates. This creates a visual link between the documents. Check out our cover letter templates to see what we offer - each design also has a matching CV template.

Tone:

Ensure it's appropriate for both documents, which generally means being a little more formal. When it doubt, remember that these are professional documents.

Key achievements:

Make sure that the 'big win' you showcase in your cover letter is also included in your CV, and that the stats you reference are correct in both documents.

Career path:

Your entire job application should tell a consistent story about your career: where you've come from and where you want to go. Pay particular attention to how your application letter and your CV's personal statement connect together.
Your Secret Weapon: A Professional Cover Letter Builder
Writing a cover letter can be really challenging. It needs to give enough of an introduction that the recruiter wants to know more, but not so much detail that they feel overwhelmed. And because it's often the first thing a recruiter will read when you apply for a position, it's critical that you put your best foot forward.
So how can you write the perfect cover letter? Many successful candidates start with cover letter samples which give them insight into what their peers are writing. But their secret weapon is using a cover letter builder.
Our professional cover letter builder provides you with everything you need to really stand out from the crowd: lots of different templates to choose from to give you a great design and structure, and pre-written text examples that you can insert and customise. Plus it walks you through the process step by step with lots of helpful tips and advice so you never feel like you're going it all alone.
Best of all, it's been used by millions of people worldwide to build their cover letters so you can feel confident the letter you build will really stand out for the right reasons.
How Successful UK Candidates Write Cover Letters
With over a decade's experience helping UK candidates to build well-written cover letters, we know what works. Check out our hand-picked selection of top cover letter examples and get inspired, then write your own with help from our cover letter builder.
How to Make Your Cover Letter Appeal to Recruiters
On average just 20% of UK applicants get an interview. If you want to get an interview it's critical that you make your cover letter appeal to recruiters. And the best way to do that is to avoid all the simple mistakes that frustrate them.
Avoid spelling errors
Roughly 250 candidates apply for each corporate role. It's a competitive market, and a spelling mistake is an easy way to narrow the field. Check your work thoroughly for spelling mistakes, ask someone else to take a look, and use a spellchecker before finishing your cover letter.
Give enough information
You know not to stuff your cover letter with too much information, but don't count yourself out by not including enough. The recruiter needs to know why you're applying. Need help? Use a cover letter template to see how much information should be included.
Personalise the letter for each role
Your cover letter needs to clearly show why you're a good fit for a specific company and role. Use keywords that match the job description to make the great fit obvious.
Highlight a compelling achievement
Share a big success so the recruiter understands the kind of impact you've had and could have on their organisation. It's not arrogant to let them know what you can do.
Address the letter appropriately
Show you're professional by addressing the hiring manager by name. If the hiring manager isn't listed in the advert, show initiative and make an effort to find out.
Create a connection between your CV and cover letter
These two documents work together to form your job application, so make sure they're telling the same story.
Explain why you're a good company fit
According to a Jobsite survey, 60% of recruiters value how a potential employee might fit in with the culture of the company above all other prerequisites.
Build a Perfect Cover Letter
Knowing how to write a cover letter is crucial to your career success. Your cover letter is your one shot to impress the hiring manager and land a job interview.
Whether you're writing a cover letter for the first time, or you want to refine your approach, our cover letter builder makes it quick and easy. You'll understand what tone to use and how to write about your achievements and experience effectively.