CV Example With Maternity Leave
When applying for jobs, the first step is to create a professional CV that reads well and is in a good format to show you off at your best. You can find out how to display your best qualifications, accomplishments and skills by looking at the CV Example With Maternity Leave, which shows you what to include and how to format your information. The CV Example With Maternity Leave below is an illustration of how to make a good impression on the hiring manager, who will hopefully then select you for interview.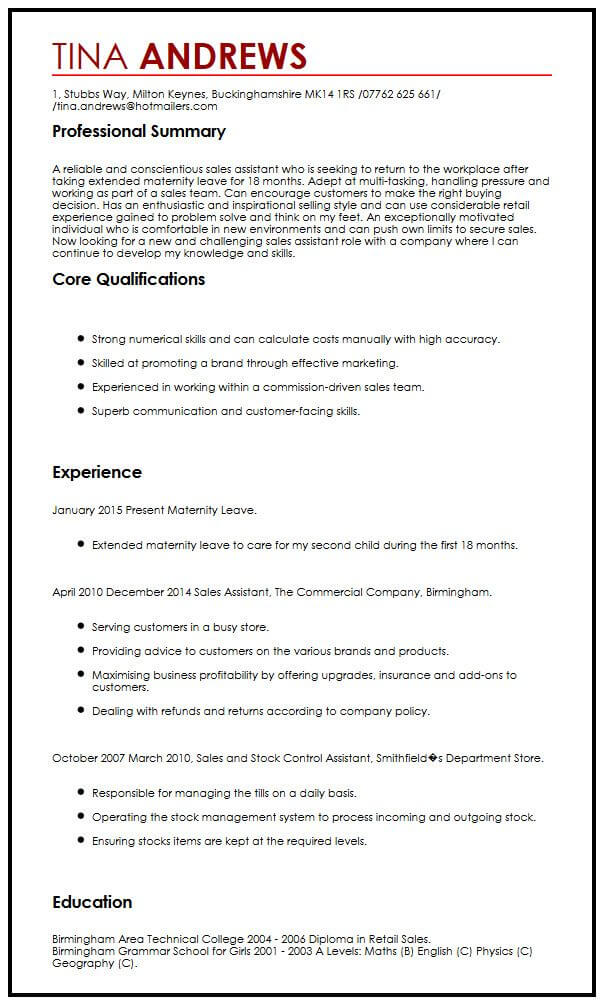 1, Stubbs Way, Milton Keynes, Buckinghamshire MK14 1RS /07762 625 661/ /tina.andrews@hotmailers.com
Professional Summary
A reliable and conscientious sales assistant who is seeking to return to the workplace after taking extended maternity leave for 18 months. Adept at multi-tasking, handling pressure and working as part of a sales team. Can encourage customers to make the right buying decision. Has an enthusiastic and inspirational selling style and can use considerable retail experience gained to problem solve and think on my feet. An exceptionally motivated individual who is comfortable in new environments and can push own limits to secure sales. Now looking for a new and challenging sales assistant role with a company where I can continue to develop my knowledge and skills.
Core Qualifications
Strong numerical skills and can calculate costs manually with high accuracy.
Skilled at promoting a brand through effective marketing.
Experienced in working within a commission-driven sales team.
Superb communication and customer-facing skills.
Experience
January 2015PresentMaternity Leave.
Extended maternity leave to care for my second child during the first 18 months.
April 2010December 2014Sales Assistant, The Commercial Company, Birmingham.
Serving customers in a busy store.
Providing advice to customers on the various brands and products.
Maximising business profitability by offering upgrades, insurance and add-ons to customers.
Dealing with refunds and returns according to company policy.
October 2007March 2010, Sales and Stock Control Assistant, Smithfield's Department Store.
Responsible for managing the tills on a daily basis.
Operating the stock management system to process incoming and outgoing stock.
Ensuring stocks items are kept at the required levels.
Education
Birmingham Area Technical College 2004 - 2006 Diploma in Retail Sales. Birmingham Grammar School for Girls 2001 - 2003 A Levels: Maths (B) English (C) Physics (C) Geography (C).
Conclusion
The CV Example With Maternity Leave is part of a collection of CVs that provide jobseekers with information on the CV writing process. You can use the free tools and CV builder on this site for further help and guidance.