If you're thinking of creating a CV for expats, you need to put together your own well-written and properly formatted CV to target the job you're interested in, as well as reflecting your skills, qualifications and experience. Take a look at the CV Sample for Expats before you begin writing your own document and it will help you when it comes to knowing what information to include and the correct formatting to use. The CV Sample for Expats below is exactly the type of document that will get you noticed by a recruiting manager, hopefully securing you a place at the interview stage.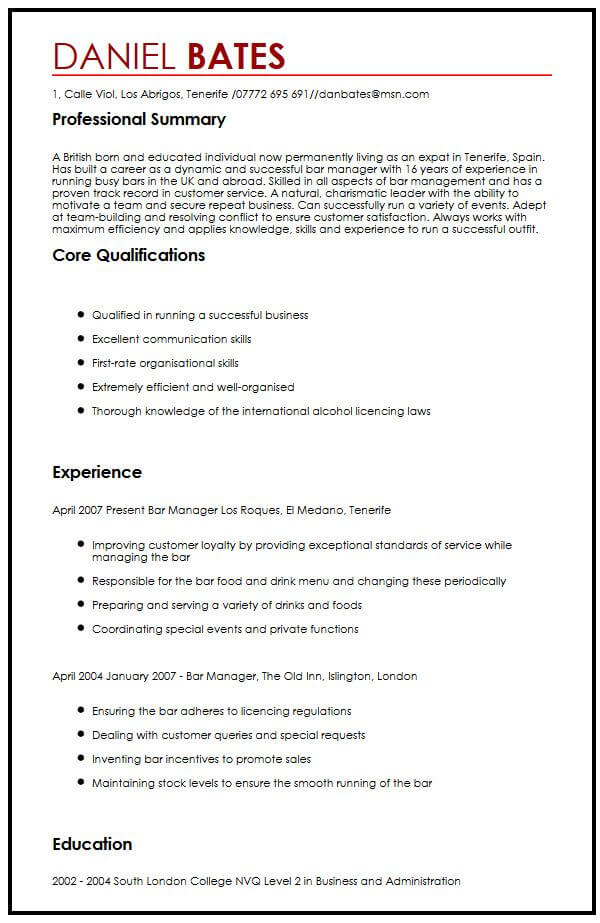 1, Calle Viol, Los Abrigos, Tenerife /07772 695 691//danbates@msn.com
Professional Summary
A British born and educated individual now permanently living as an expat in Tenerife, Spain. Has built a career as a dynamic and successful bar manager with 16 years of experience in running busy bars in the UK and abroad. Skilled in all aspects of bar management and has a proven track record in customer service. A natural, charismatic leader with the ability to motivate a team and secure repeat business. Can successfully run a variety of events. Adept at team-building and resolving conflict to ensure customer satisfaction. Always works with maximum efficiency and applies knowledge, skills and experience to run a successful outfit.
Core Qualifications
Qualified in running a successful business
Excellent communication skills
First-rate organisational skills
Extremely efficient and well-organised
Thorough knowledge of the international alcohol licencing laws
Experience
April 2007PresentBar ManagerLos Roques, El Medano, Tenerife
Improving customer loyalty by providing exceptional standards of service while managing the bar
Responsible for the bar food and drink menu and changing these periodically
Preparing and serving a variety of drinks and foods
Coordinating special events and private functions
April 2004January 2007 - Bar Manager, The Old Inn, Islington, London
Ensuring the bar adheres to licencing regulations
Dealing with customer queries and special requests
Inventing bar incentives to promote sales
Maintaining stock levels to ensure the smooth running of the bar
Education
2002 - 2004South London College NVQ Level 2 in Business and Administration
Conclusion
The CV Sample for Expats is one of many excellent CVs in our collection that will help you put the right information into a professionally-formatted CV. When searching for jobs, you will benefit immensely from referring to the tools and CV builder on this site, which will help to write a successful CV.