As you enter the adult world, it is important to realise that writing and updating your CV is an important step to getting your first job. At this crucial stage in your life, an eye-catching CV is the best way of making a good impression on potential employers. You can use our CV Sample for teenagers to gain an understanding of the type of formatting that is appropriate, what information to include, what to leave out, as well as how to highlight any skills and qualifications in the most effective way possible. Learn how to write an impressive and professional CV with our CV Sample for teenagers and stay one step ahead of the game.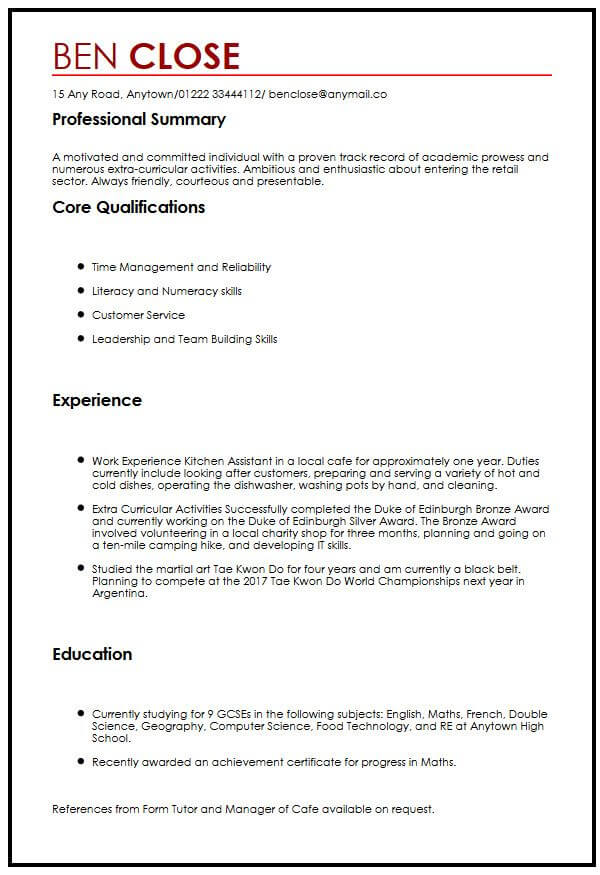 15 Any Road, Anytown/01222 33444112/ benclose@anymail.co
Professional Summary
A motivated and committed individual with a proven track record of academic prowess and numerous extra-curricular activities. Ambitious and enthusiastic about entering the retail sector. Always friendly, courteous and presentable.
Core Qualifications
Time Management and Reliability
Literacy and Numeracy skills
Customer Service
Leadership and Team Building Skills
Experience
Work Experience Kitchen Assistant in a local cafe for approximately one year. Duties currently include looking after customers, preparing and serving a variety of hot and cold dishes, operating the dishwasher, washing pots by hand, and cleaning.
Extra Curricular Activities Successfully completed the Duke of Edinburgh Bronze Award and currently working on the Duke of Edinburgh Silver Award. The Bronze Award involved volunteering in a local charity shop for three months, planning and going on a ten-mile camping hike, and developing IT skills.
Studied the martial art Tae Kwon Do for four years and am currently a black belt. Planning to compete at the 2017 Tae Kwon Do World Championships next year in Argentina.
Education
Currently studying for 9 GCSEs in the following subjects: English, Maths, French, Double Science, Geography, Computer Science, Food Technology, and RE at Anytown High School.
Recently awarded an achievement certificate for progress in Maths.
References from Form Tutor and Manager of Cafe available on request.
Conclusion
This CV Sample for Teenagersis one of many examples that are designed to help teenagers and other job seekers learn to how to write an impressive CV. To find out more useful tips and tricks about the CV writing process, visit the free tools and CV builder on our website.